The season of all things pumpkin has officially begun! A few weeks ago I shared some delicious pumpkin breakfast recipes so I thought it would be fun to share some pumpkin desserts too. Now our days can begin and end with pumpkin! Woohoo!
These recipes include all kinds of yummy pumpkin combinations. From pumpkin cheesecake to recipes with caramel, chocolate, and brown butter, there's sure to be a recipe for even the pickiest of palates. Thankfully, mine isn't picky at all so I'll happily work my way through the entire list.
Could there be a cuter little dessert? The combo of pumpkin and chocolate chip cookie dough is verging on brilliant! These would be such a great treat for a Halloween party. Bite sized and delicious, I'm sure
Pumpkin Chocolate Chip Cookie Dough Truffles (Love to be in the Kitchen)
I have yet to find a cheesecake I don't like, and this one definitely looks like it could be a new favorite.
Dark Chocolate Brownie Pumpkin Cheesecake (Coffee with Us)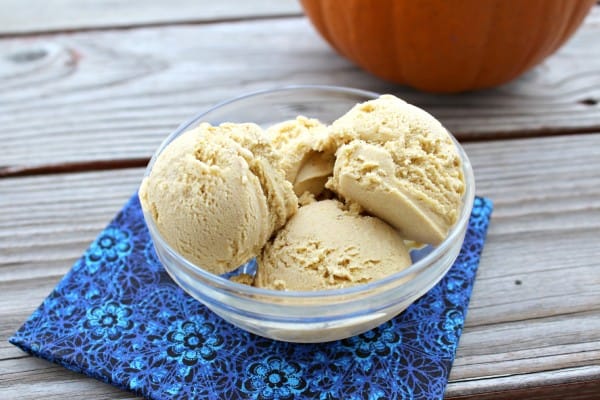 My ultimate weakness when it comes to desserts is ice cream. There's no way around it. I LOVE ice cream, but I'm not sure I've ever tried pumpkin. This recipe looks and sounds delicious.
Pumpkin Pie Ice Cream (Love to be in Kitchen)

I'm a sucker for anything mini and bite sized. I think it's because they're so cute, and these little mini cakes do not disappoint. They're adorable! I also love the combo of pumpkin with a streusel topping. Yum!
Pumpkin Mini Cakes with Cinnamon Streusel Topping (Amanda's Cookin')
I love turtle treats! My mom used to gift me with a box every Christmas, and they never lasted long. A turtle cheesecake is such a great idea!
Pumpkin Turtle Cheesecake (Little House Living)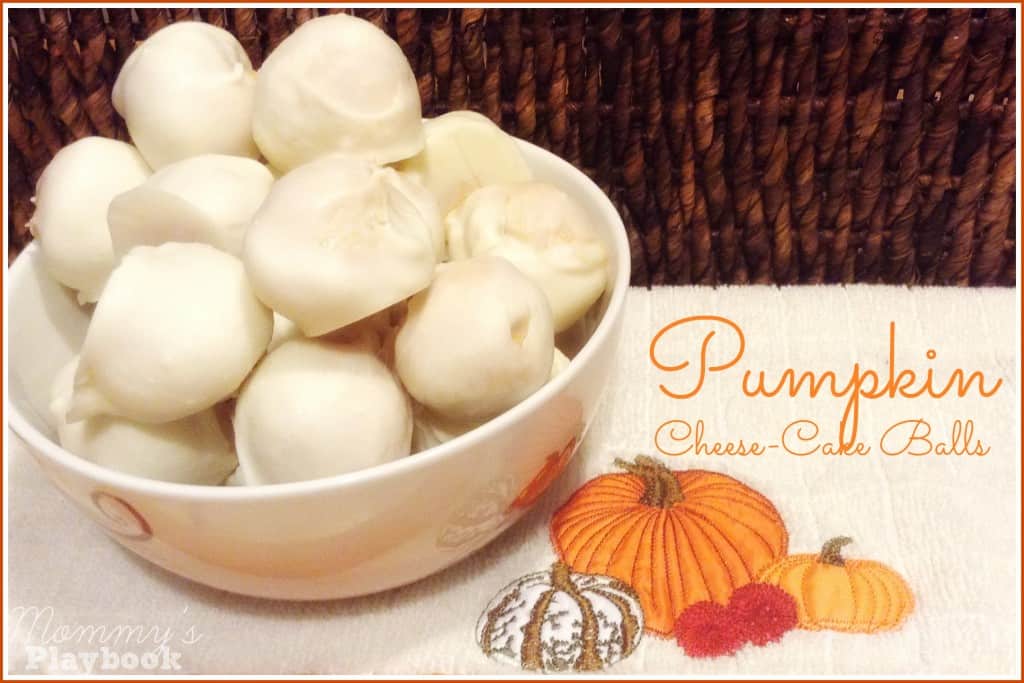 These are so cute! I consider that bowl my personal serving size. 😉
Pumpkin Cheesecake Balls (Mommy's Playbook)
Not only do these caramel pumpkin cheesecake bars sound delicious, but they're gorgeous too. I hope I can make mine look this pretty when I give this recipe a try.
Caramel Pumpkin Cheesecake Bars (Quirky Inspired)
No bake!?! It almost sounds too good to be true. I'm glad there's photographic evidence so we know otherwise.
No Bake Pumpkin Cheesecake (Cincy Shopper)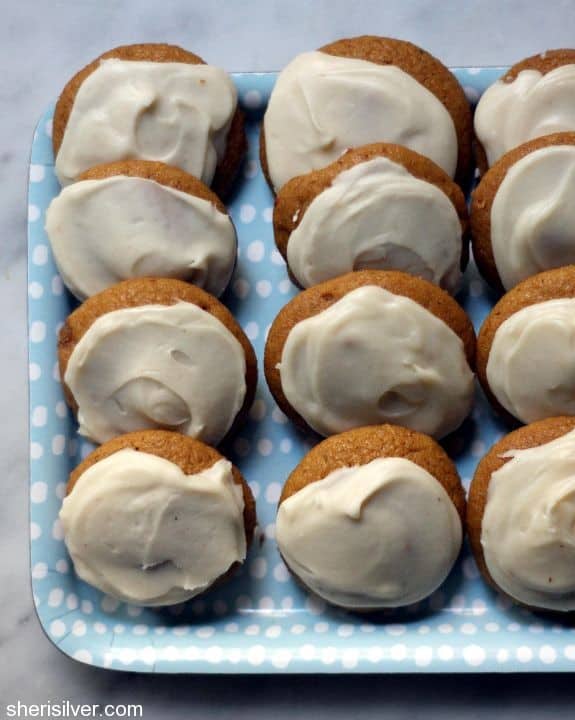 These pumpkin cookies would be perfect for a party, snack, or going to school or work in a lunch box.
Pumpkin Cookies with Brown Butter (Donuts, Dresses and Dirt)
These pumpkin lush bars look heavenly. I think they just might show up on our Thanksgiving table this year.
Pumpkin Lush Bars (Cincy Shopper)
Pumpkin, caramel, and cheesecake! These are another great party or holiday treat option.
Pumpkin Caramel Cheesecake Bites (Play Dough & Popsicles)
This pumpkin magic cake looks delicious and super easy to make. It uses a boxed cake mix, which is awesome, and she shares a bunch of other doctored cake mix recipes too. I love a short cut that doesn't taste like one.
Pumpkin Magic Cake (Amanda's Cookin')