We've had a lot going on over the last few months (which I kind of feel silly even saying because who doesn't, right?), but I realized that most days were leaving me feeling overwhelmed, exhausted, and sometimes kind of angry. That's never a good combination!
My trusty to do list never seemed to get any smaller, and I finally realized I was making a huge mistake. I wasn't asking enough of my kids!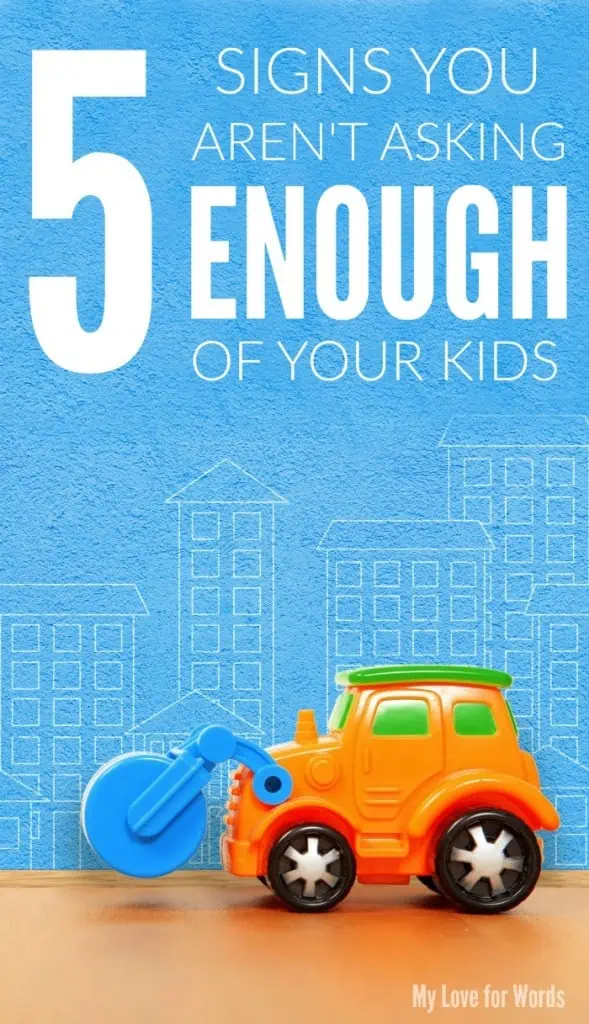 I am very lucky to have married a man who is a full partner in everything. He actually kind of puts me to shame because he does more around the house than I do… and I'm here a lot more! He never gives me a hard time about what he's done, what he wishes I'd do, or how I've done something, but my kids… they are another story!
I realized that I was spending most of my time running around trying to do everything myself instead of delegating to the four other people who are with me pretty much all day, every day. My husband and I tend to take on practically everything while our sweet kiddos are getting a free ride, but things are a-changin'.
These were the five signs that helped to me realize that I wasn't asking enough of my kids:
1. I was overwhelmed
I felt completely overwhelmed by my never-ending to do list, but when I started to look at my list with "business" eyes I realized how little I actually had to do.
You might be wondering what in the world I mean by "business eyes?" My goal with my business (this blog and everything that comes from it) is to eventually get to the point where I only do the tasks that I absolutely have to do and allow others to handle everything else. That way I can focus my energy on things that will help to grow my blog and business while not getting bogged down with nitty-gritty details.
For example, instead of trying to learn everything about website development and blog design, I'd rather pay someone with expertise to handle these things so I can focus on writing blog posts, newsletters, and creating pretty printables. (Yay, printables!!) I'd love to eventually get to the point where I really only have to worry about the stuff that only I can do.
However, when I took a closer look at my home and family life to do list I realized I wasn't taking this approach at all. I felt the need to take care of everything when, in reality, a lot of the tasks could easily be taken care of by my kids.
2. Kids complain when they're asked to do something
One thing that drives me crazy is when I ask my kids to do something (after they've basically done nothing but eat, sleep, and play all day), and they complain about it. My children all seem to suffer from the same illness of becoming completely exhausted when they're asked to complete a chore, no matter how simple.
I eventually realized that they just weren't used to being asked to do anything on a regular basis. I've created these little monsters (said with love, of course) so I need to fix them! They need to get used to having regular responsibilities and being expected to contribute in their own homes.
3. Kids don't have regular chores or responsibilities
This is directly related to #2. My kiddos don't really have many day to day chores or responsibilities. My son sets the table and occasionally does the dishes, but that's about it.
I think sometimes we, as parents, have a hard time realizing that our sweet little babies have grown into little beings who are totally capable of doing a lot more than we may expect. I'm also a big believer that people will live up to the expectations we have for them, and since we weren't expecting anything that's exactly what we got.
4. Their rooms/play areas are always a mess 
My kids tend to leave their things all over the house, and I know that's because I've done a bad job of expecting and teaching them to put things away.
I have been very honest about my own struggles with clutter, and I can see my bad habits now becoming my kids' bad habits. How can they be expected to put things where they belong when no one actually knows where things belong? Ahh!
5. They don't have to earn anything
I think tend to people appreciate things more when those things are earned and not just given freely. However, in my home, I've realized that fun things are kind of just expected. Privileges are sometimes lost for bad behavior, but they're rarely earned, and that's going to change. I don't want my kids to feel entitled to or expect anything for simply existing. I want them to learn that great things can be earned through hard work.
Ultimately, I've realized that my kids are capable of doing so much more than I am requiring. My husband and I are working on a list of daily responsibilities for each child (yep, even our three year old!), and ways for them to earn extra money too. I think they'll be better for it and take more pride and ownership in our home as they start to contribute more. I'm excited to see what good things come from our new family routines.