I love Pinterest. I loved it years ago when I first found it, and I've grown to love it even more as a blogger. It's a great way to connect with readers and find or share posts, but it can also be a major time suck.
This post contains affiliate links. For more information please see my disclosures page here.
There are about as many different pinterest strategies as there are successful bloggers, but the one thing all strategies seem to have in common is the importance of pinning other people's pins along with your own. I used to spend a ton of time individually repinning pins, but I figured out how to pin even more in a lot less time, and I wanted to share it with you.
I've tried a bunch of schedulers, and they all have their pros and cons, but I've never found one that's easier to repin from than Tailwind. It's truly the fastest and easiest way to repin on pinterest.
To start, you'll want to create an account if you don't already have one. Tailwind offers a free trial if you want to give it a test run so you have nothing to lose. They also have API access to Pinterest and great analytics! You can click here to get started 🙂
After joining, you'll want to add the Tailwind icon to your address bar. I believe this is an option after signing in, but if not let me know and I'll add a quick tutorial on how to do so. This little button will come in handy in just a minute.
Next, you'll want to go to Pinterest and enter something specific the pinterest search bar. It would be best to choose something that's related to your blog, would be interesting to your followers, and something for which you already have a board created.
If you're having a hard time thinking of something specific to search for, pinterest will help you! You can see what's currently trending on pinterest by typing in the pinterest search bar. As you start to type, different search terms will appear in red, orange, and yellow at the bottom of the drop down list. Those are topics that are hot right now so they'd be great to search for and pin.
In this first example I searched for "classical homeschooling."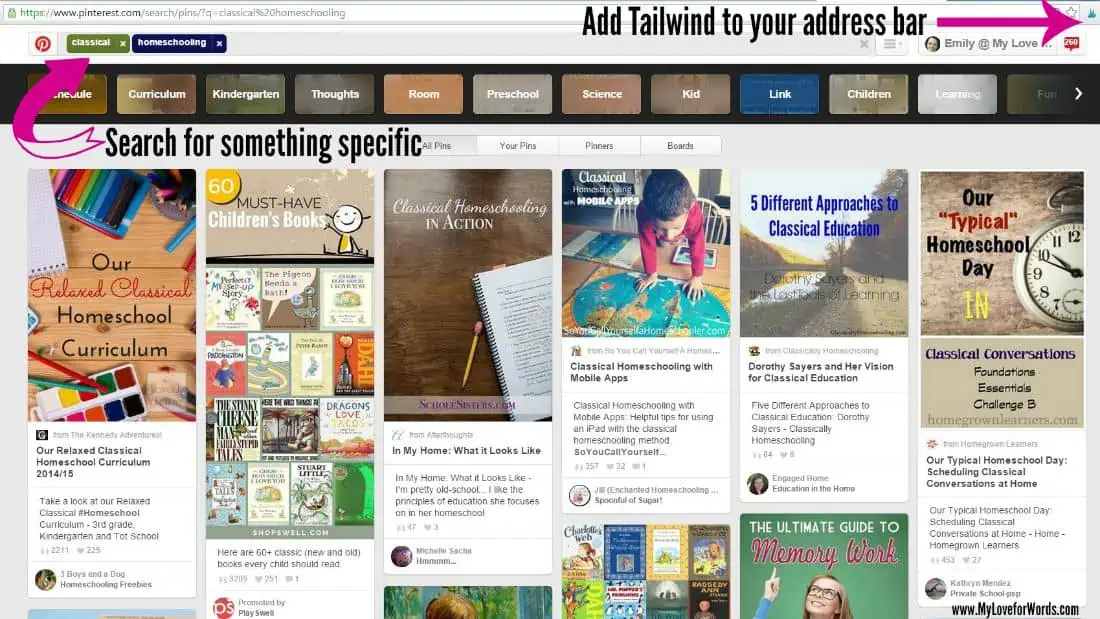 Click on the Tailwind icon in your address bar, and the posts from your pinterest search will pop up in a new Tailwind window. Click on the pins you want to repin, and they'll become highlighted in blue. Once you've chosen all of the pins you want to repin, press "Go Schedule" button in the bottom right corner.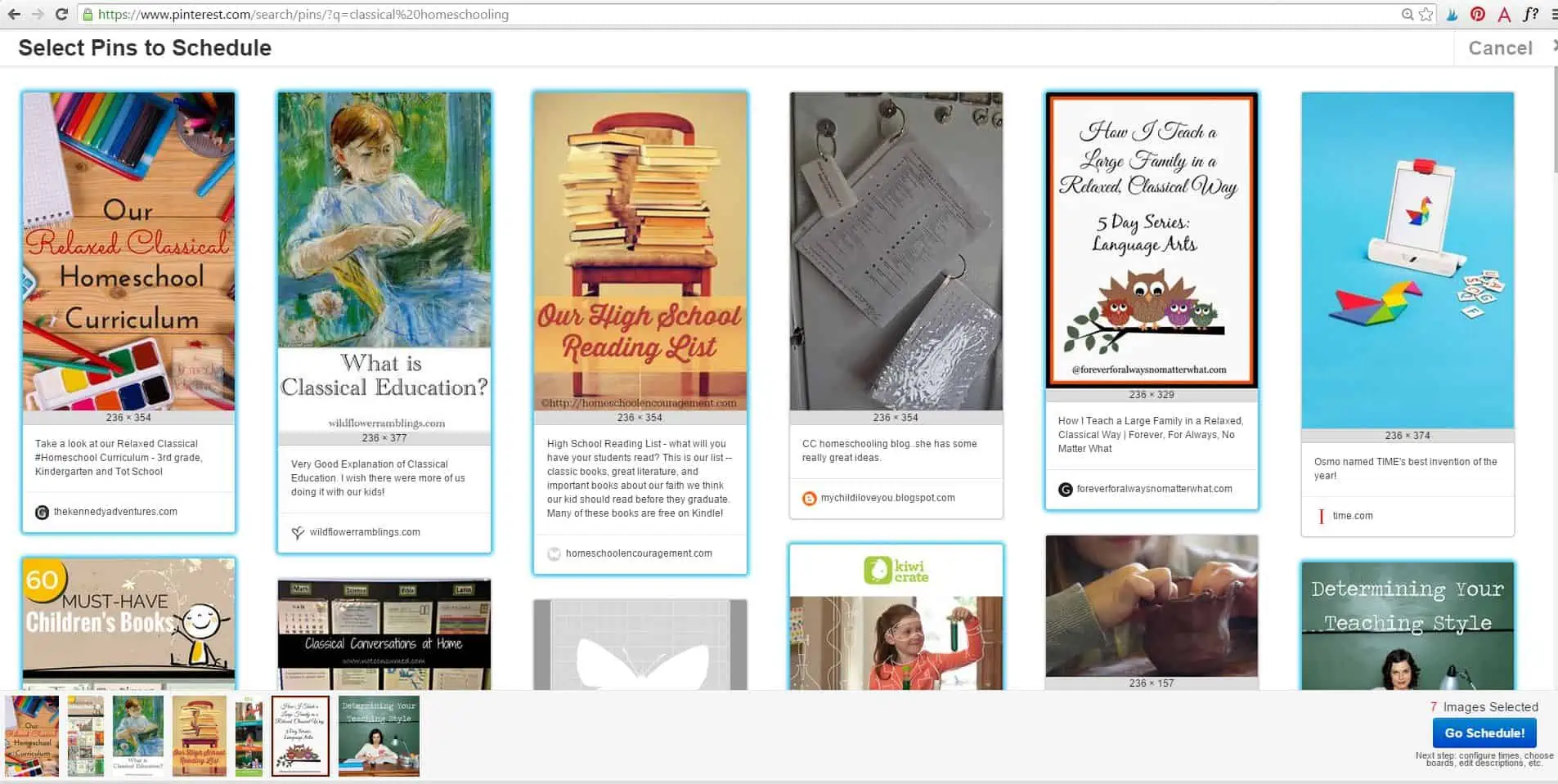 A new window will pop up with only the pins that were highlighted in blue. At this point you can add the pins to individual boards, but the big timesaver is being able to add them all to the same board at once. Here I chose "My Love for Homeschooling." You can even add the pins to more than one board if you'd like. All of these pins will now be added to my queue and will be published according to the times already set in my Tailwind scheduler.
If you're trying to repin something that's already on that board, Tailwind will alert you by highlighting the board in orange. You can see the alert pop up in the image below. At this point, you can hover over the upper right corner of that pin and click on the little trash can to delete it. This helps to keep your boards fresh without a bunch of repeat content.
I usually do this five or more times in different categories and choose 15-30 pins for each topic. Once I've added 80 or more pins to my queue (which takes maybe 5-10 minutes, a lot less time than it used to!), I sign into Tailwind and go to my Scheduled Pins page.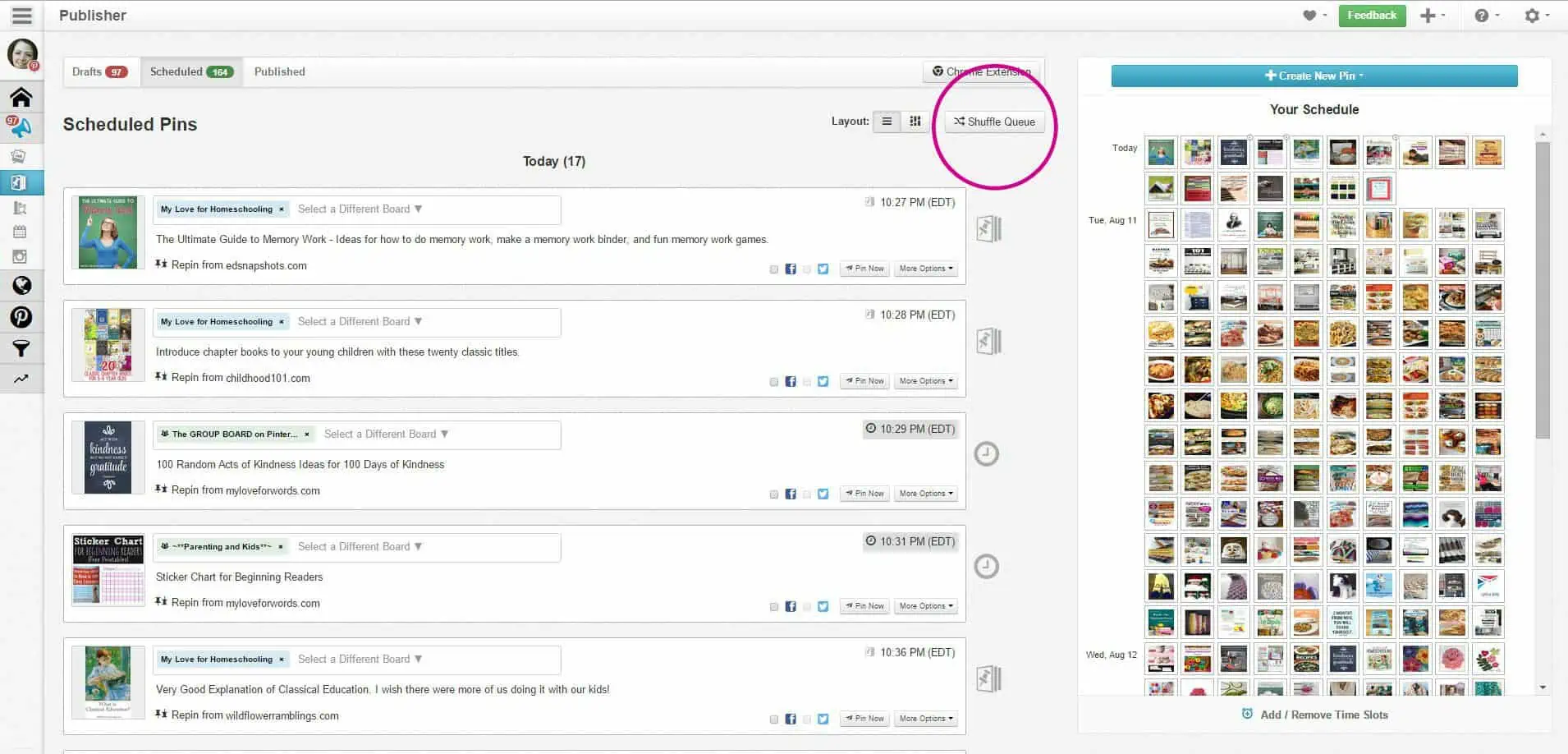 Both the left and right sides of the screen show which pins are scheduled, but the left side gives more information like the times they'll be posted and to which boards the pins will be sent.
Now it's time to mix up our pins so our followers don't see 30 pins on the same topic posted back to back. You can do this by either manually changing all of the times on the left side of the scheduler or by dragging and dropping pins around the right side of the screen, but the easiest way is by pressing the "shuffle queue" button that's highlighted in pink above.
With the shuffle queue button, any pins that have been manually scheduled will remain at their set times while all pins that have just been added to the queue will be mixed up.
And there it is! I was able to schedule over 100 pins from other blogs in just minutes and now those pins will slowly trickle out on Pinterest over the next few days so I can focus on the million other tasks on my blogging to do list.
If you want more of the tips and tricks I've learned since I started blogging, be sure to sign up for my blogging newsletter below, and if there's something you want me to cover or an area you're struggling with, leave a comment, and I'll cover it in an upcoming post. Happy Blogging!