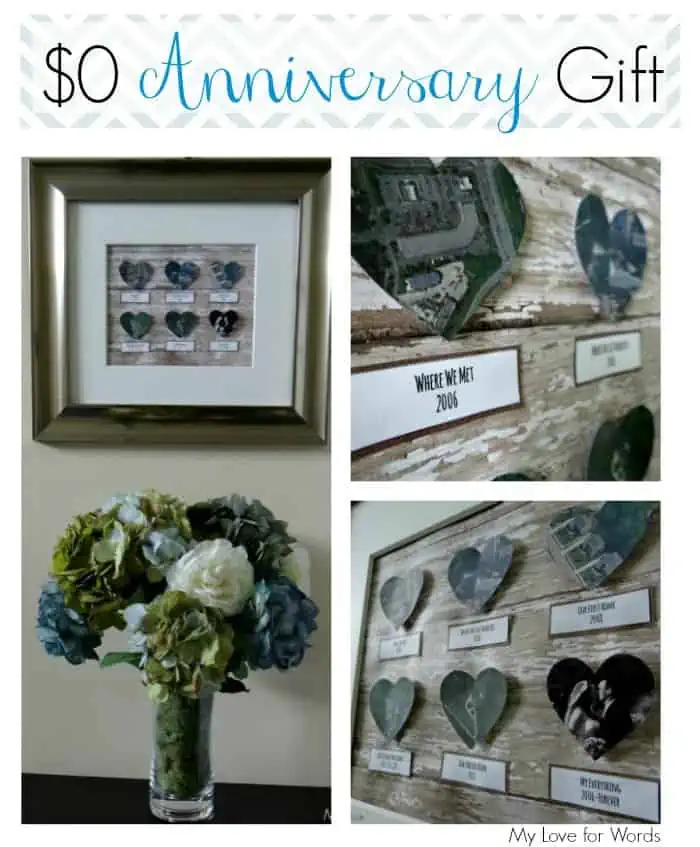 This year, my husband and I celebrated a milestone anniversary. We've been married 5 years! We are still babies when it comes to this marriage thing (which I fully admitted here), but we've had a busy five years. We purchased and sold our first home, bought our forever home (at least until I start itching to move again), and welcomed three children into our family. Whew. Sometimes I can't believe it's only been five years when I think about everything we've done.
Even though giving and receiving gifts is fun, this year we decided we didn't really want to buy something just for the sake of buying it. We don't need anything, and the only thing we really want is an occasional date night for some peace and quiet. (With four kids in the house, peace and quiet are rare treats.) Despite our agreement not to buy anything, I did want to mark our five years with something special and sentimental so I went the "shop my house" route and made this instead.
I'm affectionately calling it my $0 Anniversary Gift. I know that probably sounds cheap and horrible to some, but I loved making and giving this to him so much more than if I'd just added to his tie collection.
Here are the supplies I used, all of which were already in my home. Woohoo!
picture frame
computer paper
computer, printer, access to google maps
scissors
pencil
2 pieces of decorative cardstock
glue
First, I found the frame I wanted to use. I needed to know how much space I was going to be working with so I could appropriately size my hearts and labels. I had this empty silver 8×10 frame in the basement so this seemed to be the perfect time to finally use it.
Next, I cut different sized hearts out of heavy cardstock and placed them in the 8×10 space to see how big I wanted them. I eventually settled on 2 inch hearts and labels so I'd still have a good amount of open space  in the frame.
I used google maps to print out the various locations I wanted to use: where we met, married, 1st home, hospital where our kids were born, and our forever home. The sixth picture was one of our wedding photos.
Google maps usually has a little red pin at the location you enter, and I knew I didn't want that in our pictures. Thankfully, I was able to remove it. I put my mouse over the "Traffic" square on the right side of the screen, and when the mouse hovered over it a drop down menu appeared. I then clicked on the name of the location, which made the red marker disappear. This gave me nice, clear pictures to print on regular computer paper.
I used my 2 inch cardstock heart as a stencil and centered it over the locations and cut them out.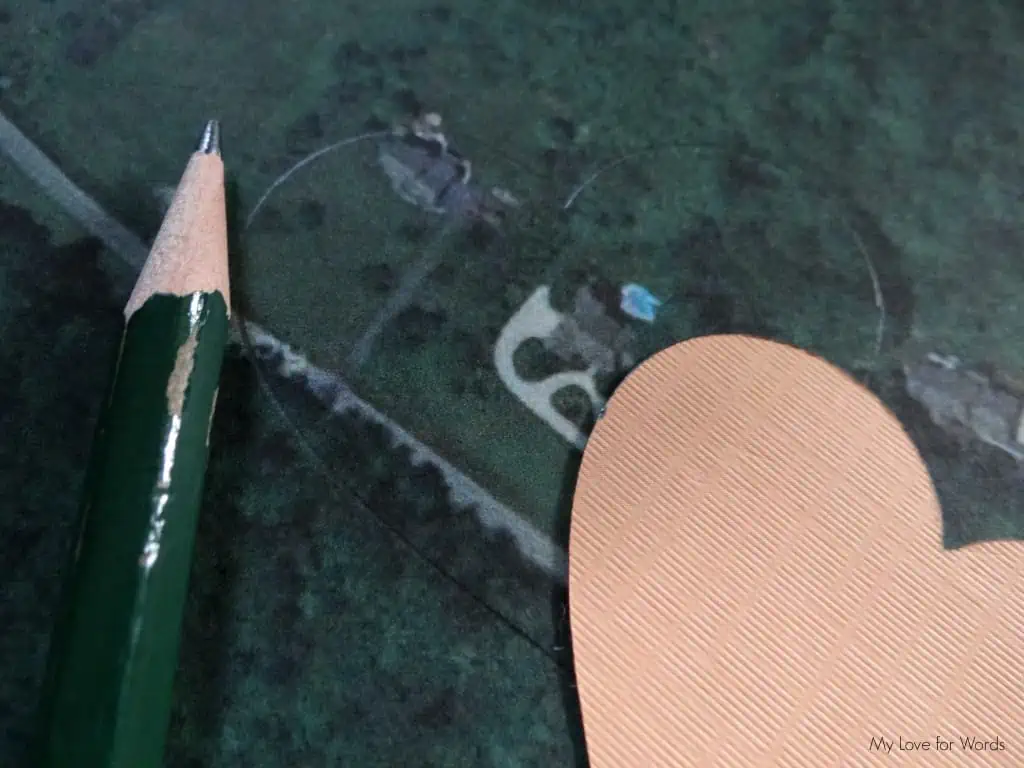 Next, I chose the paper I wanted as the background. I originally thought about using one of these as the background,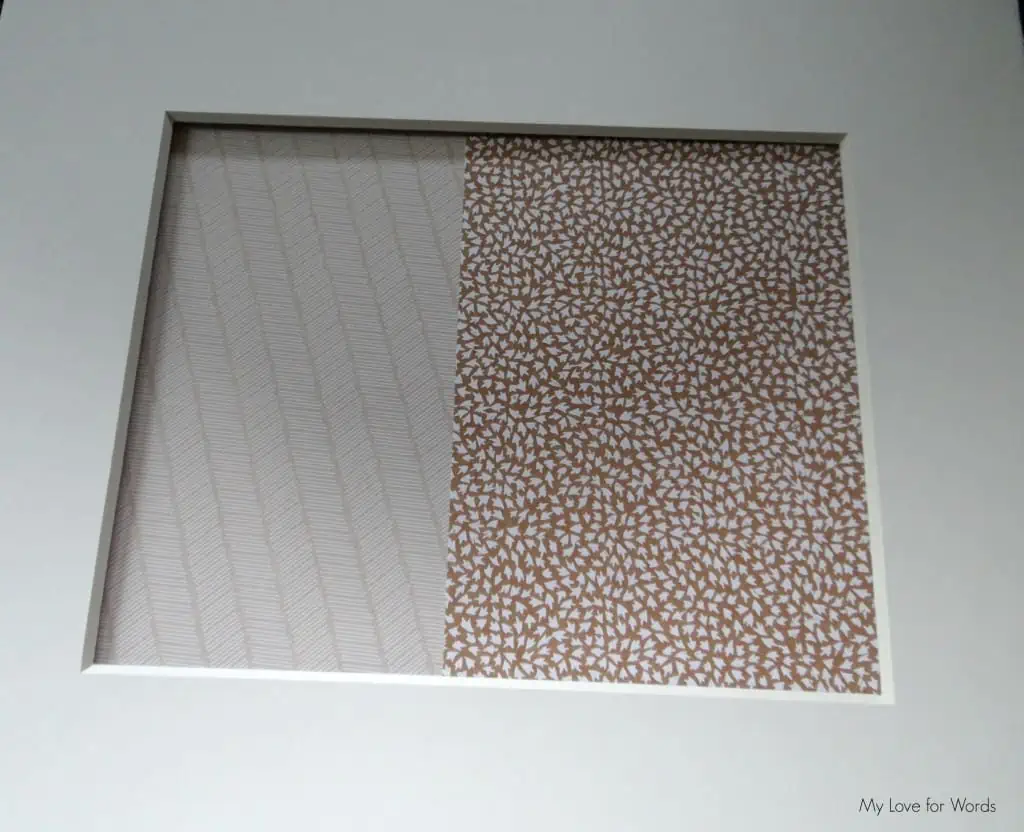 but they just didn't make the statement I wanted. Then I stumbled upon the faux wood paper and thought that piece would be really neat to use. It's kind of a modern day version of carving our initials in a tree, which I love and think is very romantic. Perfect for our anniversary, and this indoor girl gets to stay inside. Yay!
I then printed out the labels I wanted to use on computer paper, cut them out, and started to assemble everything.

I used foam squares under the hearts and labels to give the piece a little more dimension.
Once it was all together I thought the labels needed a little something extra so I cut slightly larger brown rectangles to act as mini frames for the labels and help them pop off the tree background a bit.
Finally, I popped it in my frame (it's amazing the difference a pretty frame can make!) and voila! Absolutely no money spent on making one of my favorites gifts I've ever given.
(Michael Buble's "My Everything" was our wedding song so I was excited to be able to squeeze that in to the project too.)
And there you have it! A great, sentimental anniversary gift that didn't cost an arm and a leg to make, and it was a perfect and meaningful surprise for my hubby. The best of both worlds!
(Linking up at these great parties.)