The new year is almost here! It's time to reflect on the past and set sights on the future. These 100 best end of year quotes will motivate and inspire you to make the most of 2023.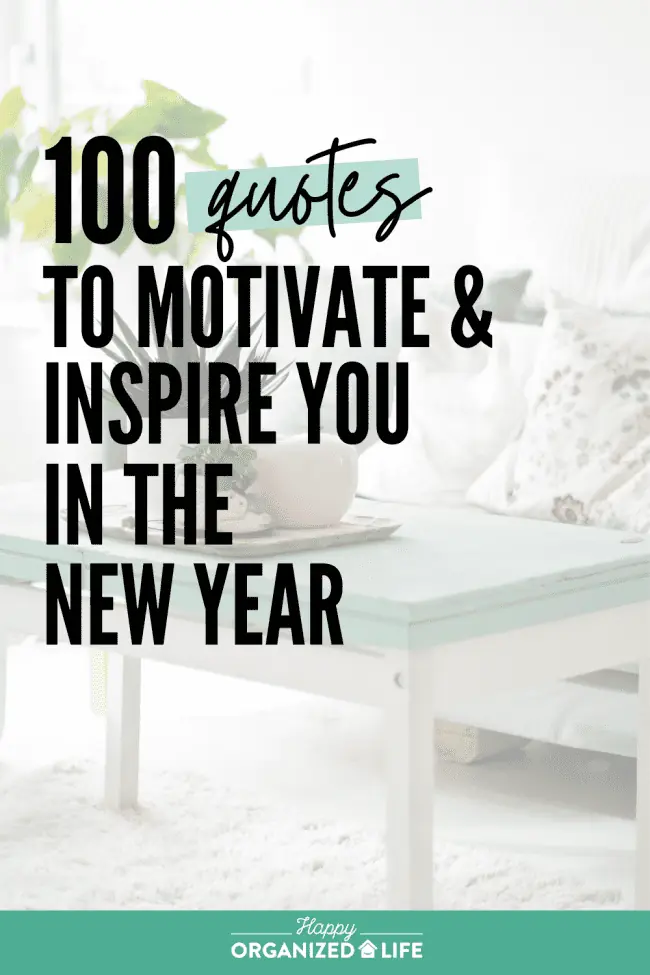 No matter what you've experienced in 2022, these quotes will encourage you to stay positive and hopeful as you enter the new year.
From well-known authors and historical figures to modern-day thought leaders, these inspiring words will help you start 2023 off on the right foot.
So, read on for a dose of motivation, and get ready to make the most of the year ahead.
Inspirational End of Year Quotes to Motivate You Every Day
1. Maybe this year, we ought to walk through the rooms of our lives not looking for flaws, but looking for potential. – Ellen Goodman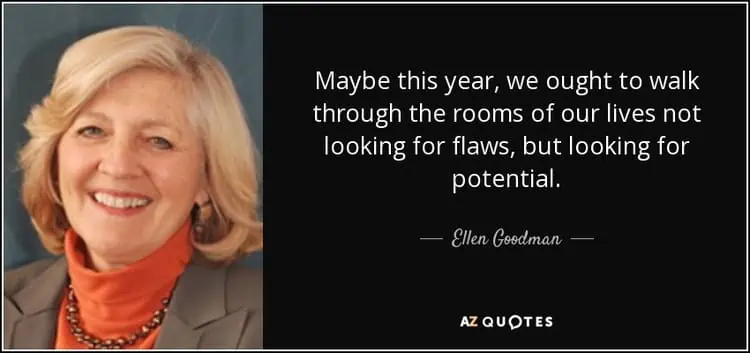 2. What a wonderful thought it is that some of the best days of our lives haven't even happened yet. – Anne Frank
3. The end of the year is always a good time to reflect on our spiritual progress. Whether you set goals at the beginning of this year or not, it is certainly good to ask where you have been this year and whether you are heading in the right direction. – Christopher Perry
4. This bright new year is given me. — William Arthur Ward
5. The object of a New Year is not that we should have a new year. It is that we should have a new soul and a new nose, new feet, a new backbone, new ears, and new eyes. – G.K. Chesterton
6. Year's end is neither an end nor a beginning but a going on, with all the wisdom that experience can instill in us. – Hal Borland
7. A new year can begin only because the old year ends. – Madeleine L'Engle
8. An optimist stays up until midnight to see the new year in. A pessimist stays up to make sure the old year leaves. — Bill Vaughan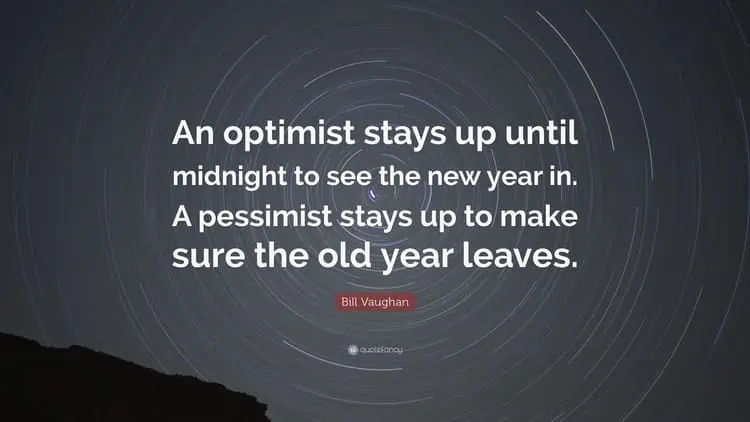 9. Take the first step in faith. You don't have to see the whole staircase, just take the first step. – Martin Luther King Jr.
10. Departure of a year welcomes so many new memories. – Munia Khan
11. Another fresh new year is here. Another year to live! To Banish worry, doubt and fear, to love and give. — William Arthur Ward
12. If you asked me for my new year's resolution, it would be to find out who I am. – Cyril Cusack
13. Let's do what we love, and let's do a lot of it. – Marc Jacobs
14. The way I look at it, every day that I'm moving forward is a day I'm not moving backward. —Bobby Bones
15. Be thankful for what you have; you'll end up having more. If you concentrate on what you don't have, you will never, ever have enough. – Oprah Winfrey
16. Let our New Year's resolution be this: We will be there for one another as fellow members of humanity, in the finest sense of the word. – Göran Persson
17. Going through things you never thought you'd go through will only take you places you never thought you'd get to. – Morgan Harper Nichols
18. New year. New feels. New chances. Same dreams, fresh starts. – Unknown
19. Hope smiles from the threshold of the year to come, whispering 'it will be happier'… – Alfred Lord Tennyson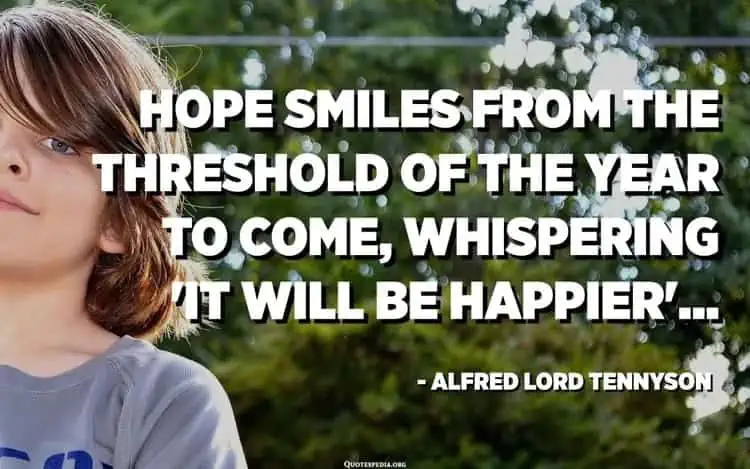 20. There are far, far better things ahead than any we leave behind. – C.S. Lewis
21. New year – a new chapter, new verse, or just the same old story? Ultimately we write it. The choice is ours. – Alex Morritt
22. How far you can go in life is yet to be seen. Don't let other people's limited beliefs about what's possible diminish your potential. – Kevin Ngo
23. The pessimist complains about the wind; the optimist expects it to change; the realist adjusts the sails. – William Arthur Ward

24. At the end of every day of every year, two things remain unshakable, our constancy of purpose and our continuous discontent with the immediate present. – Roberto Goizueta
More Inspiring End of Year Quotes for the New Year
25. It wouldn't be new year's if I didn't have regrets. – William Thomas
26. Life is just a certain amount of time and energy. Putting this time and energy to maximum use for everyone's well-being is all that matters. – Sadhguru
27. The secret of change is to focus all of your energy, not on fighting the old but on building the new. – Socrates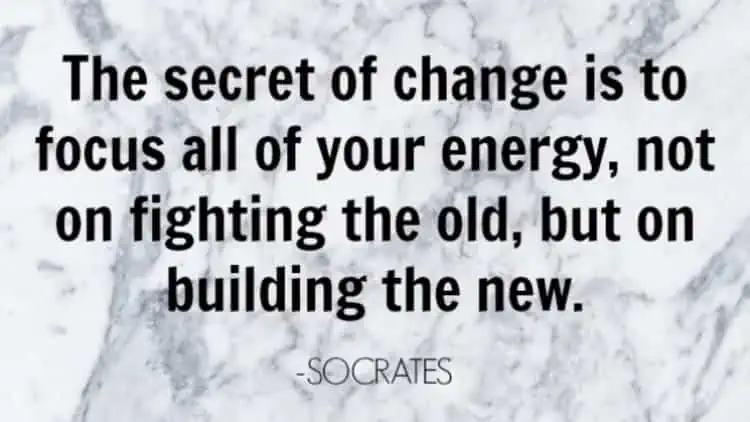 28. I hope that in this year to come, you make mistakes. Because if you are making mistakes, then you are making new things, trying new things, learning, living, pushing yourself, changing yourself, changing your world. You're doing things you've never done before, and more importantly, you're doing Something. – Neil Gaiman
29. A farewell to a year filled with sweet happy, and sad memories. And a huge welcome to the upcoming year and a grand start of making new memories. – Unknown
30. This is your year to sparkle. – Unknown
31. Tomorrow is the first blank page of a 365-page book. Write a good one. – Brad Paisley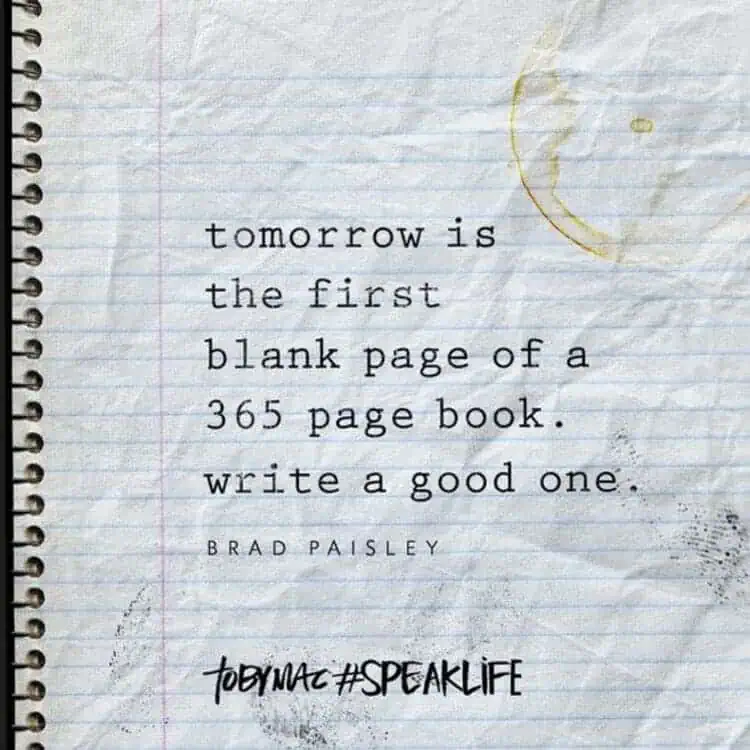 32. Whatever happened over this past year, be thankful for where it brought you. Where you are is where you're meant to be! –Mandy Hale
33. Good, better, best. Never let it rest. 'til your good is better and your better is best. – St. Jerome
34. And now we welcome the new year. Full of things that have never been. — Rainer Maria Rilke
35. Write it on your heart that every day is the best day in the year. —Ralph Waldo Emerson
36. May the blessings of God be upon us from the beginning of the year to its end. – Lailah Gifty Akita
37. At the end of the day, it's all about what's on the shelf at the end of the year. – Steve Coppell
38. New Beginnings are in order, and you are bound to feel some level of excitement as new chances come your way – Auliq Ice
39. Never allow waiting to become a habit. Live your dreams and take risks. Life is happening now. – Paulo Coelho
40. For last year's words belong to last year's language. And next year's words await another voice. – T. S. Eliot
41. Plant seeds every single day that you know who you are, you know what you're about, and you know what goals you've set for yourself. —Stephen Curry
42. Although no one can go back and make a brand new start, anyone can start from now and make a brand new ending. – Carl Bard

43. Each year's regrets are envelopes in which messages of hope are found for the new year. – John R. Dallas Jr.
44. We do not learn from experience… we learn from reflecting on experience. – John Dewey
45. If we did all of the things we are capable of doing, we would literally astound ourselves. – Thomas Edison
46. We will open the book. Its pages are blank. We are going to put words on them ourselves. The book is called Opportunity, and its first chapter is New Year's Day. – Edith Lovejoy Pierce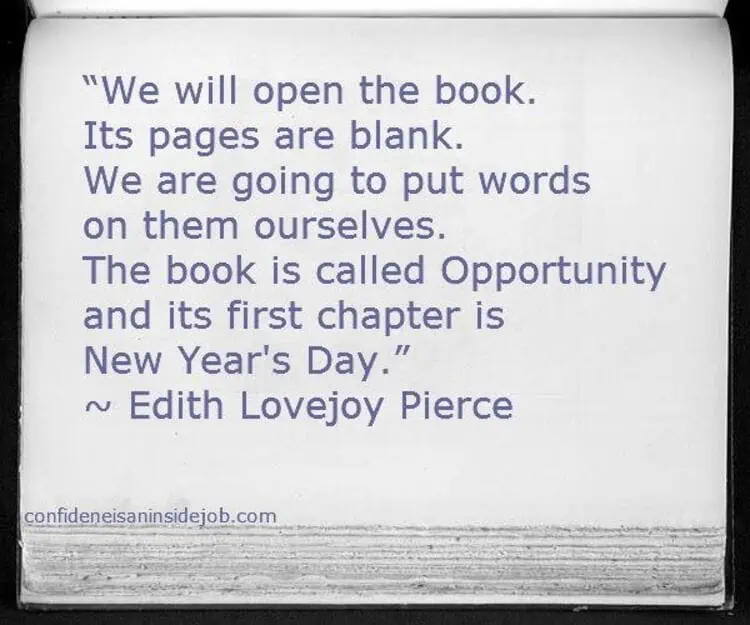 47. Let all the failures of your past year be your best guide in the New Year. – Mehmet Murat Ildan
48. Old is gone and new is here; forget your sorrows and your tears. – Unknown
49. I've become fascinated by the idea that it's really achievable to make two or three small improvements in a week, and by the end of the year, it's 150 improvements. – Darrell Hammond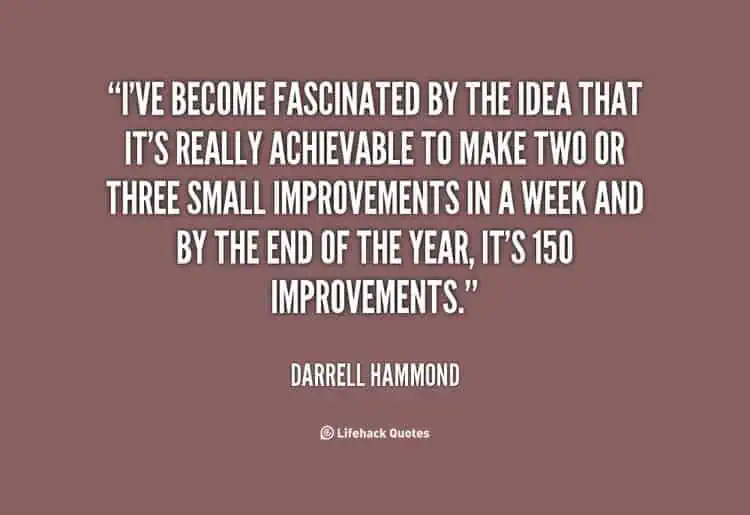 50. Take a leap of faith and begin this wondrous new year by believing. – Sarah Ban Breathnach
New Year Quotes That Will Motivate You All Year Long
51. The seasons change, and you change, but abides evermore the same, and the streams of His love are deep, as broad and as full as ever. – Charles Spurgeon
52. Life's not about expecting, hoping, and wishing; it's about doing, being, and becoming. – Mike Dooley
53. Ring out the old, ring in the new, Ring, happy bells, across the snow: The year is going, let him go; Ring out the false, ring in the true. – Alfred Lord Tennyson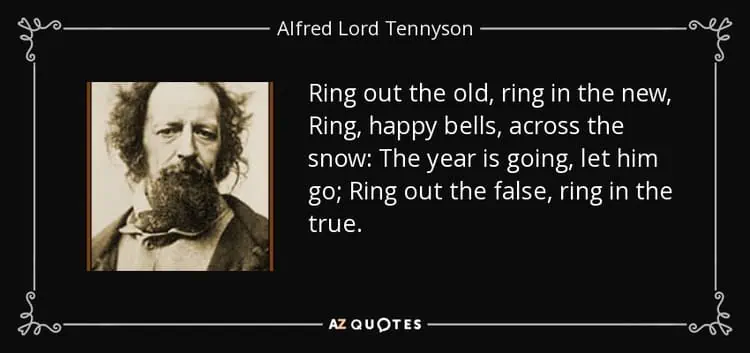 54. What is coming is better than what is gone. – Unknown
55. You can get excited about the future. The past won't mind. —Hillary DePiano
56. One ought, every day at least, to hear a little song, read a good poem, see a fine picture, and, if it were possible, to speak a few reasonable words. —Johann Wolfgang von Goethe
57. Make New Year's goals. Dig within, and discover what you would like to have happen in your life this year. This helps you do your part. It is an affirmation that you're interested in fully living life in the year to come. — Melody Beattie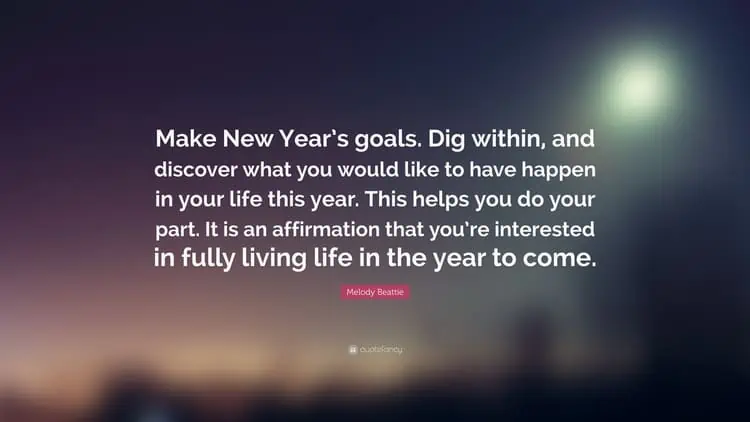 58. It is never too late to be what you might have been. – George Eliot
59. 12 new chapters. 365 new chances. – Unknown
60. It is often easier to make progress on mega-ambitious dreams. Since no one else is crazy enough to do it, you have little competition. – Larry Page
61. Our lives begin to end the day we become silent about things that matter. – Martin Luther King Jr.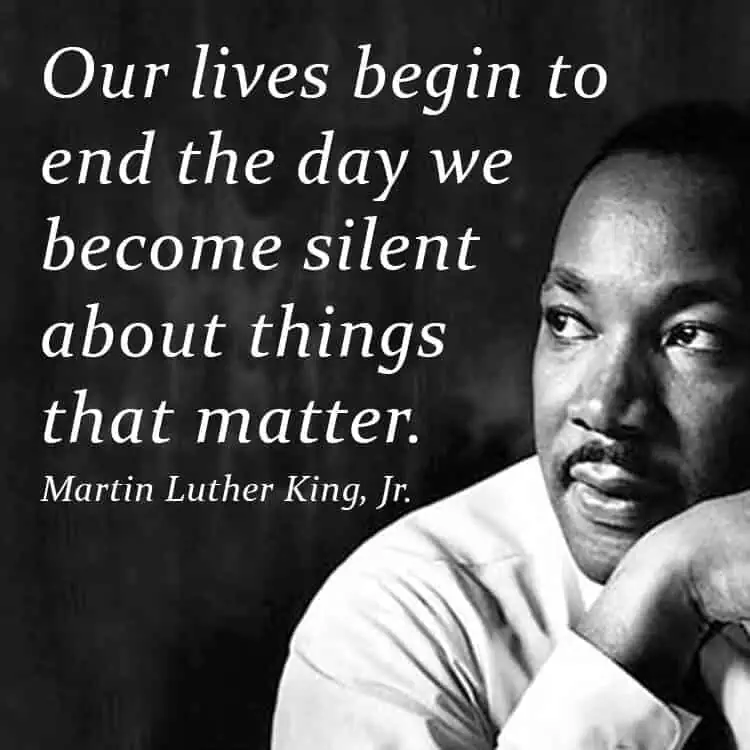 62. Dear past, thank you for all the lessons. Dear future, I am now ready. – Unknown
63. A surplus of effort could overcome a deficit of confidence. —Sonia Sotomayor
64. Every tomorrow is an outcome of what I do today, and the beauty of it all is that today is happening all the time. – Craig D. Lounsbrough
65. And in the end, it's not the years in your life that count. It's the life in your years. – Ralph Waldo Emerson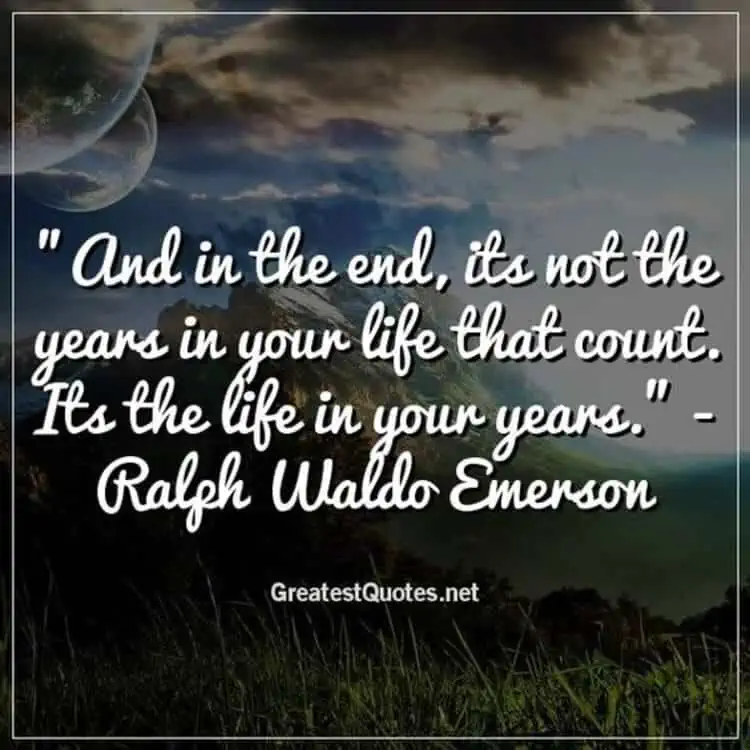 66. Just because the past didn't turn out like you wanted it to, doesn't mean your future can't be better than you ever imagined. – Anonymous
67. Never underestimate the power you have to take your life in a new direction. – Germany Kent
68. If you fail to plan, you're planning to fail. – Benjamin Franklin
69. We would do well to slow down a little focus on the significant & truly see the things that matter most. – Dieter F. Uchtdorf
70. Each New Year, we have before us a brand new book containing 365 blank pages. Let us fill them with all the forgotten things from last year, the words we forgot to say, the love we forgot to show, and the charity we forgot to offer. – Peggy Toney Horton
71. Year's end is neither an end nor a beginning, but a going on… Cheers to a new year and another chance for us to get it right. – Oprah Winfrey
72. This is a new year. A new beginning. And things will change. – Taylor Swift
73. I'd rather regret the risks that didn't work out than the chances I didn't take at all. —Simone Biles
74. Whatever it is you're scared of doing, do it. Make your mistakes next year and forever. – Neil Gaiman
End of Year Quotes to Bring Cheer and Fortune
75. To the old, long life and treasure; to the young, all health and pleasure. – Ben Jonson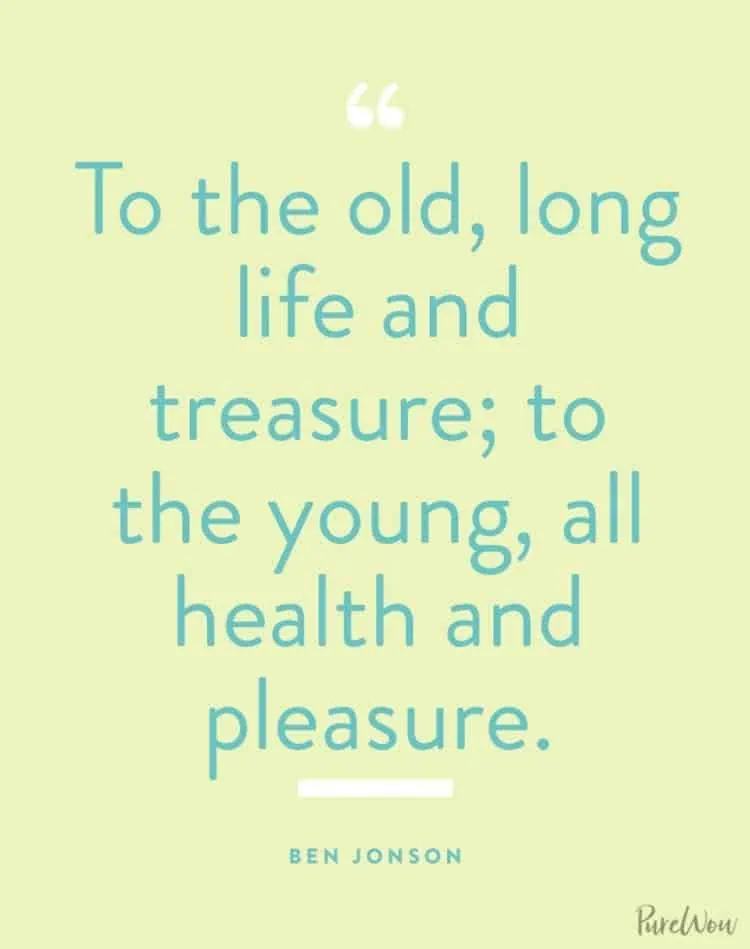 76. This is the year I will be stronger, braver, kinder and unstoppable. This year I will be fierce. – Unknown
77. I hope you realize that every day is a fresh start for you. That every sunrise is a new chapter in your life waiting to be written. —Juansen Dizon
78. You're never too broken to be fixed. —Jonathan Van Ness
79. Be at war with your vices, at peace with your neighbors, and let every new year find you a better man. – Benjamin Franklin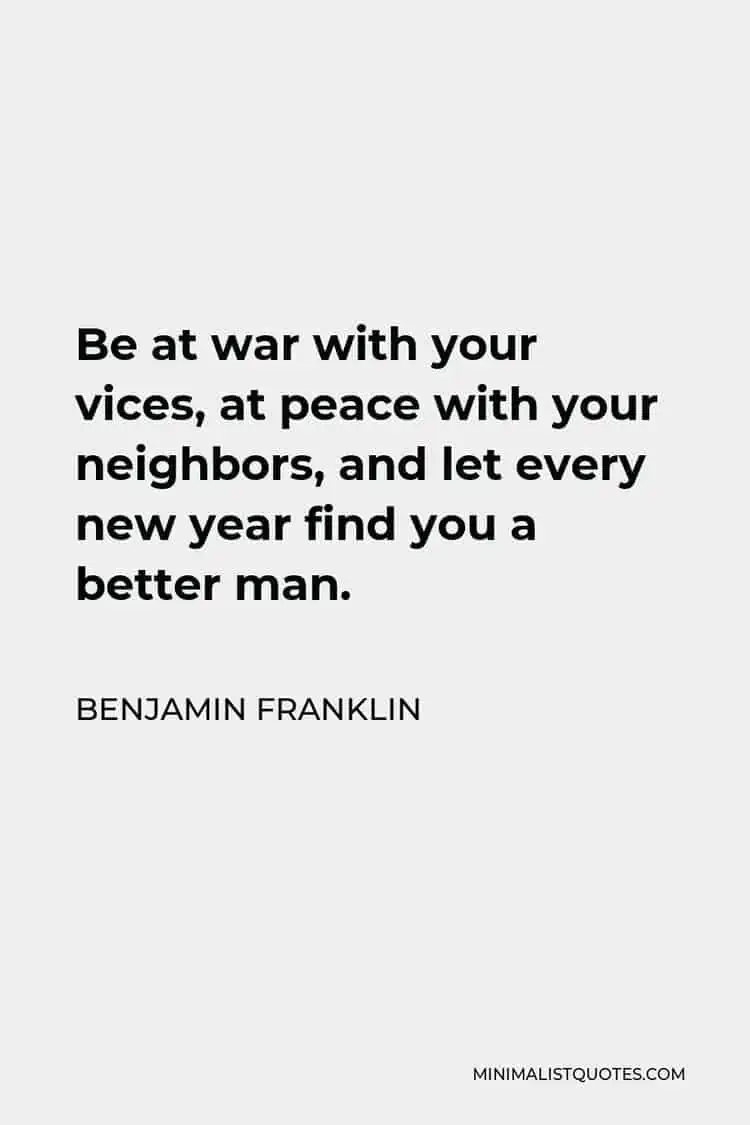 80. The priceless lesson in the New Year is that endings birth beginnings and beginnings birth endings. And in this elegantly choreographed dance of life, neither ever find an end in the other. – Craig D. Lounsbrough
81. With the new day comes new strength and new thoughts. —Eleanor Roosevelt
82. I just wanna keep going forwards, even if it's only a tiny step. – Lucy Rose
83. Twenty years from now, you will be more disappointed by the things you didn't do than by the ones you did do. – Mark Twain
84. We're at our best when we support each other. Not when we cancel each other out for our past mistakes but when we help each other to grow. —Joaquin Phoenix
85. Every new beginning comes from some other beginning's end. – Seneca
86. The year end brings no greater pleasure than the opportunity to express to you season's greetings and good wishes. May your holidays and new year be filled with joy. – Charles Dickens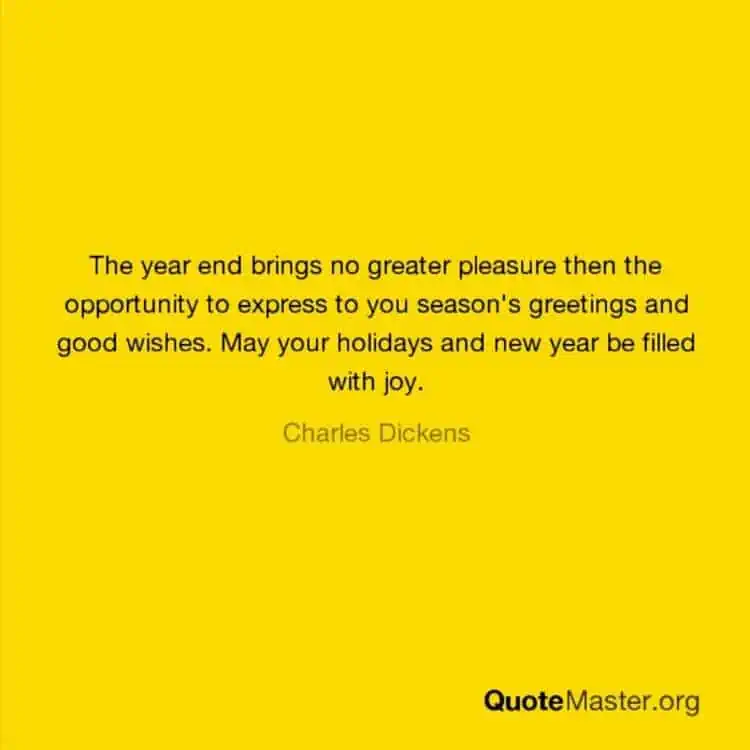 87. It always seems impossible until it's done. – Nelson Mandela
88. Every time you tear a leaf off a calendar, you present a new place for new ideas. – Charles Kettering
89. A happy new year. Grant that I may bring no tear to any eye when this new year in time shall end let it be said I've played the friend, have lived and loved and labored here and made of it a happy year. – Edgar Guest
90. Good resolutions are simply checks that men draw on a bank where they have no account. – Oscar Wilde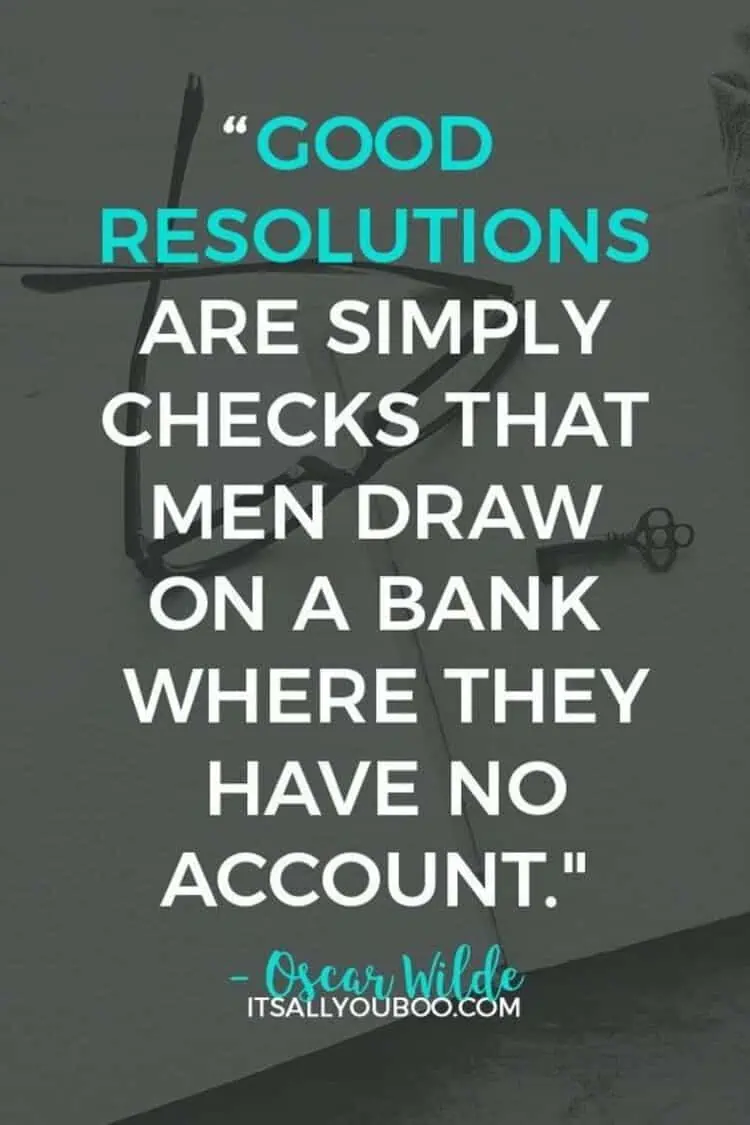 91. May the New Year bring you courage to break your resolutions early. My own plan is to swear off every kind of virtue, so that I triumph even when I fall. – Aleister Crowley
92. The new year stands before us, like a chapter in a book waiting to be written. – Melody Beattie
93. You can't have a better tomorrow if you are thinking about yesterday all the time. – Charles Kettering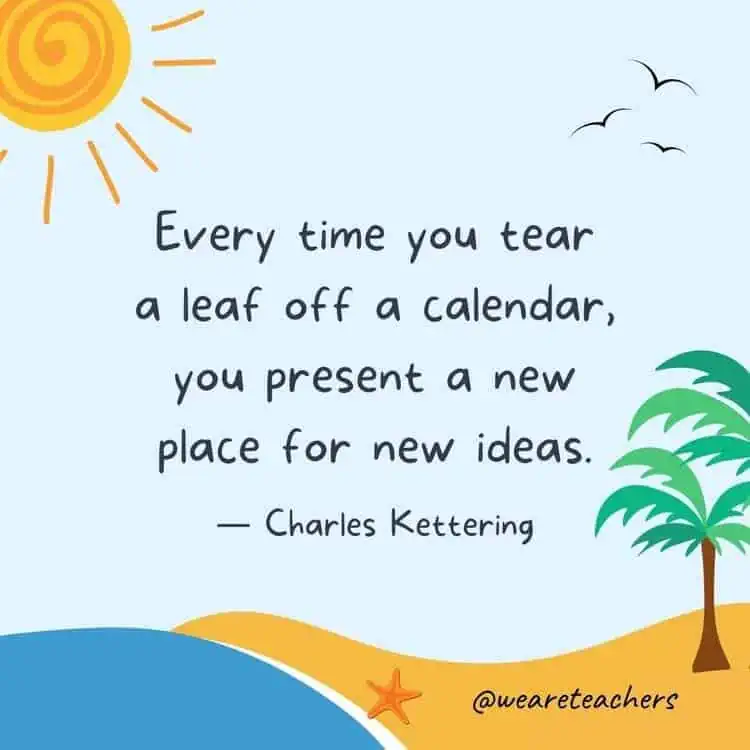 94. All of us every single year, we're a different person. I don't think we're the same person all our lives. – Steven Spielberg
95. The bad news is time flies. The good news is you're the pilot. – Michael Altshuler
96. Your present circumstances don't determine where you can go; they merely determine where you start. – Nido Qubein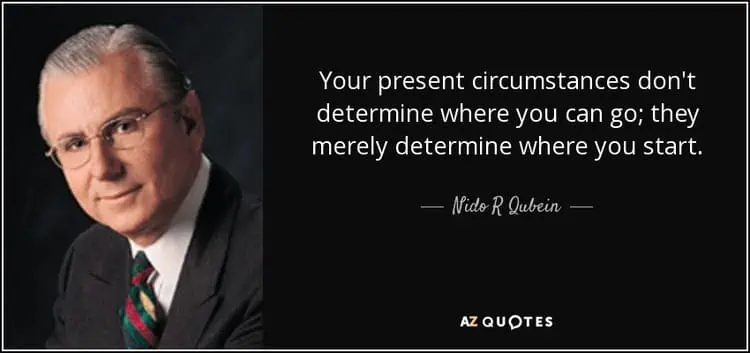 97. The sweet fragrance of a fresh New Year! – Lailah Gifty Akita, Pearls of Wisdom: Great mind
98. Dear world, I am excited to be alive in you, and I am thankful for another year – Charlotte Eriksson
99. Drop the last year into the silent limbo of the past. Let it go, for it was imperfect, and thank God that it can go. – Brooks Atkinson
100. Every new season of your life will be an opportunity for you to learn and grow. Don't celebrate the good without celebrating the bad because they both work together to prepare you for the next season of your life. – Theresa Lewis
It's been quite a year, and we're all looking forward to a fresh start in 2023. As we reflect on all that has happened, both good and bad, we can't help but be grateful for all the lessons we've learned. These end-of-year quotes are the perfect way to reflect on the past year and set our sights on the future. I wish you a magical New year's eve!
I hope you loved these end of year quotes as much as I did. Was there one quote that really spoke to you? Which was your favorite?
Since we're talking about the New Year, I'd also love to know what are you looking forward to in 2023? What is your top goal for the year? I can't wait to read all about them in the comments below!
Did you like our list of end of year quotes? Then, you're going to love these other blog posts we have, too: