Need a June calendar? You're in the right place! Here are 45 Free Printable PDF Templates and Designs to help you make the most of your June!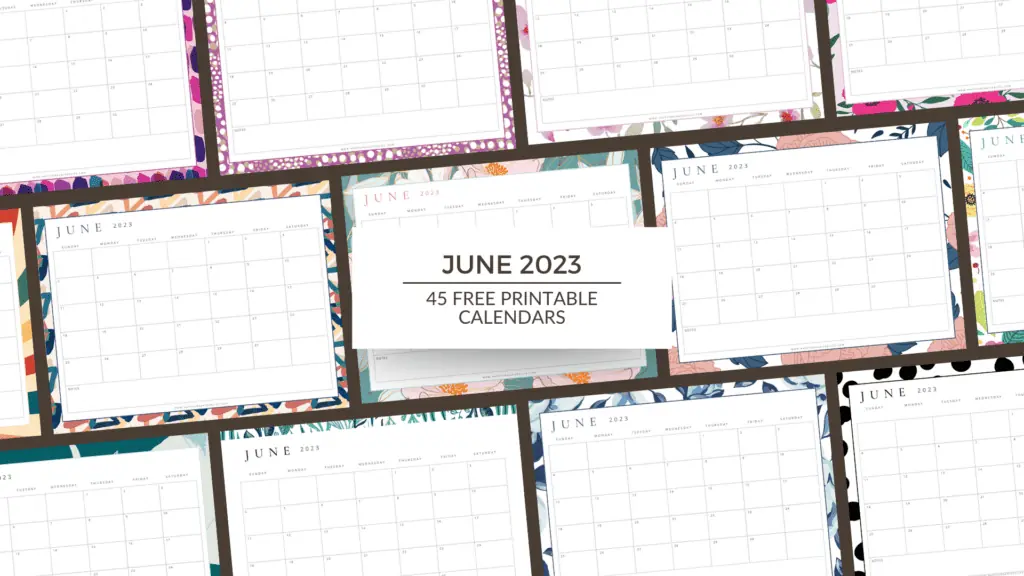 The month of June is named after the Roman goddess Juno: the protector of women, marriage, and childbirth. It's a month that's traditionally associated with new beginnings, growth, and prosperity. What better way to start the month right than planning your schedule with a free printable June calendar?
In this post, we've created 45 different June calendar designs that you can download and print for free as well as some intriguing information about the major holidays, observances, and historical events that have occured during the 6th month of the year.
Whether you're looking for a simple design to help you plan your month or something more festive to celebrate summer holidays, we've got you covered. The layouts vary from a minimalistic calendar to beautiful floral designs, and we've made sure to include calendars in portrait and landscape orientations, and Monday and Sunday start dates too.
This post contains affiliate links.
June Calendar Template Free Printables for 2023
With our calendars, you can easily keep track of important dates and plan your activities accordingly. To download your free June calendar printables, just click on the image you like (or text below) and start planning a month won't forget!
Blank June 2023 Calendar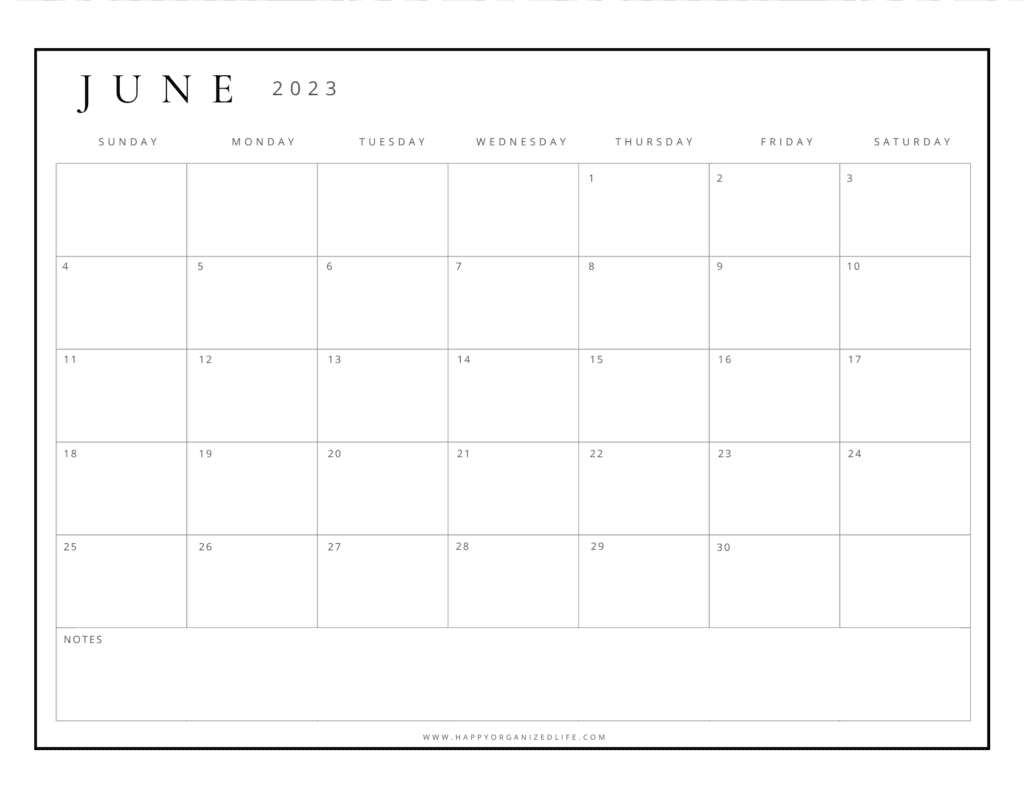 June 2023 Calendar – Blank Calendar Design
Minimalist Designs – Simple June Calendars for 2023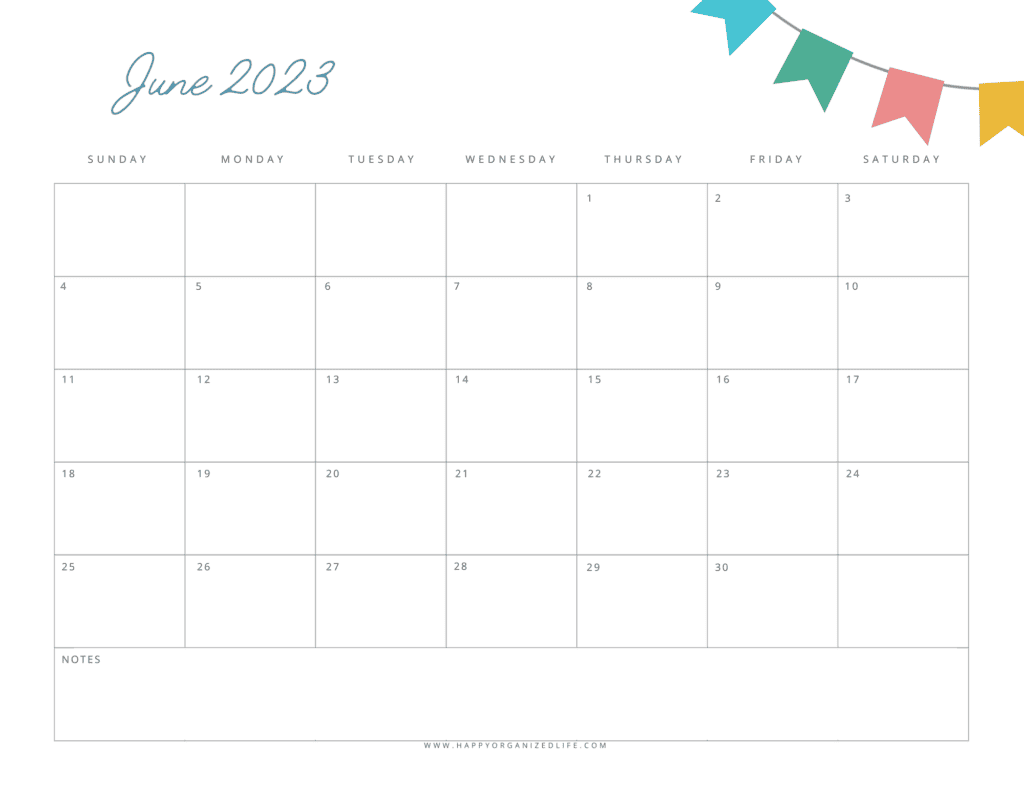 2023 June Calendar – Banners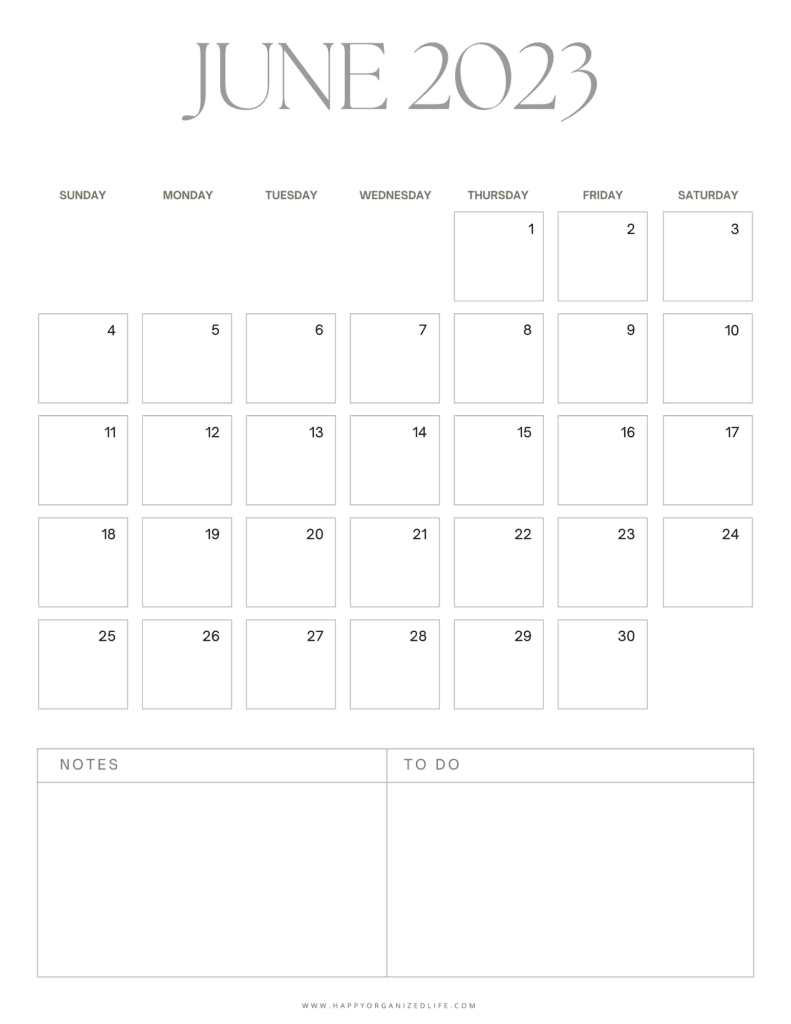 Printable June Calendar – Corporate Calendar in Landscape Orientation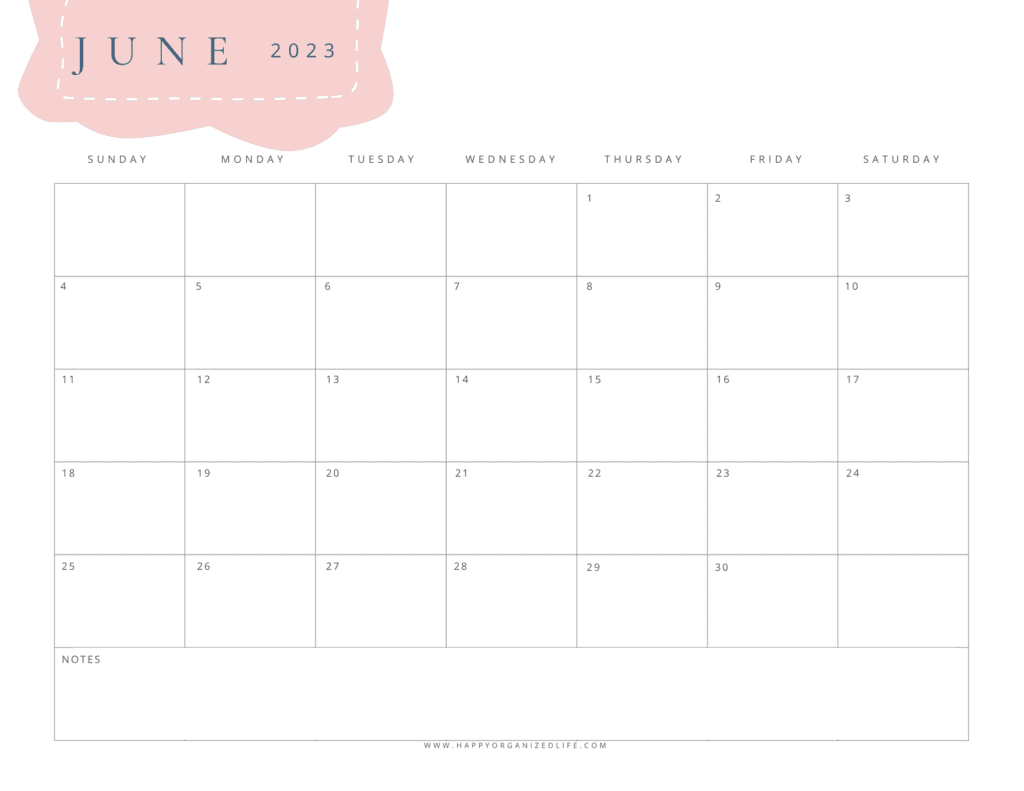 2023 June Printable Calendar – Pink with White Stitches
June Calendar 2023 – Blue with White Stitches
Printable June 2023 Calendar – Floral Designs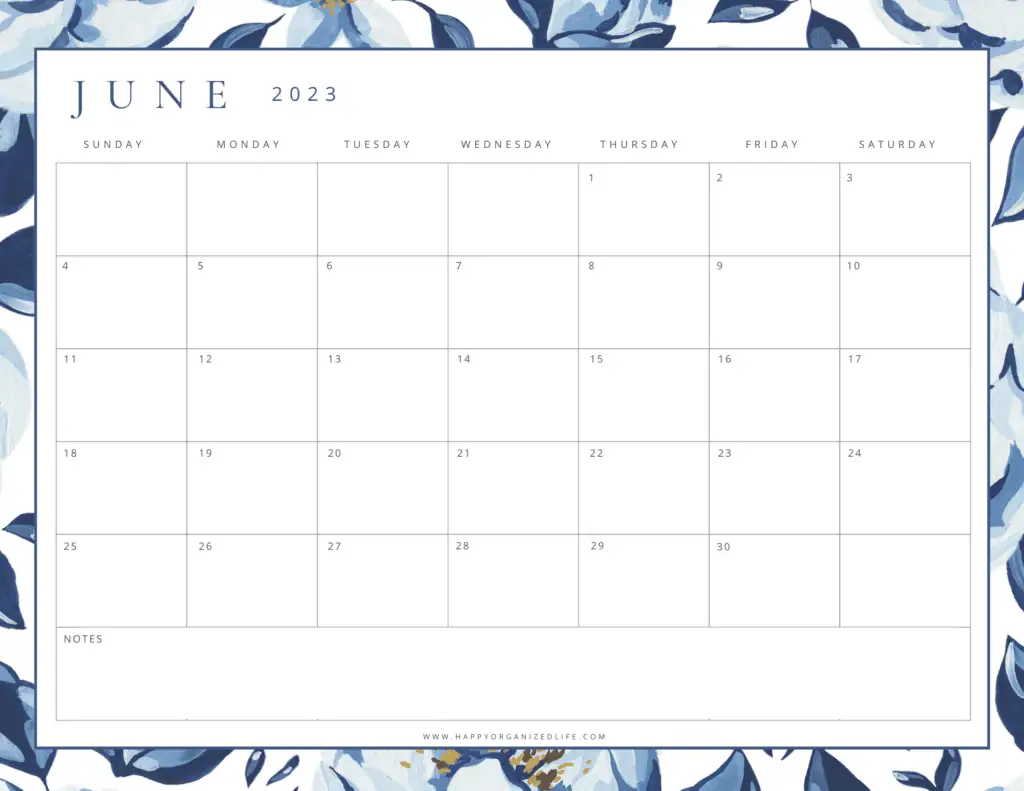 June Calendar 2023 – Blue Floral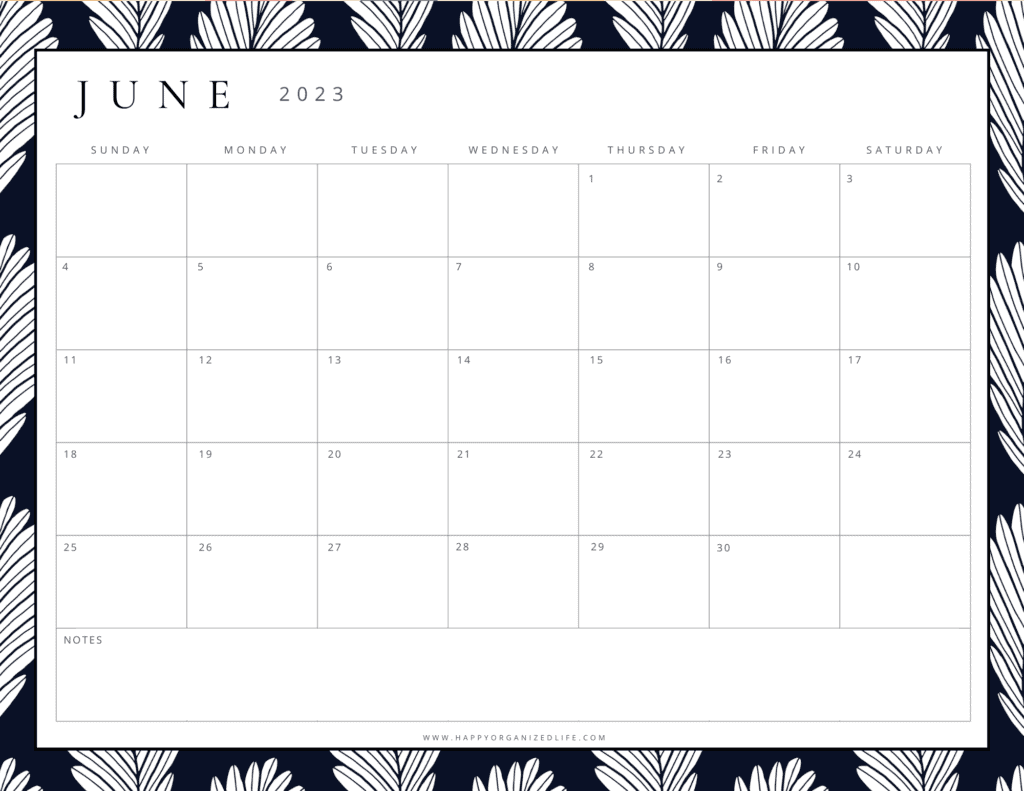 2023 Calendar for June – Black and White
Free Printable Calendar for June 2023 – Electric Pink & Green
2023 June Calendar – Purple & Green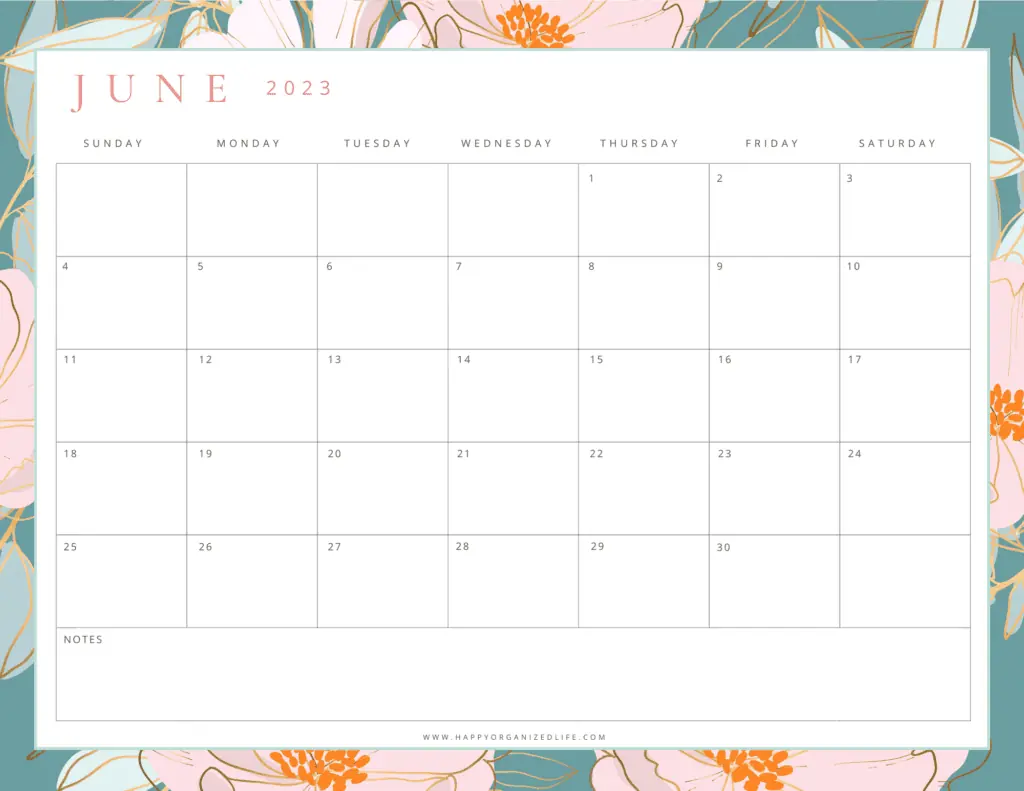 June 2023 Calendar – Blush & Sage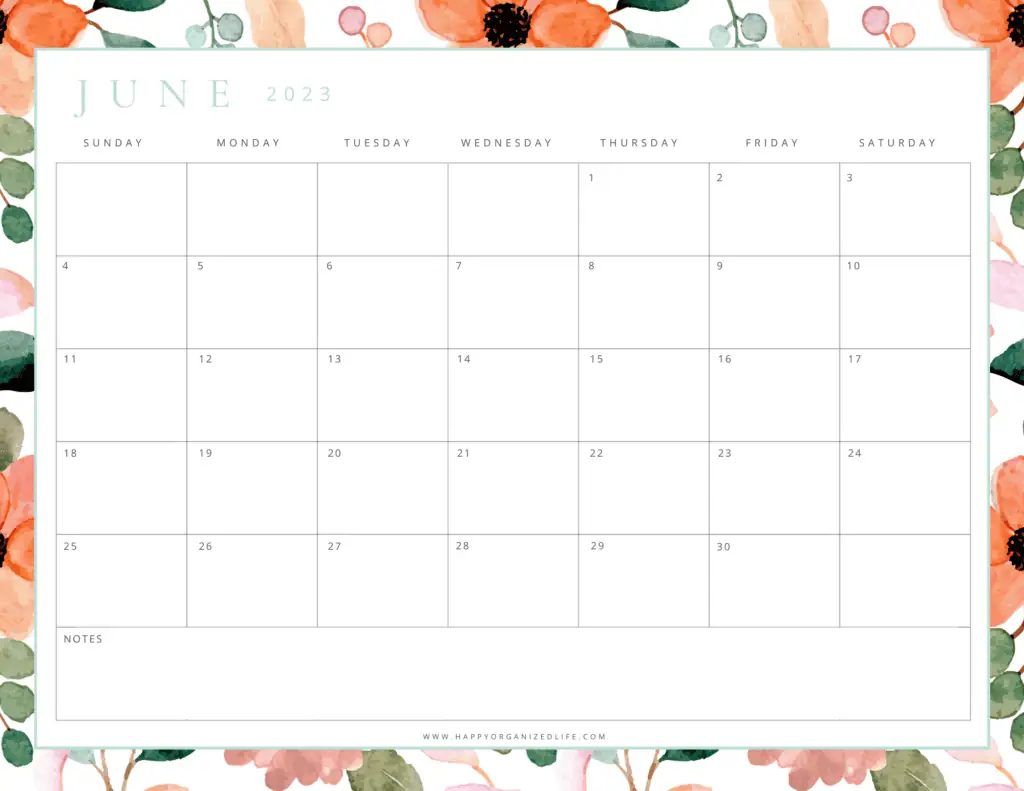 2023 Free Printable Calendar – Orange Floral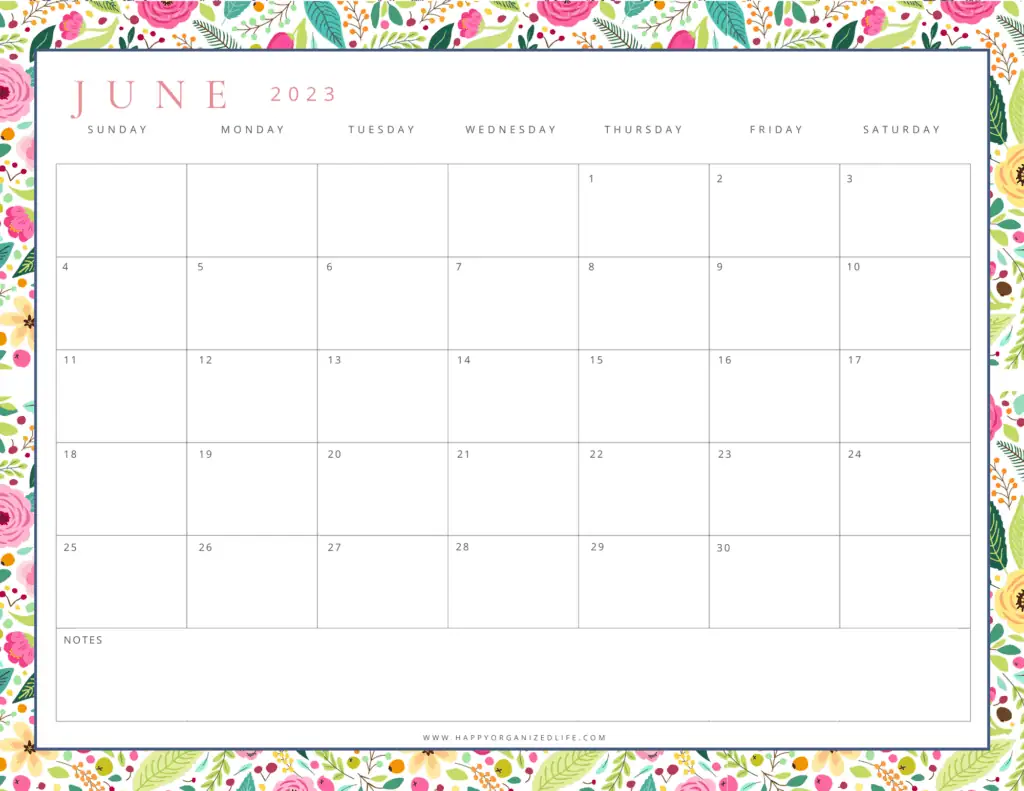 June 2023 – Small Colorful Flowers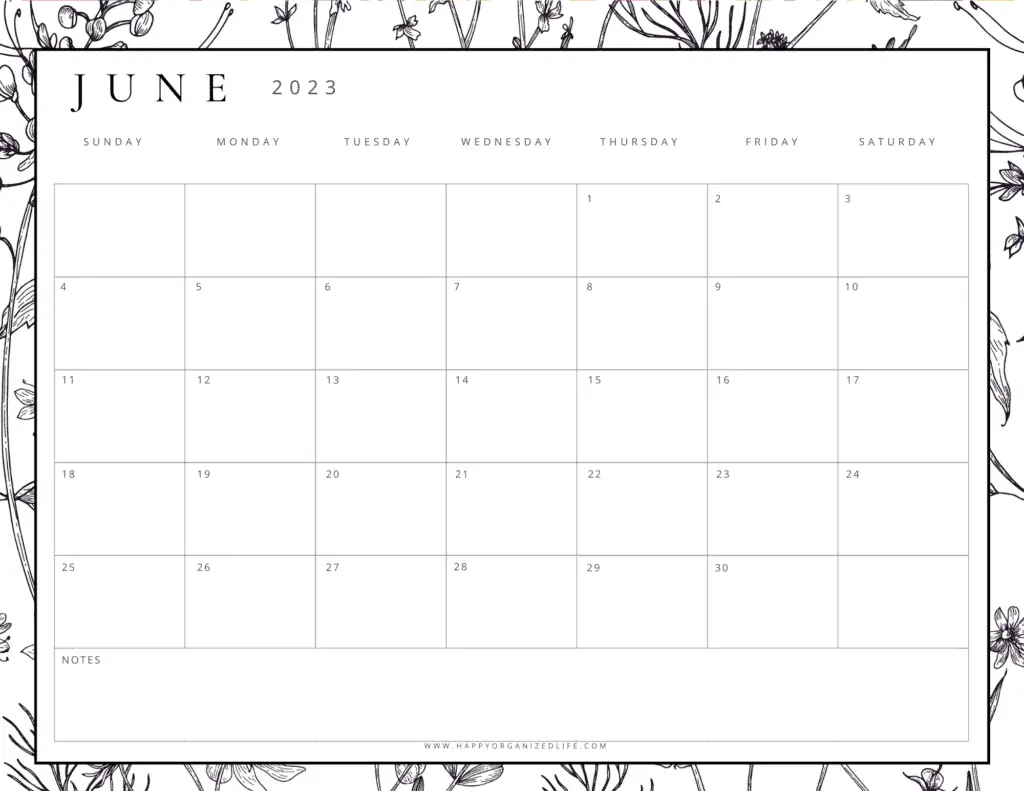 June 2023 Free Printable – Black & White Floral
Printable June Calendar – Large Colorful Flowers
June Calendar for 2023 – Pink & Navy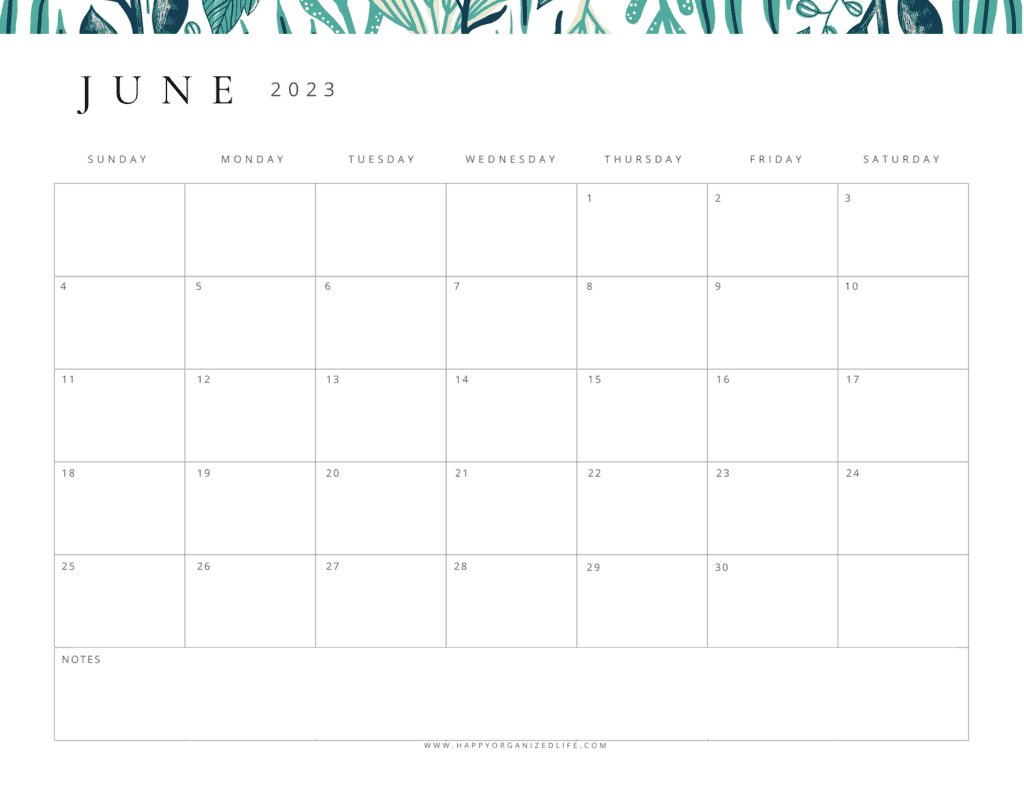 Blue & Green Border
Colorful June Calendars for 2023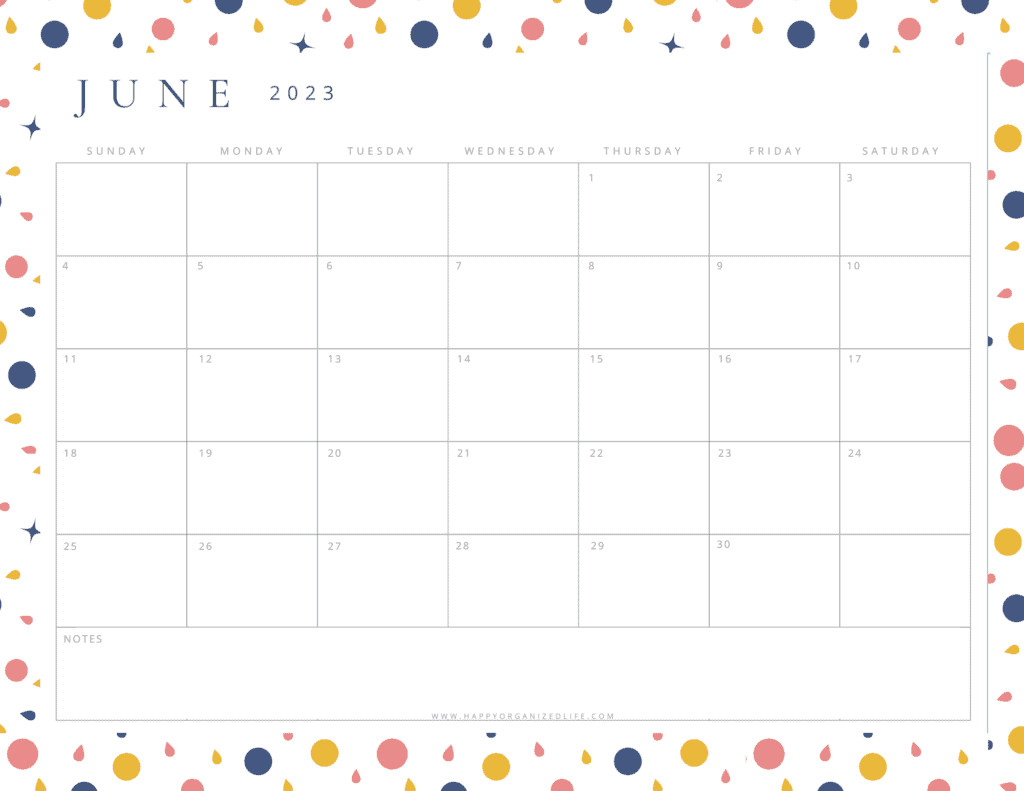 Free Printable June Calendar – Polka Dots
June 2023 Calendar – Squiggly
2023 Summer Calendar – Watermelons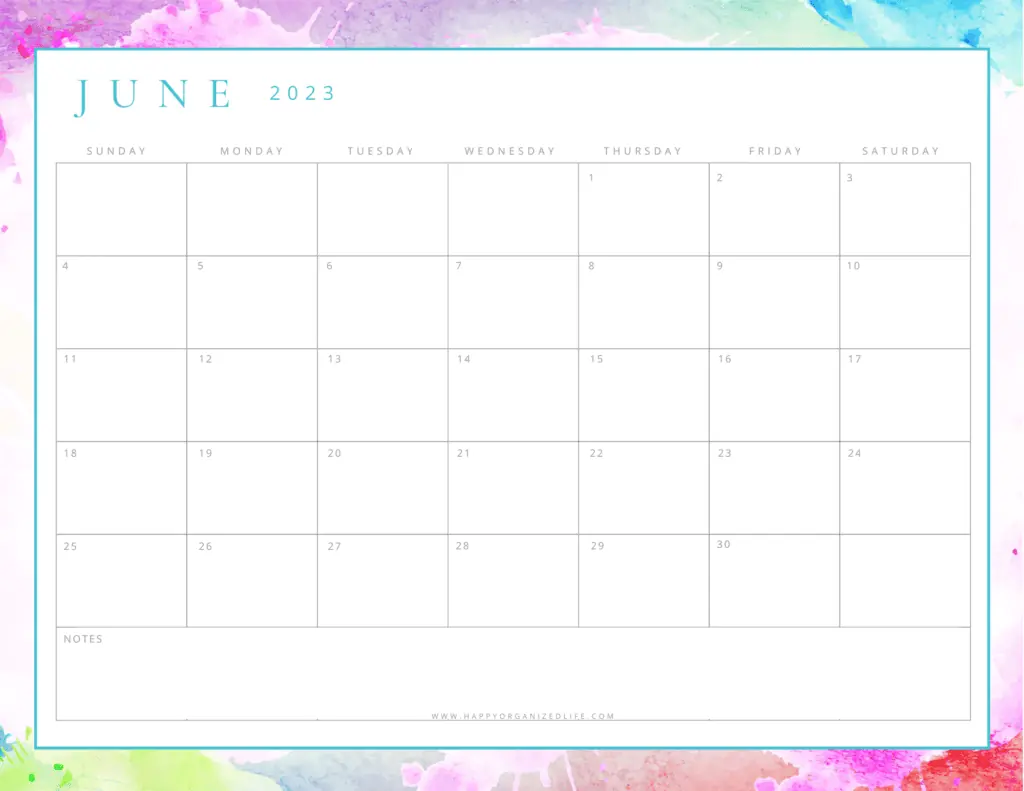 Calendar Printable for 2023 – Paint Splotches
June Calendar 2023 – Summer Themes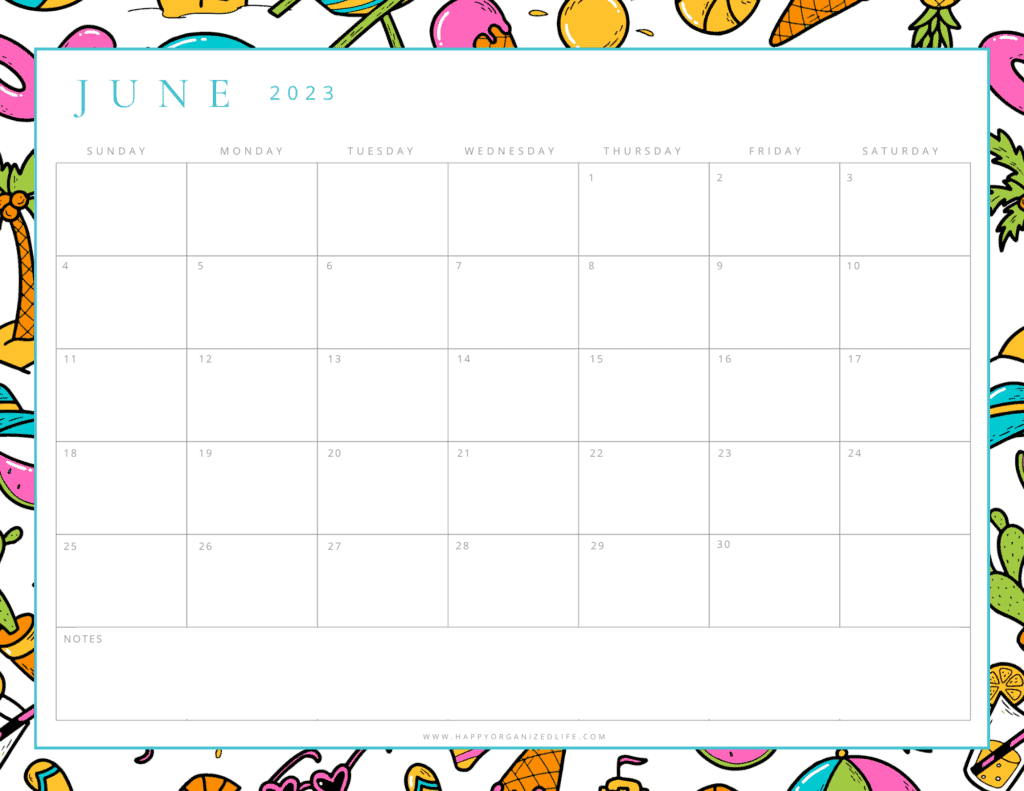 June 2023 Calendar – Day at the Beach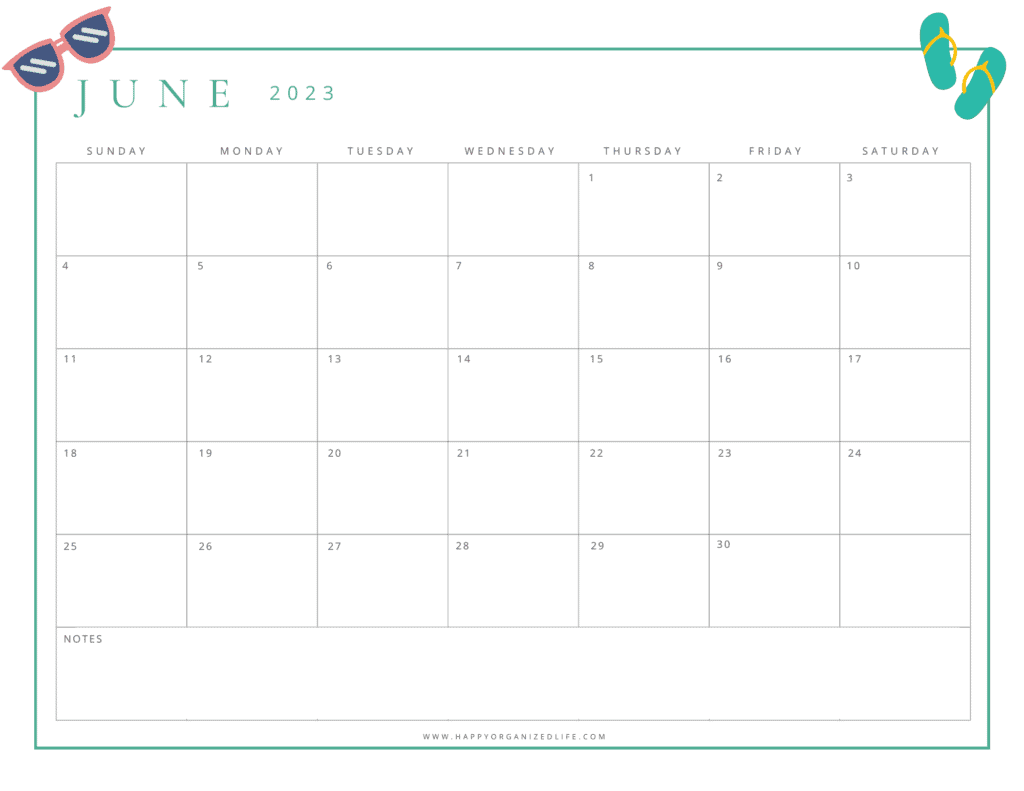 Summer 2023 Calendar – Sunglasses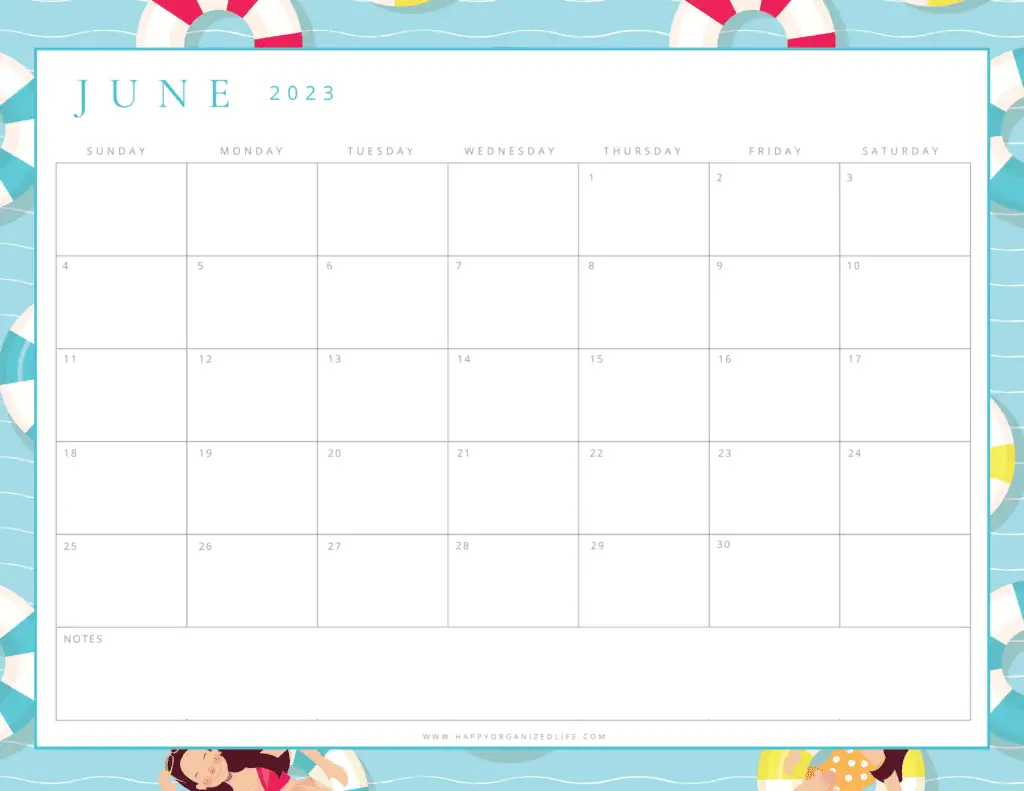 June 2023 Calendar – Inner Tubes & Water
Geometric Calendars for June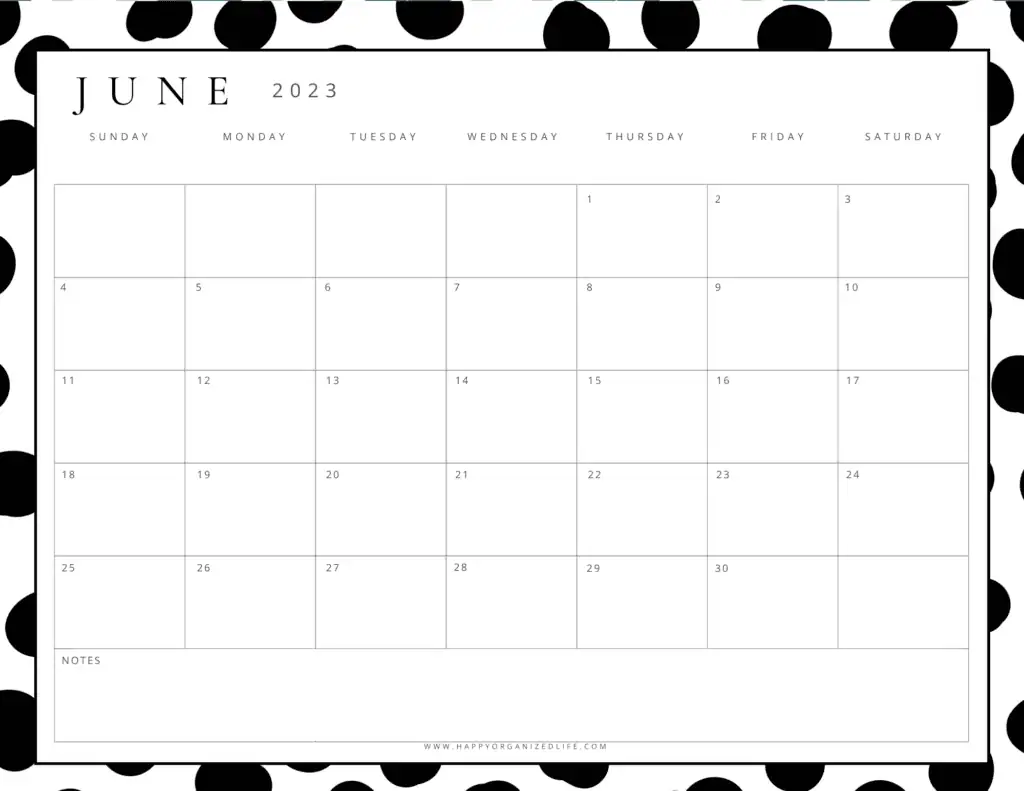 June 2023 Calendar Template – Black and White Polka Dots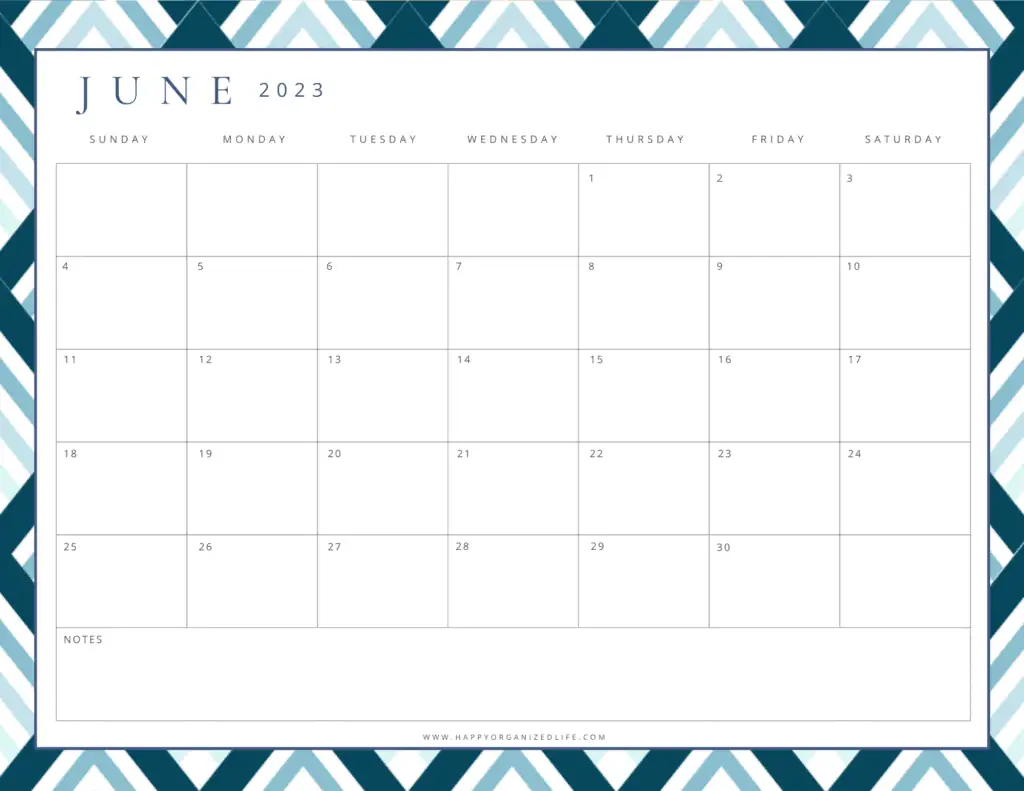 Calendar Templates for June – Blue Geometric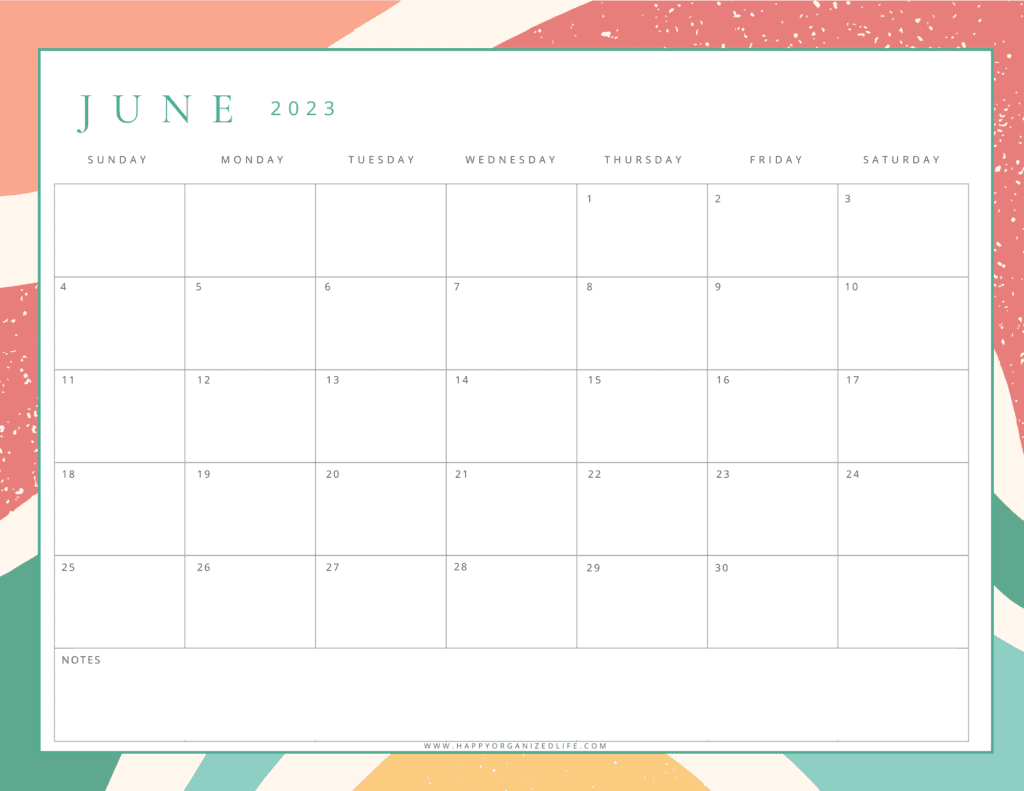 Printable June Calendar – Warm Geometric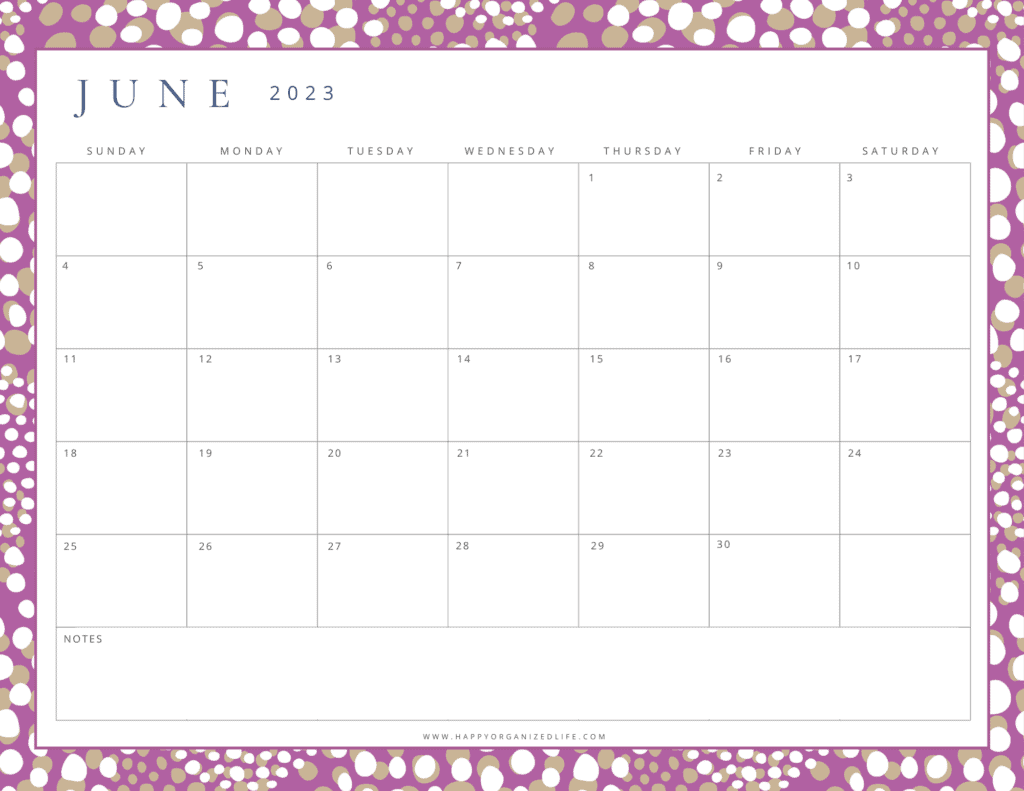 June Calendar Template – Purple with Polka Dots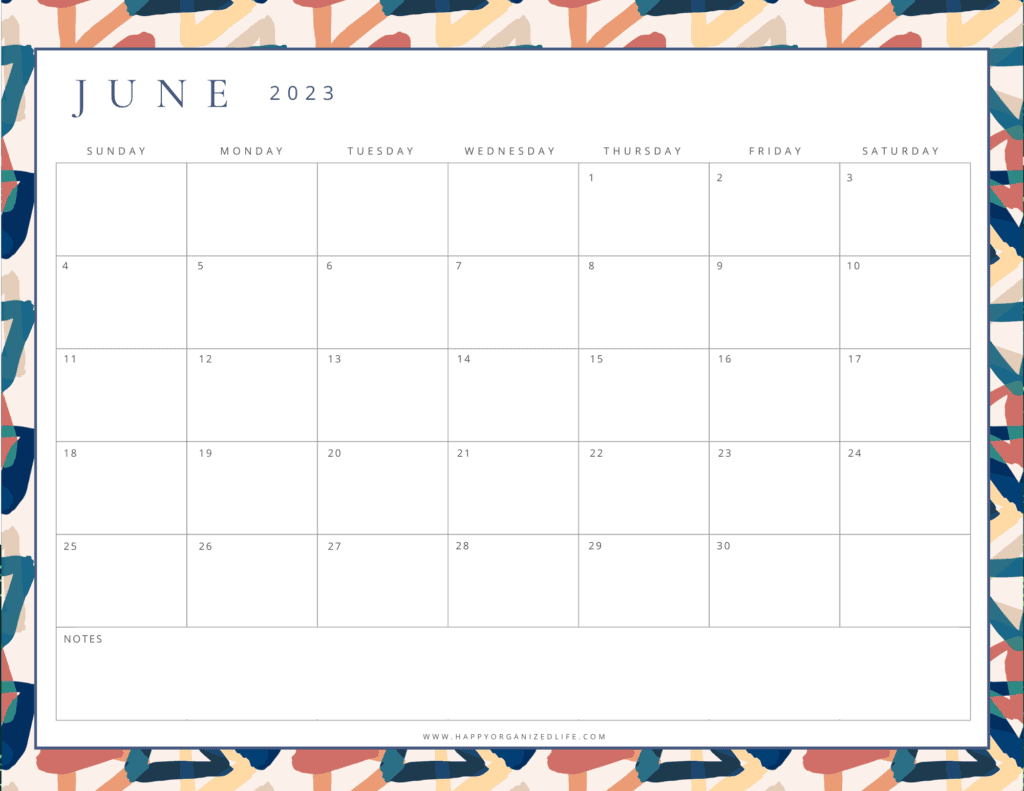 2023 June Printable Calendar – Masculine Geometric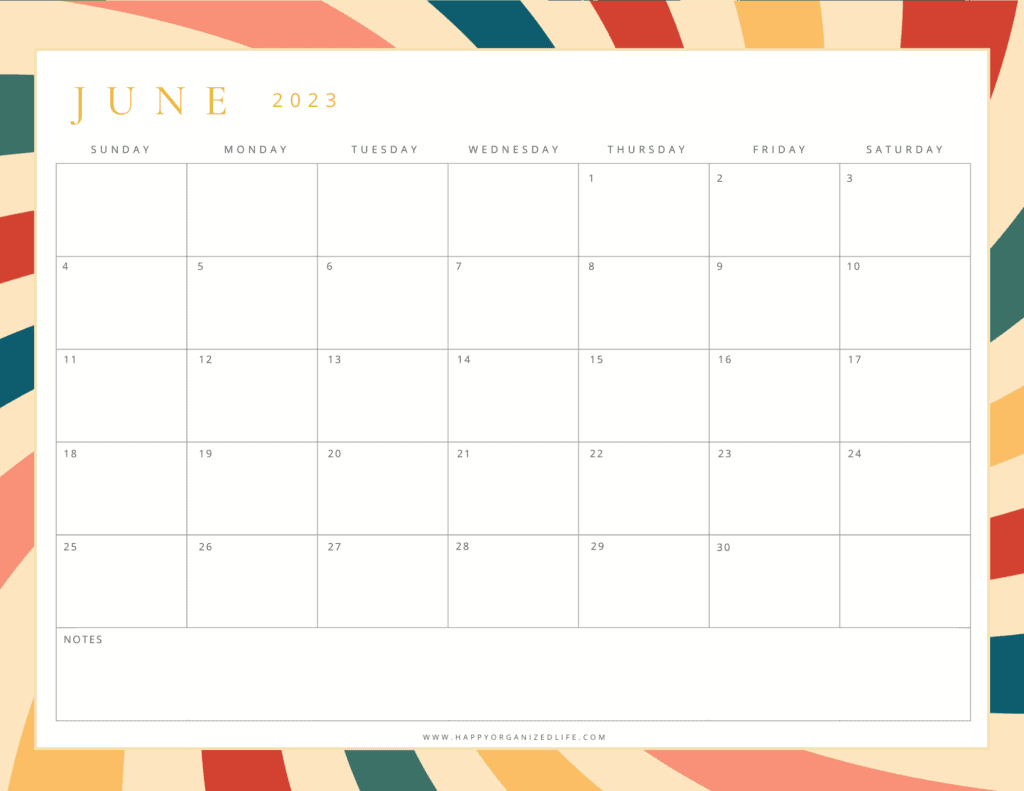 June 2023 Calendar Printable – Warm Spiral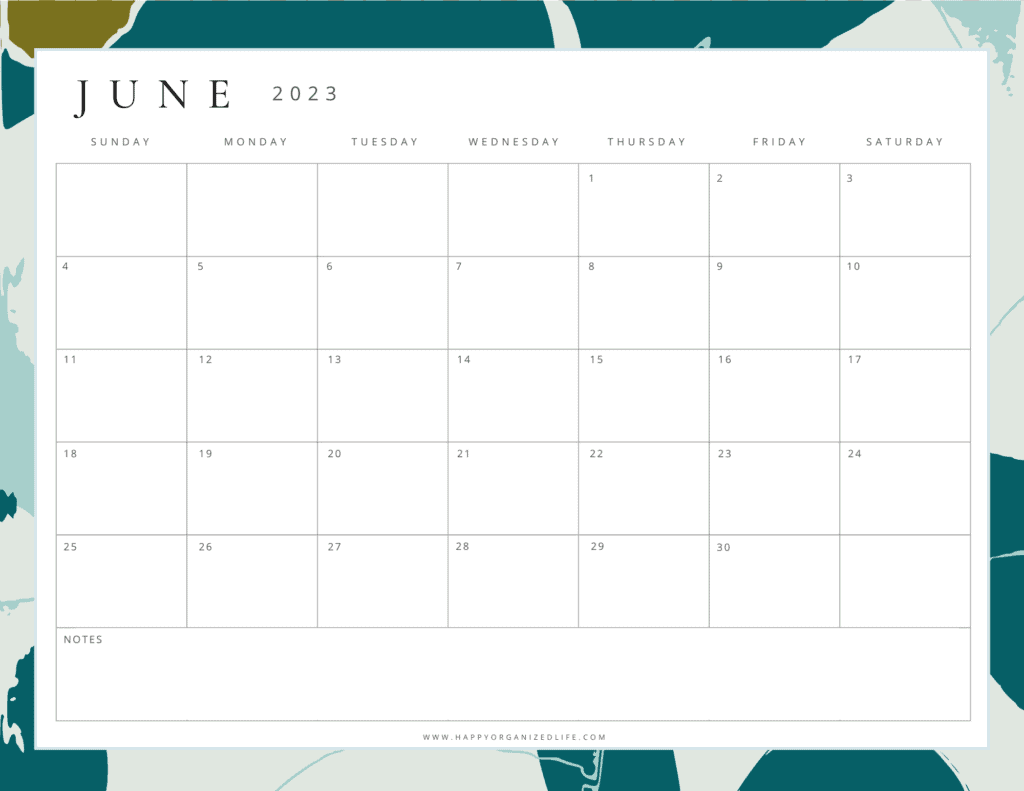 Printable June Calendar – Coll Geometric
2023 June – Chevron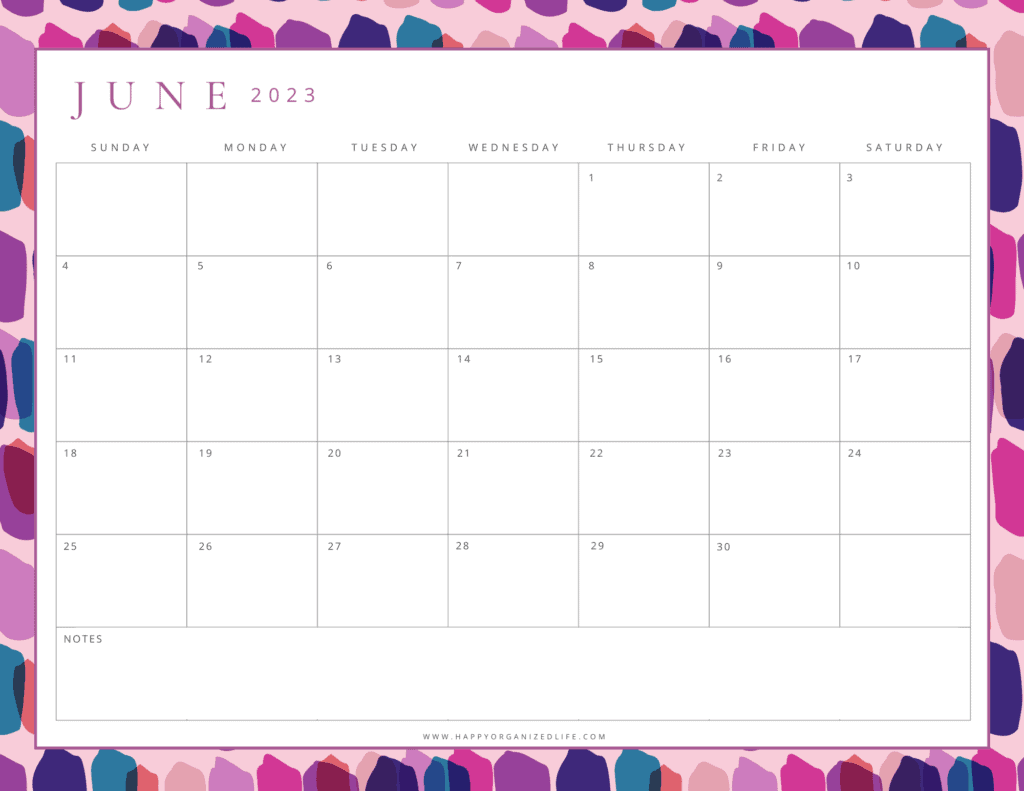 June Calendar 2023 – Swatches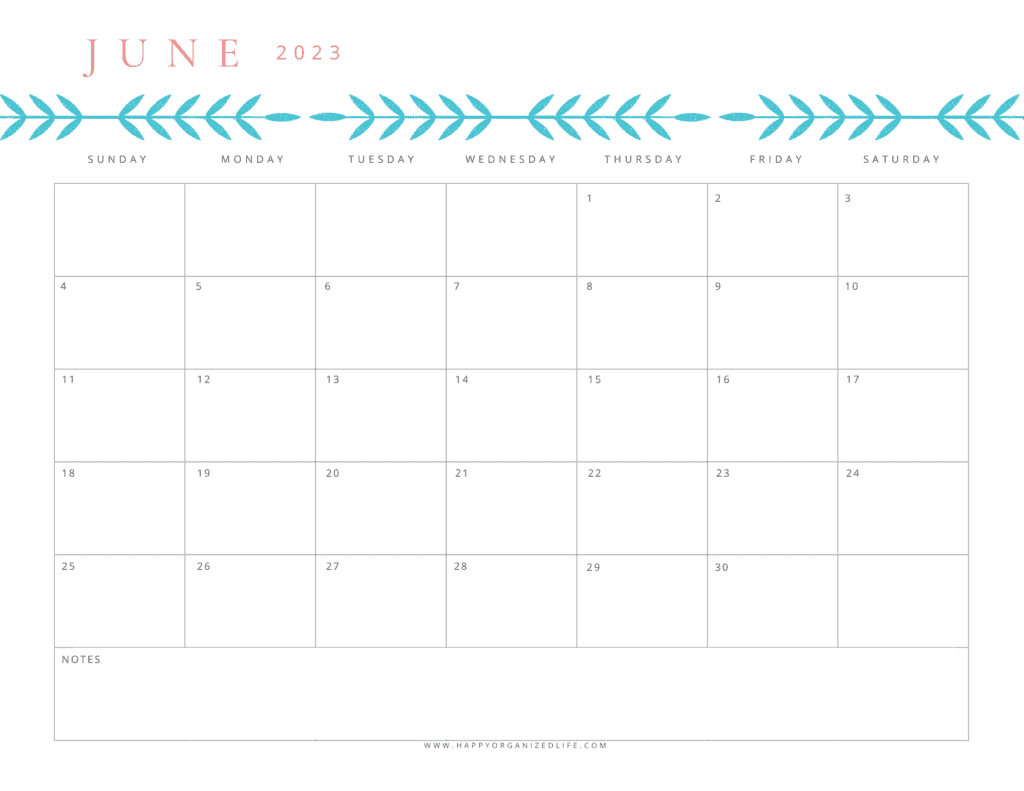 Calendar Template for June 2023 – Coral and Blue
Vertical Calendars for June 2023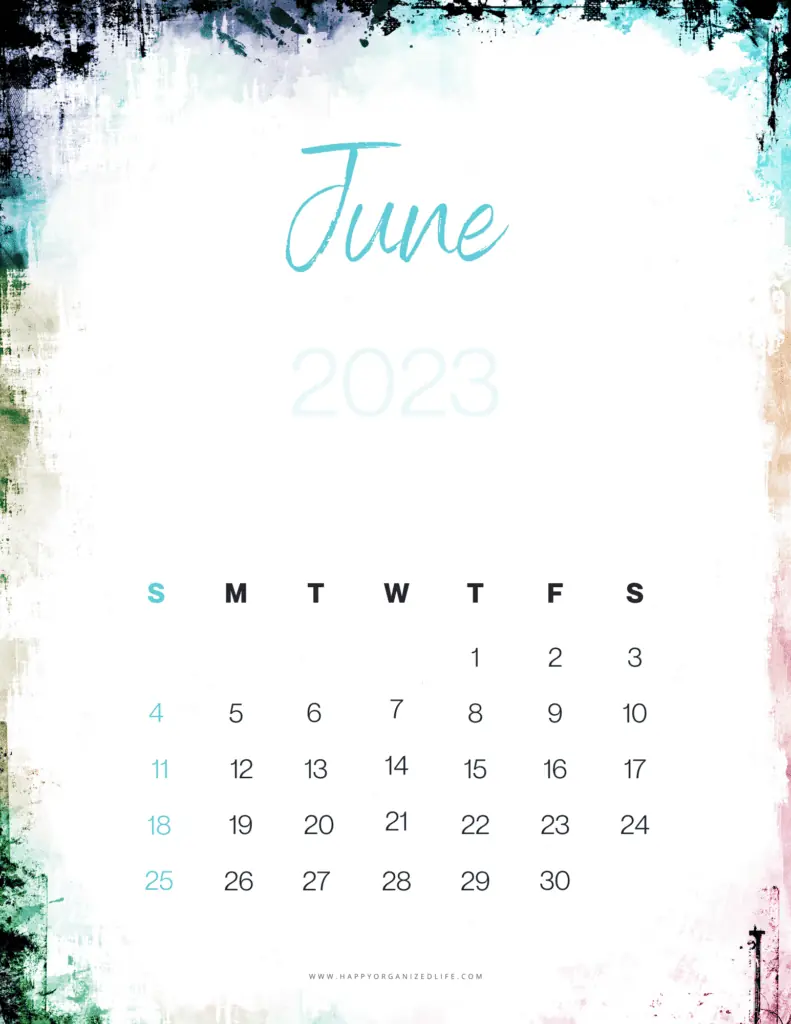 June 2023 Calendar – Vertical Orientation Bold
Minimalist Calendar Template – Portrait Orientation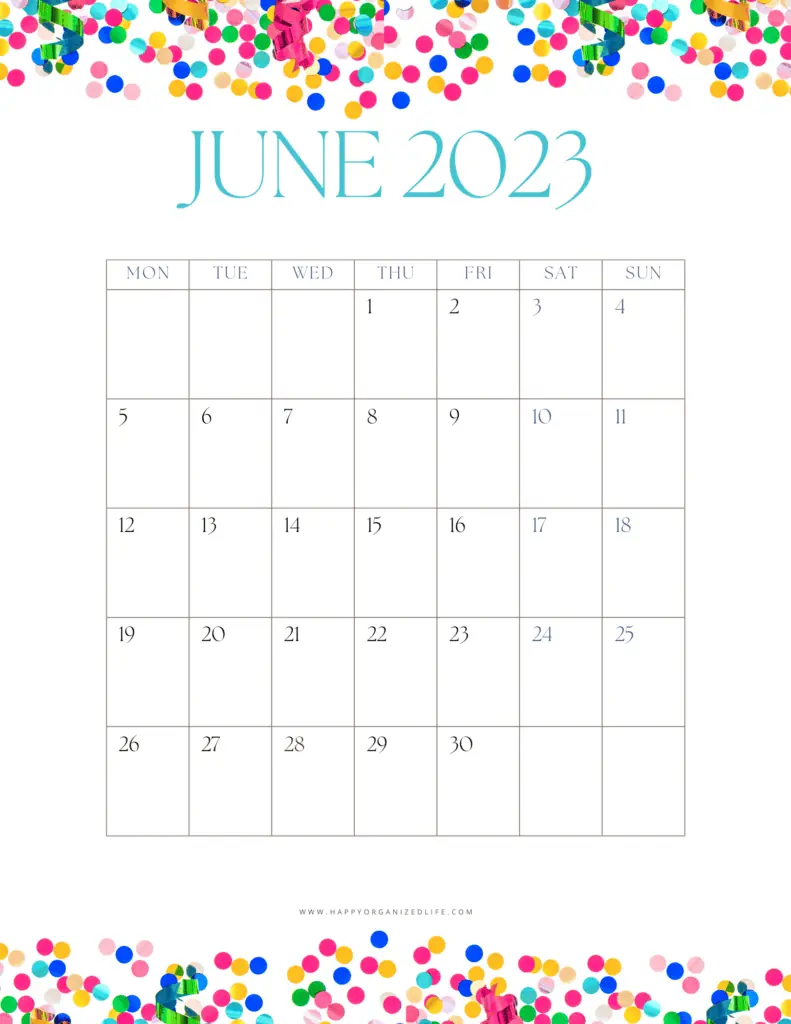 Vertical 2023 June Calendar – Confetti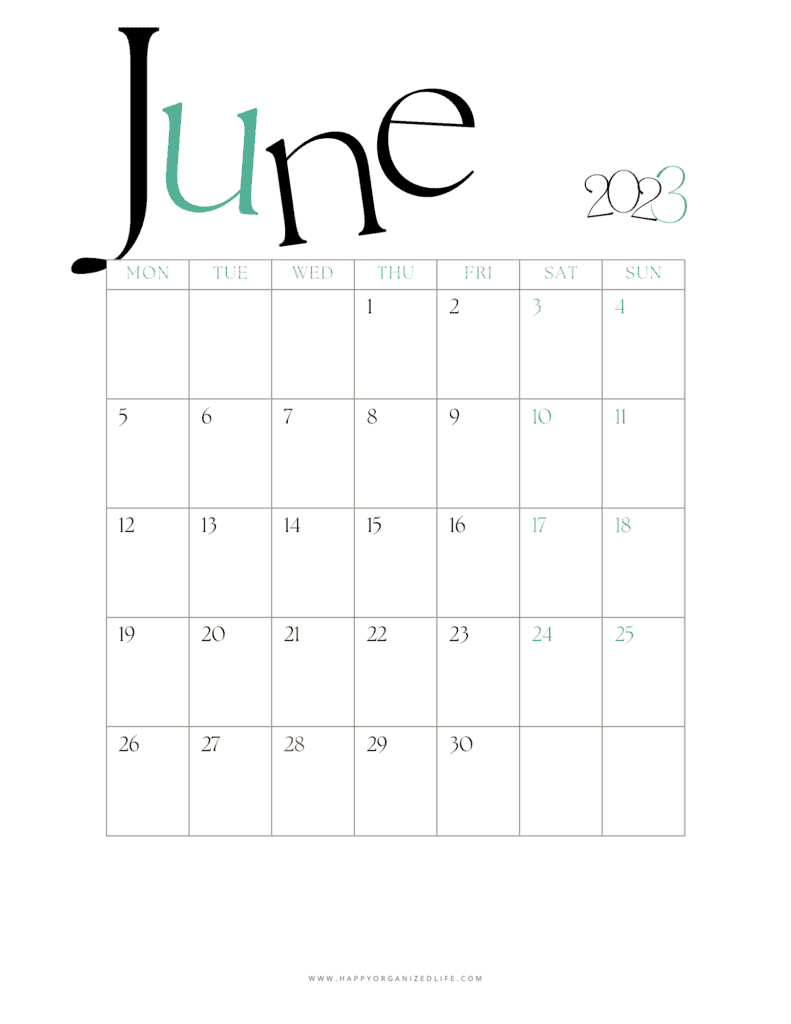 2023 Calendar Vertical Style – Tipsy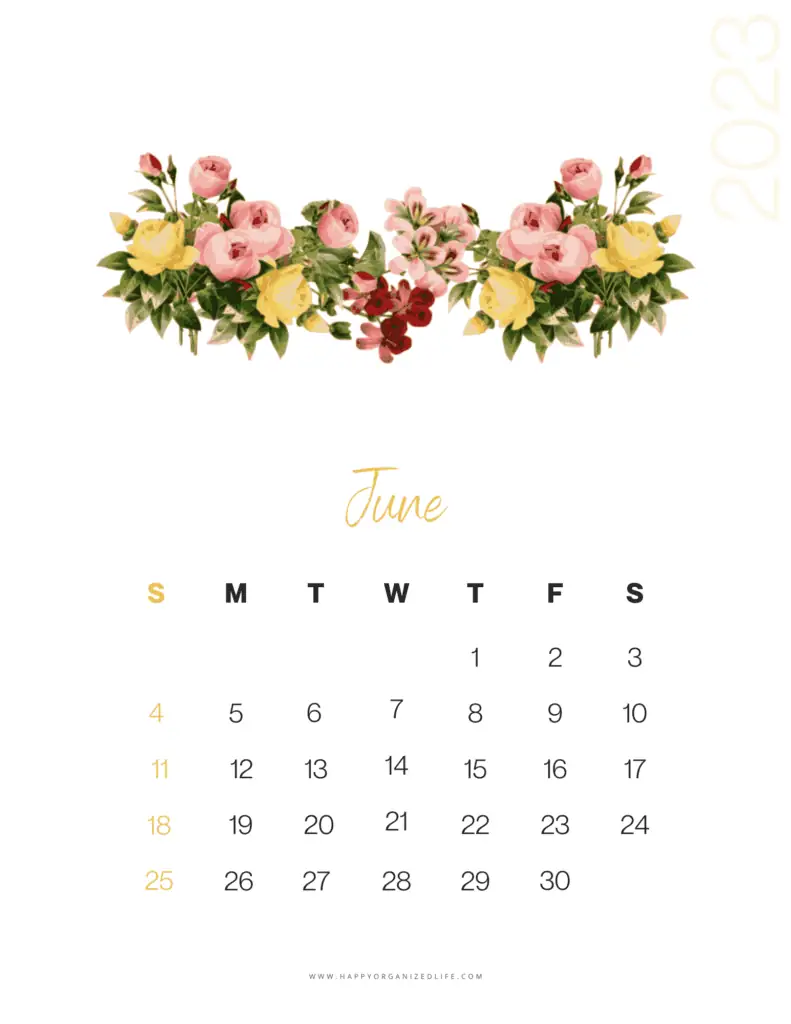 June 2023 Vertical Calendar – Bouquet
Click June Calendar 2023 Vertical – Modern Bloom
June 2023 Calendars with a Monday Start
Free Printable June 2023 – Minimalist Script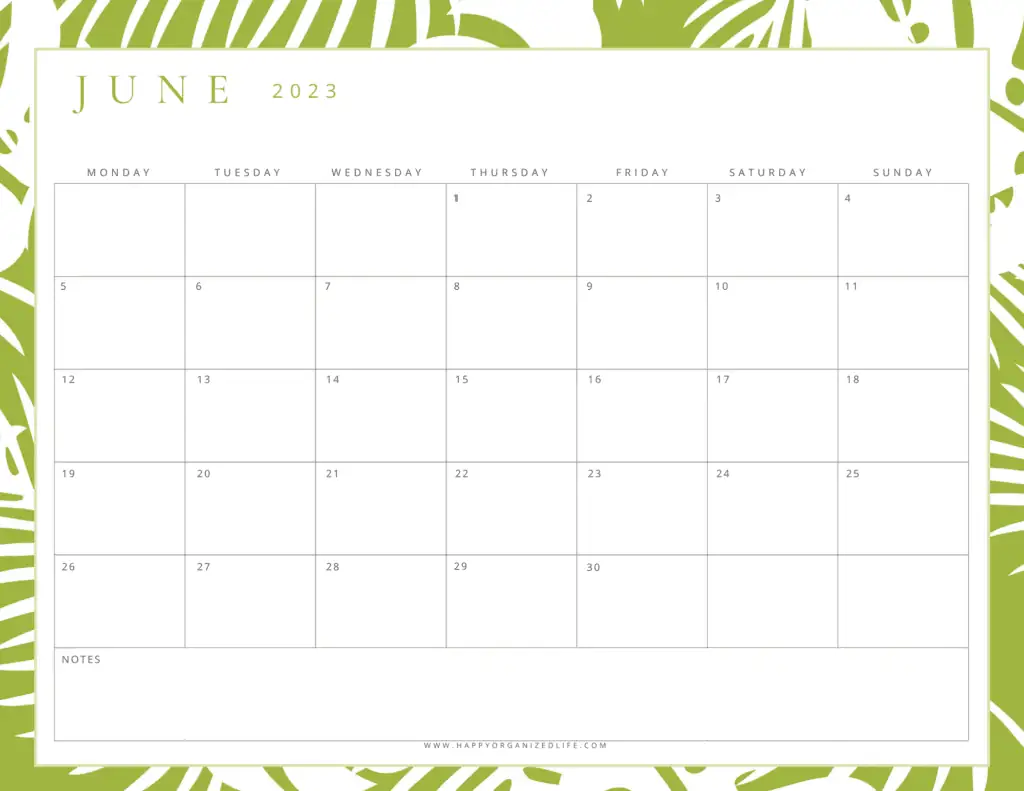 June Calendar Template – Green Palms
2023 June Calendar Template – Sun and Water
DOWNLOAD & PRINT
June 2023 Horizontal Orientation – Intricate Blue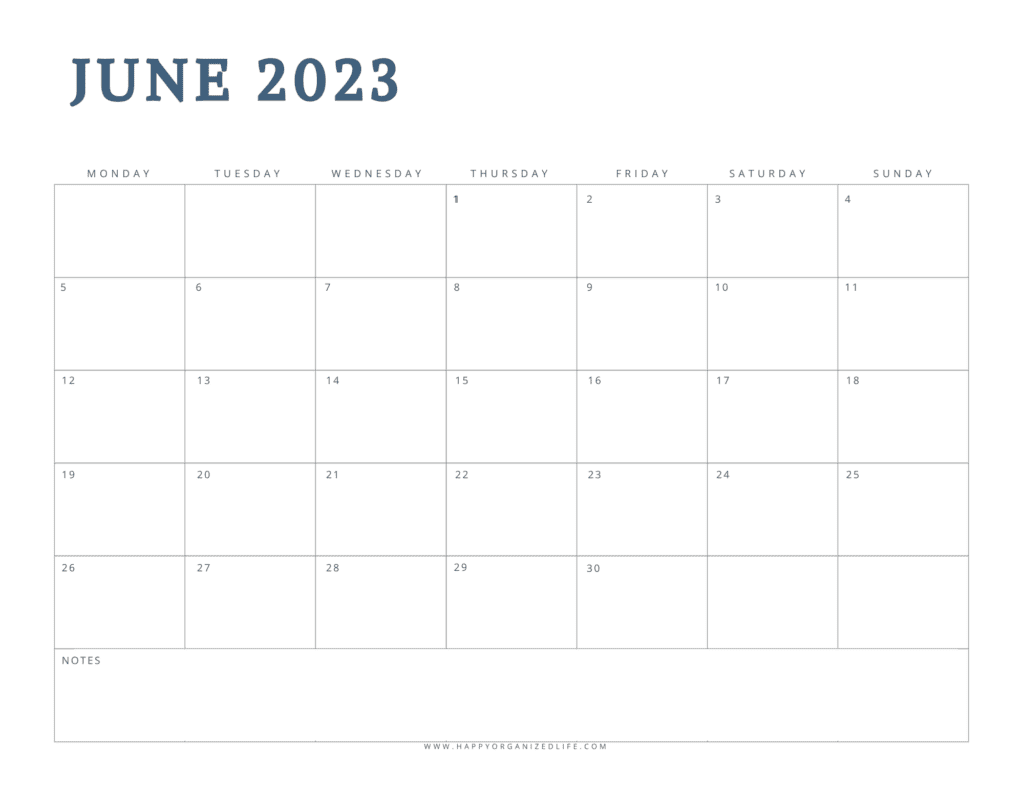 Calendar Template June 2023 – Basic Blue
June Holidays and Observances
June is a month of celebration, especially in the northern hemisphere. It marks the beginning of summer and brings the Summer solstice, the longest day of the year. So, get ready to update your holiday calendar with the following dates:
Father's Day
Every year, Americans celebrate Father's Day on the third Sunday of June. It is a day to honor all father figures, including grandfathers and others who have been influential in our lives. It's an official holiday in the US, and in 2023, it falls on June 18th.
How to Celebrate Father's Day?
Father's Day is a wonderful opportunity to show your dad how much you care. You can:
Give a thoughtful gift
Cook him a special meal, or
Simply spend quality time together
Some popular gifts for Father's Day are:
Ties
Wallets
Electronics
Sports equipment
If your dad lives far away, you can still celebrate Father's Day by:
Sending him a card
Making a phone call
Facetiming and Video chatting with him
History of Father's Day
While the exact origin of Father's Day is unknown, it's believed the idea for Father's Day was first proposed by a woman named Sonora Smart Dodd, who was inspired by the Mother's Day celebrations in the early 1900s and Dodd's father, of course.
The first official Father's Day was celebrated in the United States on June 19, 1910, in Spokane, Washington. Thanks to the efforts of President Richard Nixon, it became an official federal holiday in the United States in 1972. Today, Father's Day is also celebrated in many other countries, including:
Canada
United Kingdom
Australia
Juneteenth
Juneteenth, also known as Emancipation Day or Freedom Day, commemorates June 19, 1865, the day slaves in Texas heard they were free, which was more than two years after President Lincoln signed the Emancipation Proclamation. Union General Gordon Granger rode into Galveston, Texas, and delivered the news.
The celebration on June 19th is a reminder of the fight for justice and equality and is often celebrated with parades, community events, and learning about African American history.
Other Days in June to Know About
A lot is happening in June, so don't miss adding these important dates to your calendar and daily schedule:
01 June – World Reef Awareness Day and National Say Something Nice Day
03 June – World Bicycle Day and National Egg Day
04 June – Trinity Sunday National Hug Your Cat Day and National Cancer Survivor's Day

05

June

– 

World Environment Day

06

June – 

National Higher Education Day and 

D-Day

07

June – 

Global Running Day

08

June – National Best Friends Day,

Corpus Christi

, and World Oceans Day

11

June – National Children's Day

12

June – 

World Day Against Child Labor
15

June – 

Nature Photography Day

16

June – 

International Day of the African Child

17

June – 

World Day to Combat Desertification and Drought

18

June – 

International Sushi Day

18

June – 

International Picnic Day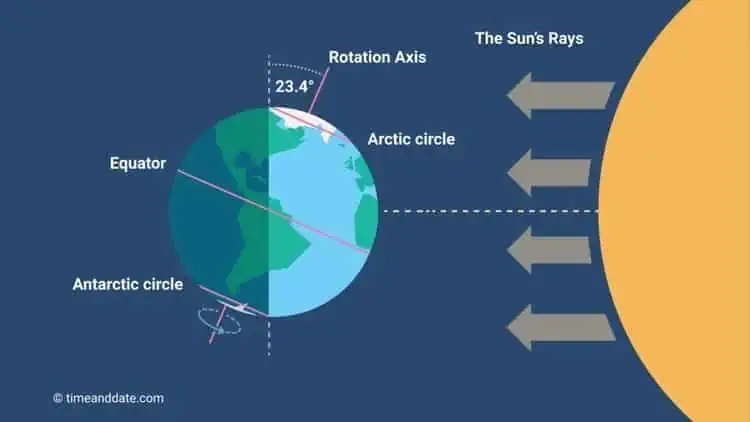 21

June – International Yoga Day and National Selfie Day

22

June – 

World Rainforest Day

23

June – National Pink Day and International Women in Engineering Day

25

June – Battle of the Little Bighorn and 

Korean War

27

June – 

National Bingo Day

27

June – 

National PTSD Awareness Day

29

June – 

National Work From Home Day

30

June – Take Your Dog to Work Day and

International Asteroid Day
History of June
Why is it called June? How June got its name.
June is the first month that truly feels like summer, and its name has a pretty interesting backstory. June was first called Junius in the ancient Roman calendar, named after Lucius Junius Brutus. But then, King Numa Pompilius added two more months to the calendar (January and February), and Juno's month became the sixth month in both:
The Julian calendar (the calendar the Romans used before) and
The Gregorian calendar (the calendar we use today)
Where does the name June come from, you ask? It's named after the Roman goddess Juno, who was all about marriage and childbirth. Back in the day, June was the perfect time for weddings, and it was believed that Juno would bless the newlyweds with luck and prosperity. Nowadays, a June wedding is still a dream come true, isn't it? If you're looking for wedding inspiration, here are some rustic wedding ideas to start dreaming about!
If you're feeling overwhelmed with all the wedding planning and family gatherings, just remember that June has been the month of love and luck for centuries, and it's not gonna disappoint. Besides, our June calendar printables can do miracles for your wedding planning!
How many days are in June?
June has 30 days.
However, June isn't like any other month in the calendar. It's unique because it's has:
The longest hours of daylight in the Northern Hemisphere, and
The longest night in the Southern Hemisphere
Our world is so fascinating, don't you think?
Zodiac Signs of June and a Little About Their Personality Traits
Gemini (May 21 – June 20)
If you were born between May 21 and June 20, you're a Gemini. It's the third sign of the zodiac, ruled by Mercury. Geminis are complex creatures with two sides to their personality. On one hand, they're:
Smart
Witty
Charming
Know how to talk their way out of any situation
On the other hand, they can be:
Unpredictable
Fickle
Restless, and
Indecisive
They crave adventure and stimulation, but they can also get bored easily. You never know which Gemini you're gonna get – the adventurous and curious one or the restless and bored one. So, if you're a Gemini mom, make sure you keep things interesting and mix it up a bit, and remember, it's OK to embrace your dual nature – it's what makes you unique!
Cancer (June 21 – July 22)
If you were born between June 21 and July 22, then you fall under the sign of Cancer, which is ruled by the Moon and represented by the crab. They are known for their:
Loyalty
Sensitivity, and
Intuitive nature
Cancerians can be quite emotional and moody at times but are also very caring and nurturing. They are also very loyal and protective of their loved ones, making them excellent partners, friends, and parents. Their love for home and family is unmatched, and they strive to create a comfortable and peaceful environment for themselves and their loved ones.
What is the Birthstone for June?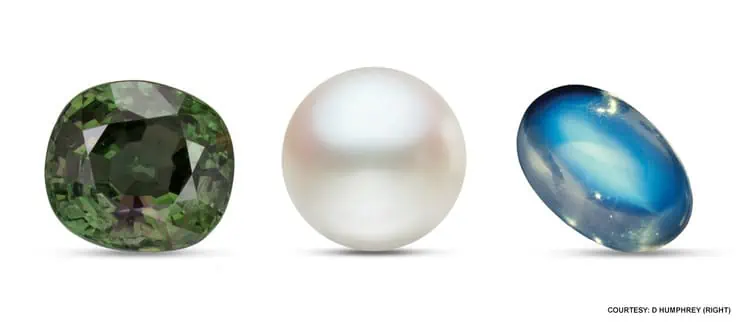 June's got not one, not two, but three birthstones! And they are all about purity and good luck.
First up, we got Alexandrite. It's a rare gemstone that changes color in different lighting, from green to purple. This gemstone is all about inner strength, and it can bring good fortune and love to those who wear it.
Next, we have Pearl. This classic gemstone is all about purity, innocence, and femininity. It's a symbol of love, success, and good luck.
And finally, there's Moonstone. It's a beautiful gemstone that reflects the light like the Moon. This gemstone is all about perseverance and personal growth. It can help you find your inner peace and protect you from negative energy.
If you were born in June, embrace your birthstones and the good luck and positive energy they bring.
Important Events in History that Occurred in June
Let's dive into some of the most interesting and impressive events that occurred in June over the years:
June 2, 1924 – Congress grants United States citizenship to people of American Indian descent.
June 4, 1917 – The first Pulitzer awards were announced by Columbia University in honor of newspaper publisher Joseph Pulitzer.
June 16, 1903 – Ford Motor Company, an American multinational automobile manufacturer, was founded by Henry Ford.
June 18, 1812 – The War of 1812, fought between the United States and the United Kingdom, begins.
June 18, 1971 – President Richard Nixon gave a press conference from which the term "War on Drugs" became popular among the media.
June 27, 1950 – President Harry Truman ordered US air and sea forces to help South Korea repel the invading North Korean army.
Celebrities Who Were Born in June (Both Modern and Historical)
June 1 – 15: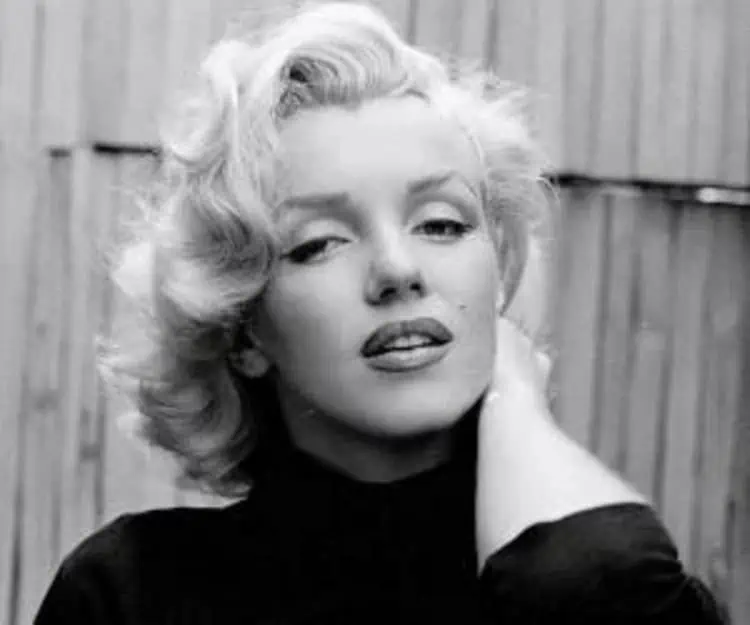 1 June 1926 – Marilyn Monroe, an American actress and a famous sex symbol of the 1950s and early 1960s
1 June 1937 – Morgan Freeman, One of the best actors of his generation, known for his characteristic deep voice
1 June 1996 – Tom Holland, an English actor known for his role as Spiderman
3 June 1986 – Rafael Nadal, among the best tennis players of all time
4 June 1975 – Angelina Jolie – Famous Hollywood Actress
5 June 1971 – Mark Wahlberg, Hollywood actor
7 June 1958 – Prince, a popular singer a songwriter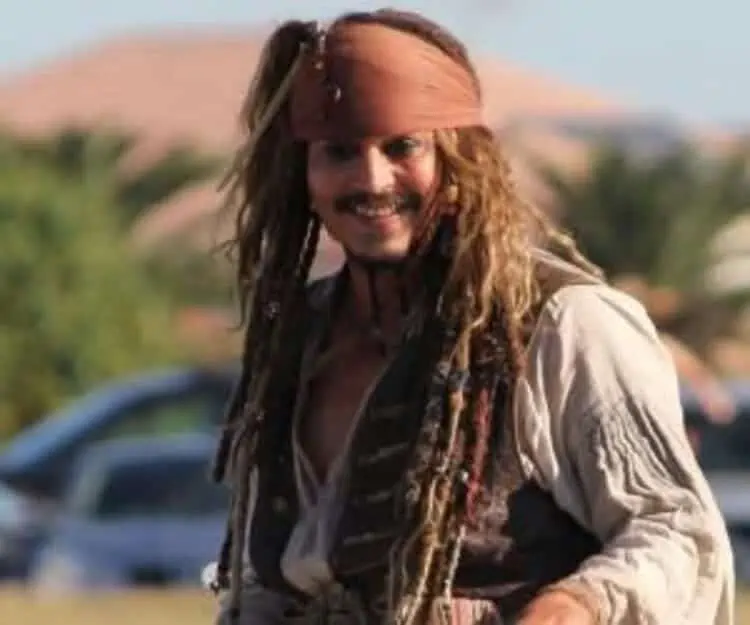 9 June 1963 – Johnny Depp, an actor, and producer, best known for his role in the "Pirates of the Caribbean" film series
9 June 1981 – Natalie Portman, American actress
10 June 1922 – Judy Garland, actress, best known for her role as Dorothy Gale in the "The Wizard of Oz" movie
12 June 1924 – George H. W. Bush, the 41st US president, was born in Milton, Massachusetts
13 June 1981 – Chris Evans, a Hollywood actor famous for his role as Captain America
14 June 1928 – Ernesto Che Guevara, a revolutionary who played a significant role in the "Cuban Revolution" along with Fidel Castro
14 June 1946 – Donald Trump, the 45th US president, was born in New York City
June 16 – 30:
16 June 1971 – Tupac Shakur (2Pac), rapper, among 100 Greatest artists of all time (Rolling Stone magazine)
21 June 1979 – Chris Pratt, Hollywood actor
22 June 1949 – Meryl Streep, regarded as "The Best Actress of Her Generation"
23 June 1912 – Alan Turing, an English mathematician, the Father of Theoretical Computer Science and Artificial Intelligence
25 June 1903 – George Orwell, a writer known for his novels "Animal Farm" and "1984"
25 June 1963 – George Michael, an English singer and a cultural Icon of the MTV Generation
26 June 1993 – Ariana Grande, the most streamed female artist ever
27 June 1880 – Helen Keller, an American author and the first ever deaf-blind person to earn a degree as a Bachelor of Arts
28 June 1971 – Elon Musk, an American business magnate and founder of Tesla Inc. and SpaceX.
Quotes about June
Being a quote addict myself, I couldn't miss sharing my top 5 favorite quotes. They're perfect for planners, journals, and the free printable June calendars from above. I hope they help to keep you inspired the whole month:
And since all this loveliness cannot be Heaven, I know in my heart it is June. – Abba Woolson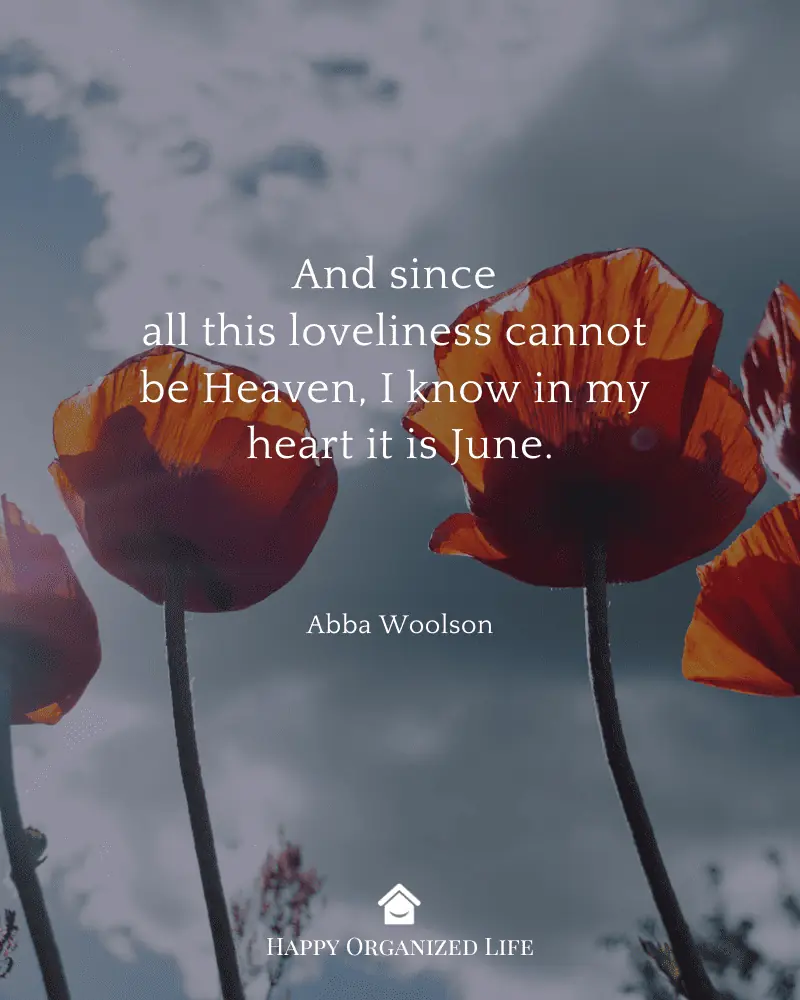 In early June, the world of leaf and blade and flowers explodes, and every sunset is different. – John Steinbeck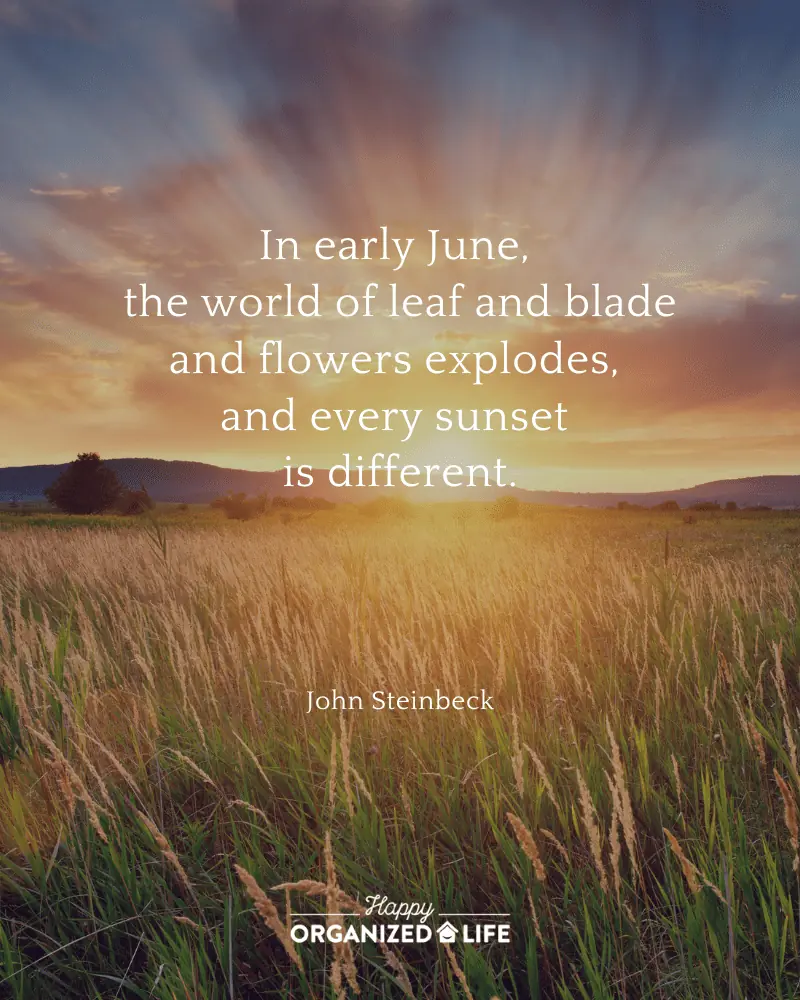 "June is the gateway to summer." – Jean Hersey
"If a June night could talk, it would probably boast it invented romance." – Bernard Williams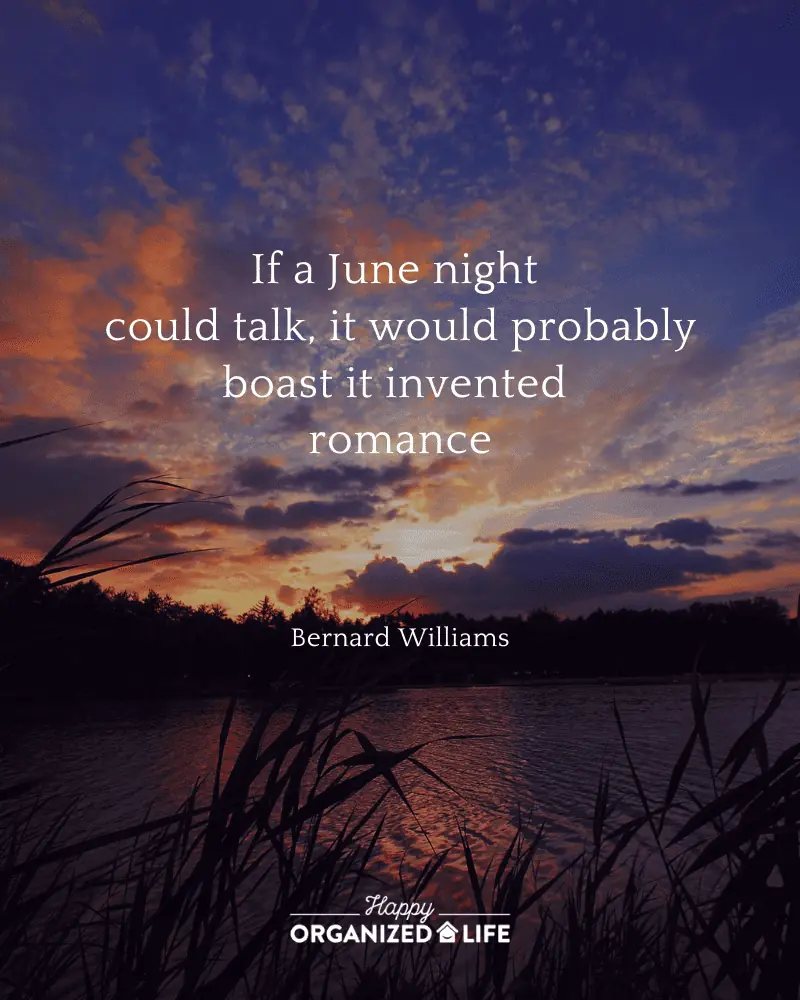 "Spring being a tough act to follow, God created June." – Al Bernstein
Supplies to Print Your Free February Calendar Printables
These are some of my favorite printing and planning supplies:
Printers
Paper
Pens & Highlighers
Frixion erasable pens are amazing! They come in black, blue, and a mix of bright colors, and they aren't like the erasable pens I grew up with that made a mess of paper and didn't really erase. They erase easily, look great, and are my most favorite pens to plan with because I can color-code events, and I can easily erase them when things change.
If you want a pen that doesn't erase, the BIC Gel-Ocity pens are my favorite. They write so smoothly and area. pleasure to use. According to my Amazon history, I've purchased the 12 pack linked below 14 times so my love for them is pretty serious!
Highlighters
These Frixion Highlighters are just as great as the pens! They erase beautifully, don't damage paper, and make my color-coding dreams come true!
If you like a more subtle highlighter, these Mildliner Highlighters are gorgeous. I like to use these when I want a softer look, and I'm certain I won't need to change or erase anything. They also have ink on both ends so you can easily make different sized lines.
Post-it Notes
I love post-it notes. They're great for reminders, organizing ideas, quick decluttering labels, and even bookmarks! I like to use post-its in various colors, sizes, and sometimes different shapes too. The heart notes are a great way to leave little love notes for your partner or kiddo. These are my favorites:
Free Printable Calendars for June 2024
So there you have it! You've got your June calendar sorted, now go and enjoy the beautiful summer month!  With our free June calendar templates, your daily schedule and reminders will be organized perfectly, so you can be sure you won't miss a single important date. Let's make June a month to remember!
What is the top task you want to finish in June? What will be the first thing you'll add to your monthly calendar? Let me know in the comments below!
Did you enjoy our June calendar printables? Then, you're going to love these other posts, too: