Right now, you may be asking yourself, "What is momopause, and how do I know if I have it?"  Let's take a look at the symptoms:
You find yourself constantly worrying about whether or not every carbon based life form within a ten mile radius of your current location has enough to eat and drink. If you're related to or have spawned said life, distance becomes irrelevant.
You find yourself encouraging those who claim to have eaten enough to have "just a little more."
You'd prefer a comfortable pair of sneakers (or perhaps Crocs… you can admit it) and anything with an elastic or otherwise forgiving waistline to that restrictive wardrobe photographs claim you used to wear in those now foggy pre-kids days. And yoga pants qualify as dressing up.
Your purse could house your entire family… comfortably.
You're reminding other adults to "use the potty" before getting in the car.
You can't tell the difference between high schoolers and preschoolers.
Her ventriloquism skills are phenomenally powerful as you find your mother's voice exiting your lips at random moments. Incidents of occurrence increase in times of stress and frustration.
If you find yourself experiencing these symptoms, congratulations! You're entering the glorious life change of Momopause! You know, that wonderful time we swore as angry teenagers that we'd never enter… when we turn into our mothers. I can hear their collective laughs mocking us as I type, and I'm comforted only by the fact that we too will one day be able to laugh as our daughters face the change.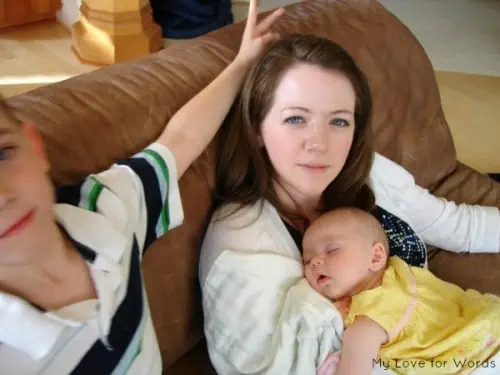 I recently realized that I was suffering from Momopause when I found myself in the baby section of Target agonizing over whether or not I should really spend $10 on a shirt and shorts set for our 4 month old. Yes, it was large enough for him to wear for a while, and yes it was cute, but $10?! Do you know how much I could buy with $10 at Once Upon a Child? And I'm talking full price Once Upon a Child. $10 during a sale- oh honey puhleaze! This is coming from the new mom of four years ago who single-handedly kept Baby Gap and Gymboree-type stores in business (I weep for all of that wasted money!).
I think I've narrowed down the age of onset to about 30, give or take a few years. It's a slow developing disease that grabs you when you least expect it. Thankfully, I can happily say it's changed me for the better. Gone is a naive daughter and in her place was born a more appreciative, humble, ridiculously weepy and "softer" (read 3 babies worth of weight to lose- ugh) version of her old self.
Great lessons I've learned from going through the change:
Motherhood is frickin' HARD! It's a lot harder than my mother ever made it look, which is just a testament to the great job she did.
When you decide to have kids (especially 4) you better not expect to have a clean or quiet house. As an only child, quiet was pretty much all I knew. I'm 5 years into this motherhood thing, and I still can't really get used to the fact that I'm basically living in the middle of a rock concert.
Don't bother investing in nice things until your kids are older. I'm not sure what the magical age of not destroying stuff is yet, but buying nice stuff when you have little kids basically makes you a glutton for punishment. Everything ends up broken and stained. Basically, none of our material possessions are getting out of this house alive. We probably won't be able to give the stuff away when we're done with it.
Any mistake I felt my mother made is one I am destined to repeat. If I held the mistake against her I'm now sure to repeat it multiple times. And any inappropriate behavior I so kindly gifted her with has come back to me through my own kids… again and again and again, and we aren't even in the teenage years yet. Lord, help me!
This one's simple, but important: only buy white socks for kids. Sure, a cute novelty pair here and there won't hurt, but who seriously wants to spend hours matching socks that look like sneakers or ballet slippers? My list of chores isn't getting any shorter so that's only cutting into my free time (you know, all 6 minutes of it per day). My kids have left the house in mismatched socks on more than one occasion, and I'm totally fine with that. They're clean and happy; my job's done. (Some days I settle for "still breathing.")
Bargain shop. Bargain shop. Bargain shop. I was raised by a single mother. What does the media/popular culture constantly say about single moms? They're poor. So seeing my mom shop at discount stores was all the proof I needed to believe 100% that we were barely scraping by. Things were only made worse when I'd ask if we could get some random junk toy I found and desperately wanted only to hear her say, "We can't afford that." Nooooooo! That statement made me think we were literally one toy away from living in a shelter! It wasn't until I was in my 20s that I realized we weren't on the brink of poverty. My mom was doing quite well actually, but she wasn't going to pay for another Barbie or Cabbage Patch doll just to see it end up in the toy graveyard on my bedroom floor. At the time I felt deprived; looking back, I had too much. As my taste has evolved from toys to tablescapes (because seriously, Target is basically Toys R Us for grown ups) I can no longer pay $50 for something in Pottery Barn that I can get for $25 at TJ Maxx. Once I experienced that for myself I became a TJ Maxx/Homegoods devotee. Lightbulb!
But the most important lessons I've learned are:
Nothing lasts forever. Babies change in the blink of an eye, and the moments that seem to make your days drag on forever will all too soon be hard to remember.
I'm lucky I chose a partner who loves me unconditionally.  Motherhood is messy, and I'm thankful that I have a husband who isn't squeamish and likes to help. My hat's off to my mom and all other single mamas out there. I truly do not know how you do it. I can barely make it through my husband's work day without him.
Nothing worthwhile is ever easy. With all of its surprises and challenges, motherhood is the best experience of my life. I am a stay-at-home mom, and despite being with my children for 99% of their lives I still feel like I don't get to see them enough. Don't get me wrong, I love to have some alone time too. This blog is sometimes my only way of maintaining a shred of sanity, but I also know that this is the best time of my life. My husband and I are young (well relatively speaking. Can I still classify the 30s as young? I say yes), our family's all under one roof, we're healthy, happy, and blessed beyond belief.
To thank my mom… often and repeatedly. I think I thanked and apologized to my mother more in my first year of motherhood than I did in all my years of my life before that combined.
As far as conditions and phases of life go, Momopause is a blessing for me. It's making me a better person, and I can only hope my daughter feels the same when she faces the change.
(Linking up here)