Looking for a November calendar? Download our 45 Free Printable Templates and Designs and make the most of the 11th month of the year!
Are you ready to make November 2023 your most productive and enjoyable month yet?
Life can often feel like a whirlwind, with endless tasks, commitments, and deadlines, all competing for your attention. But worry not! In this article, we have curated 45 beautifully designed, free printable November calendar templates for 2023.
By harnessing the power of organization and planning, you can regain control of your schedule and make the most of this vibrant and eventful month. So, let's dive in and discover how these calendars can be your ultimate companion in navigating the eleventh month of the year.
This post contains affiliate links.
This post contains affiliate links.
November Calendar Template Free Printables for 2023
With our calendars, you can easily keep track of important dates and plan your activities accordingly. To download your free November calendar printables, just click on the image you like (or text below) and start planning a month won't forget!
Blank November 2023 Calendar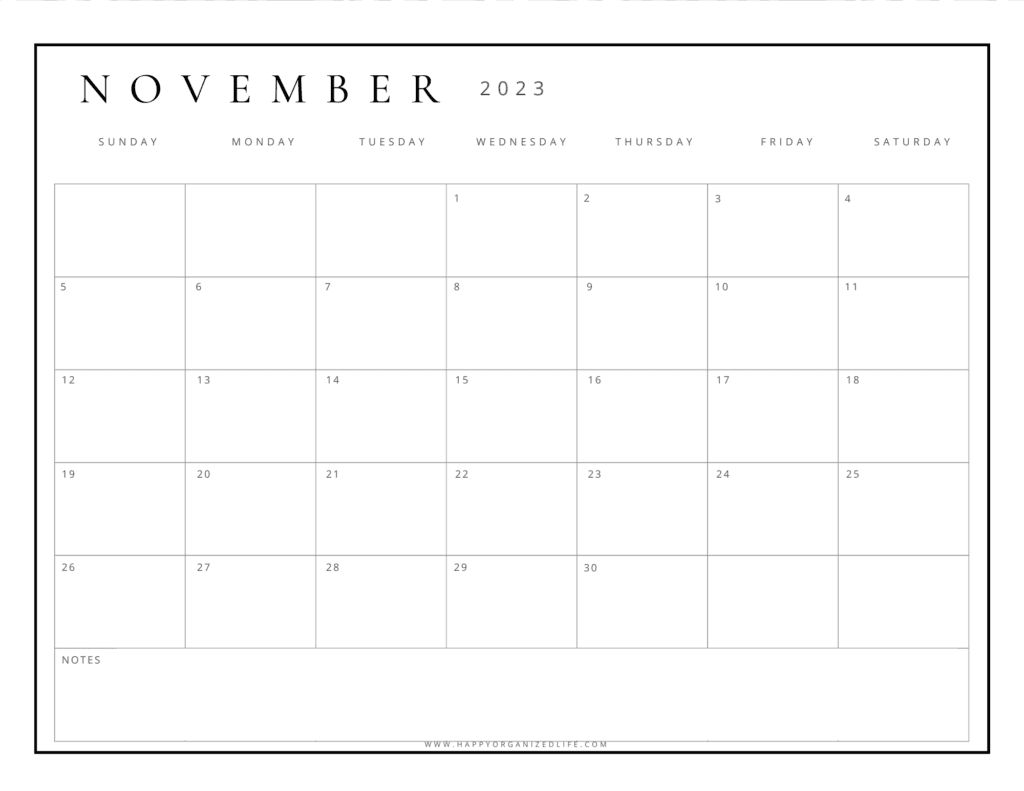 November 2023 Calendar – Blank Calendar Design
Minimalist Designs – Simple November Calendars for 2023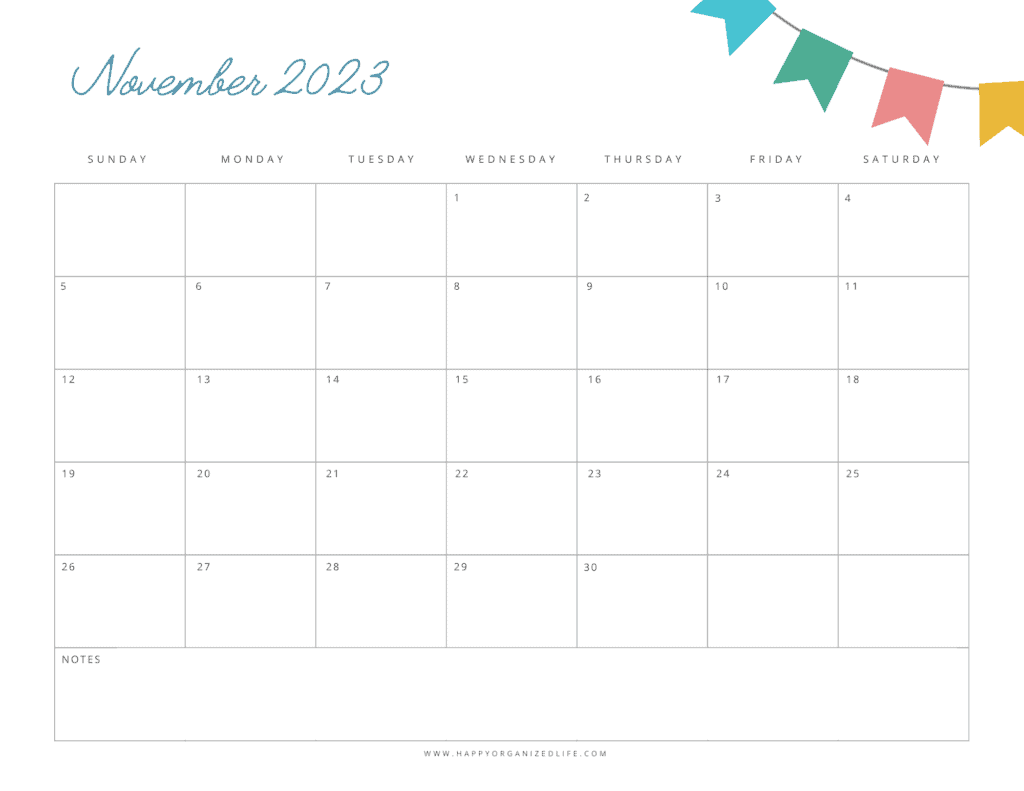 2023 November Calendar – Banners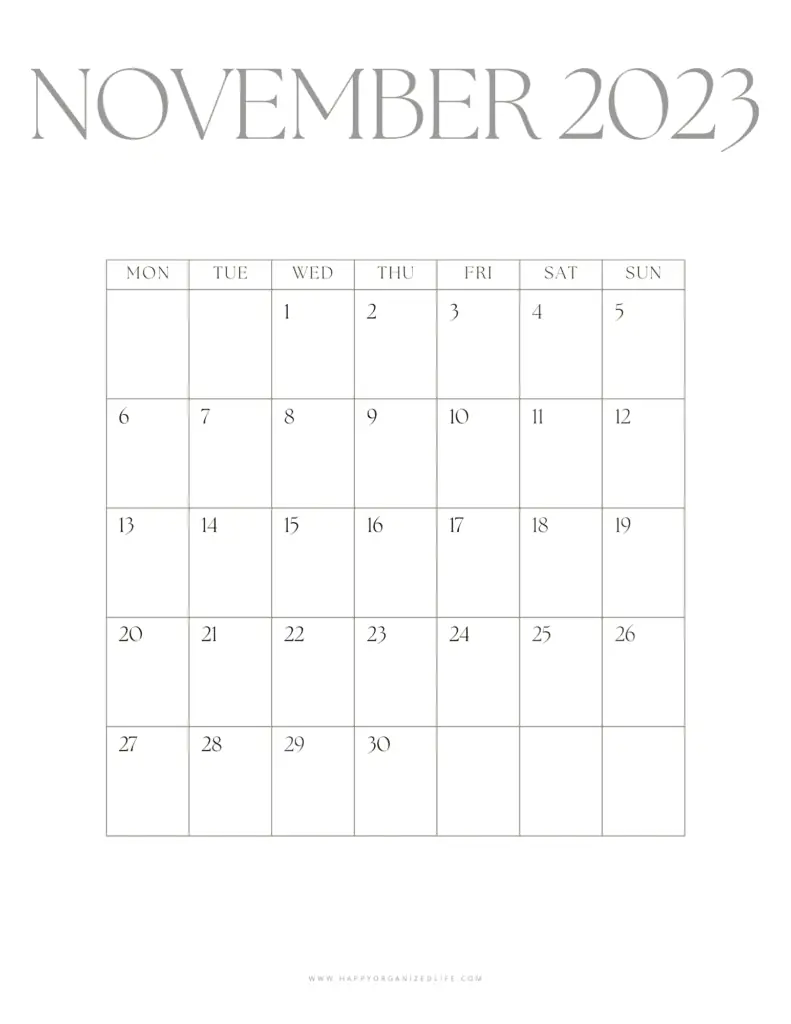 Printable November Calendar – Corporate Calendar in Vertical Orientation
2023 November Printable Calendar – Pink with White Stitches
November Calendar 2023 – Blue with White Stitches
Printable November 2023 Calendar – Floral Designs

November Calendar 2023 – Blue Floral
2023 Calendar for November – Black and White
November Calendar – Purple Floral
Free Printable Calendar for November 2023 – Electric Pink & Green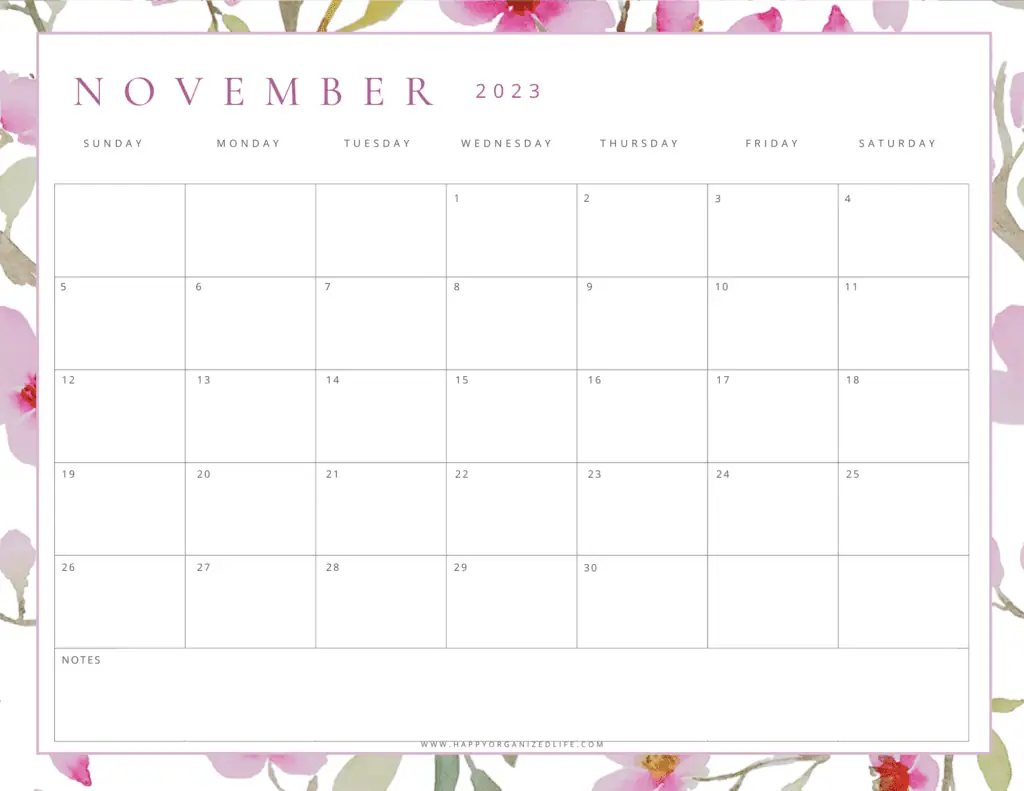 2023 November Calendar – Purple & Green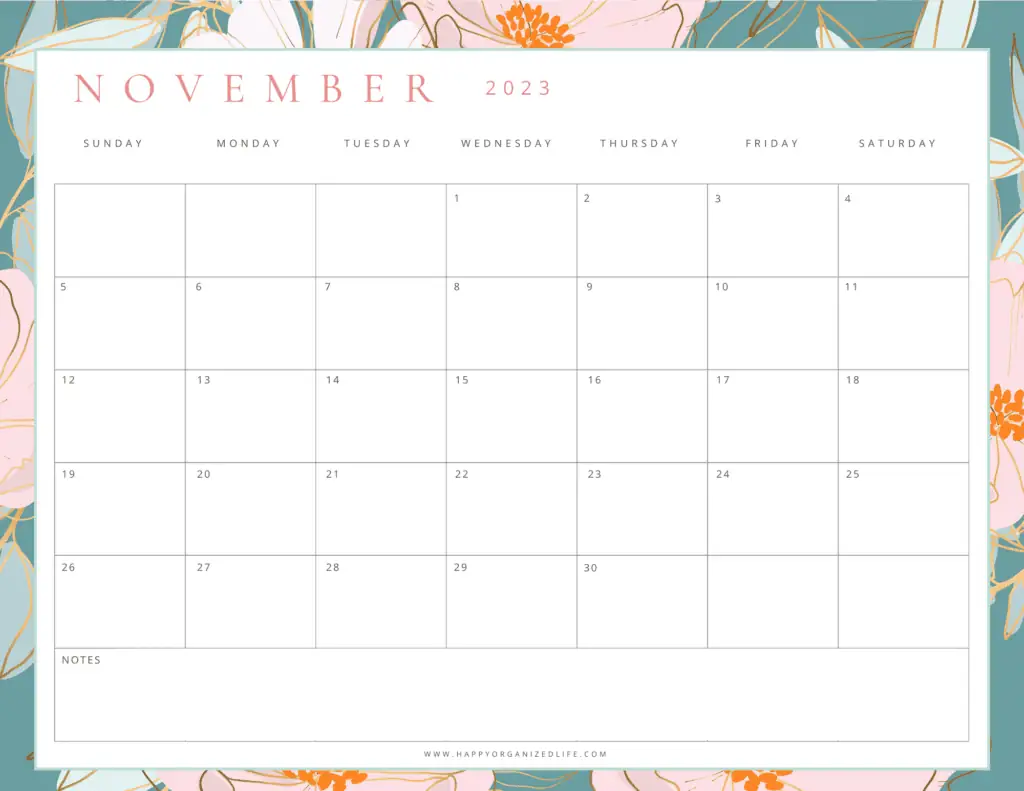 November 2023 Calendar – Blush & Sage

2023 Free Printable Calendar – Orange Floral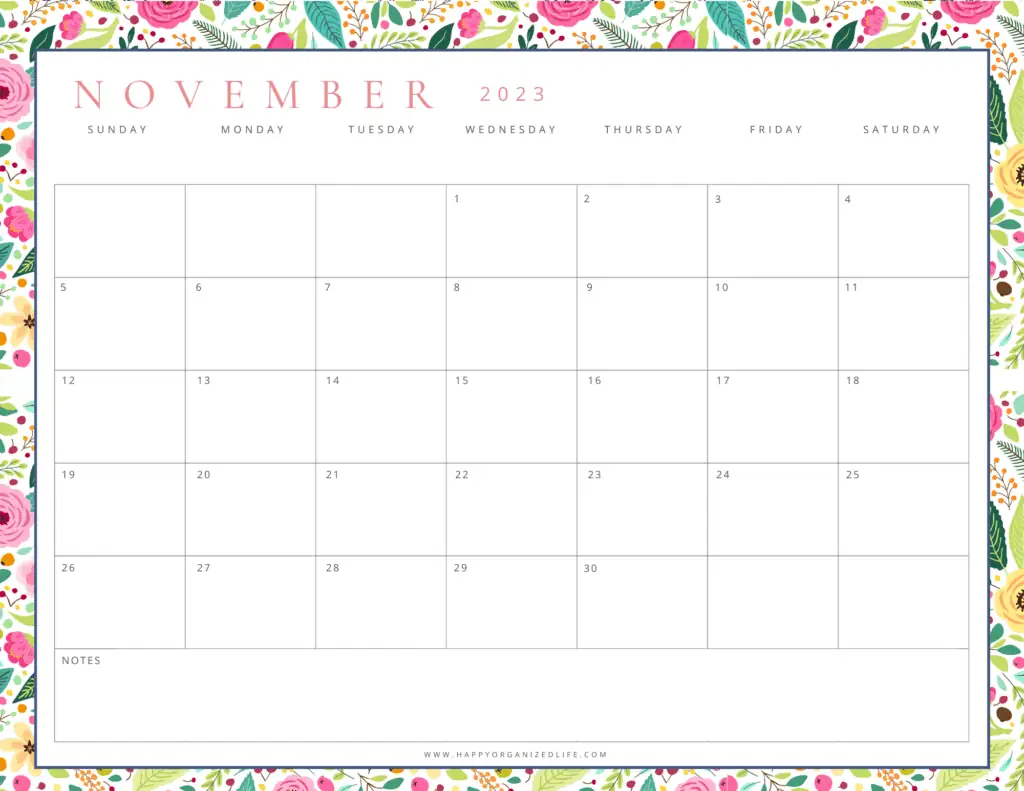 November 2023 – Small Colorful Flowers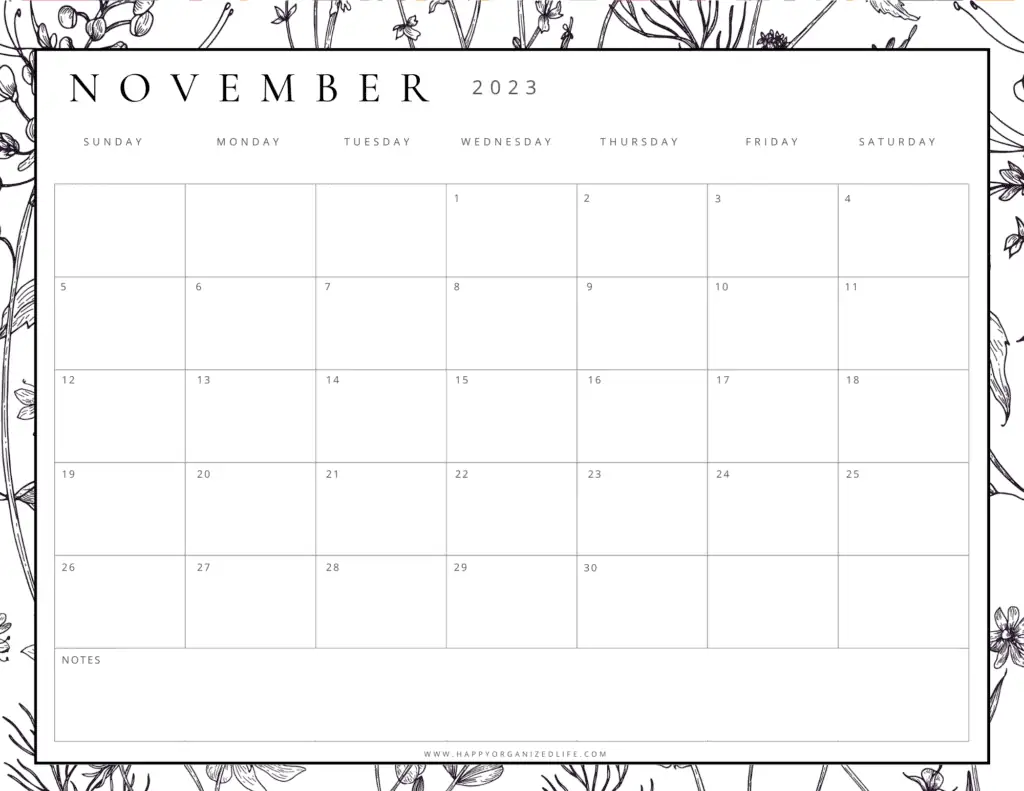 November 2023 Free Printable – Black & White Floral
Printable November Calendar – Large Colorful Flowers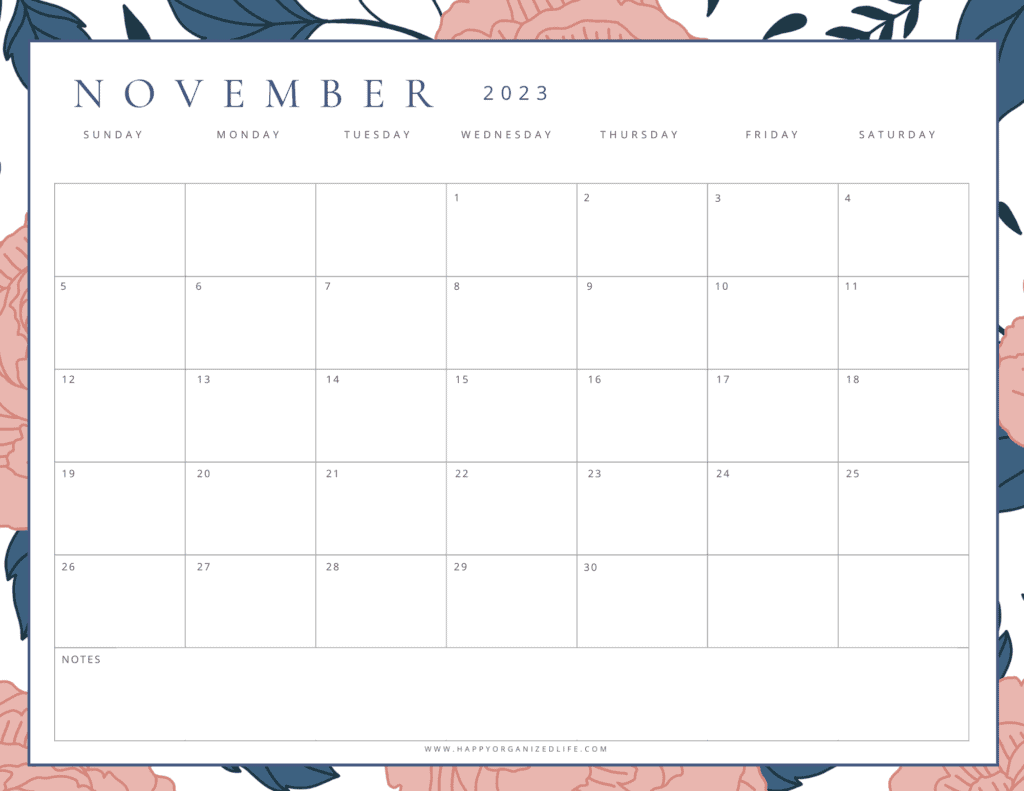 November Calendar for 2023 – Pink & Navy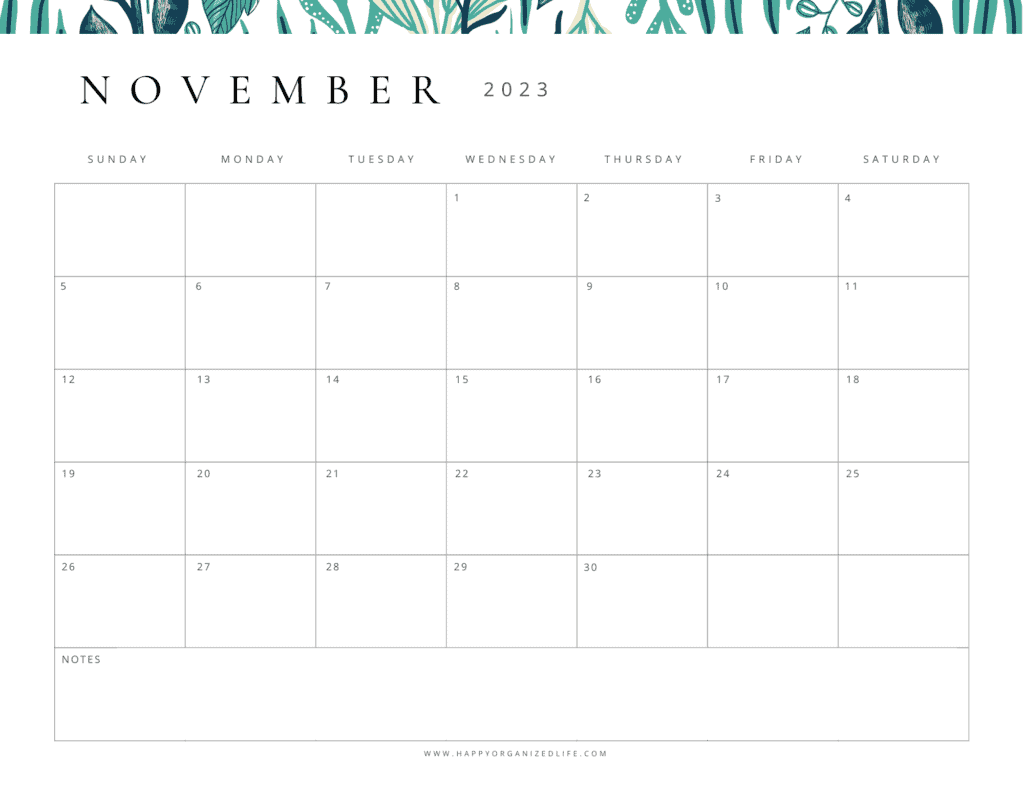 Blue & Green Border
Colorful November Calendars for 2023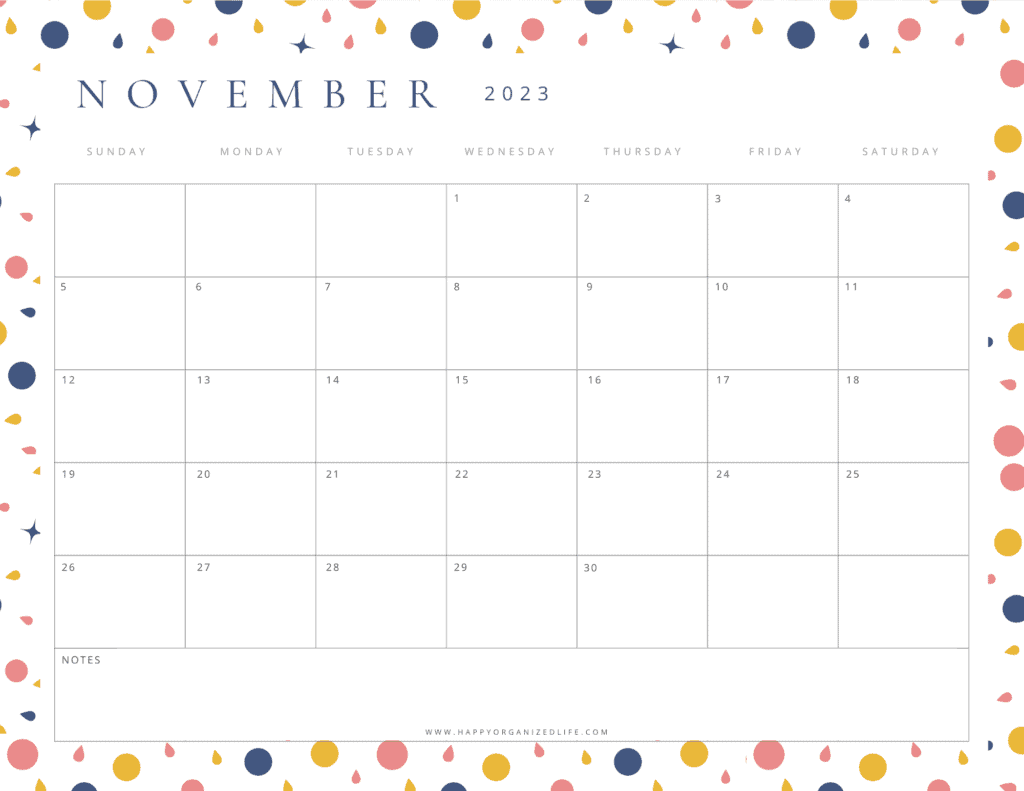 Free Printable November Calendar – Polka Dots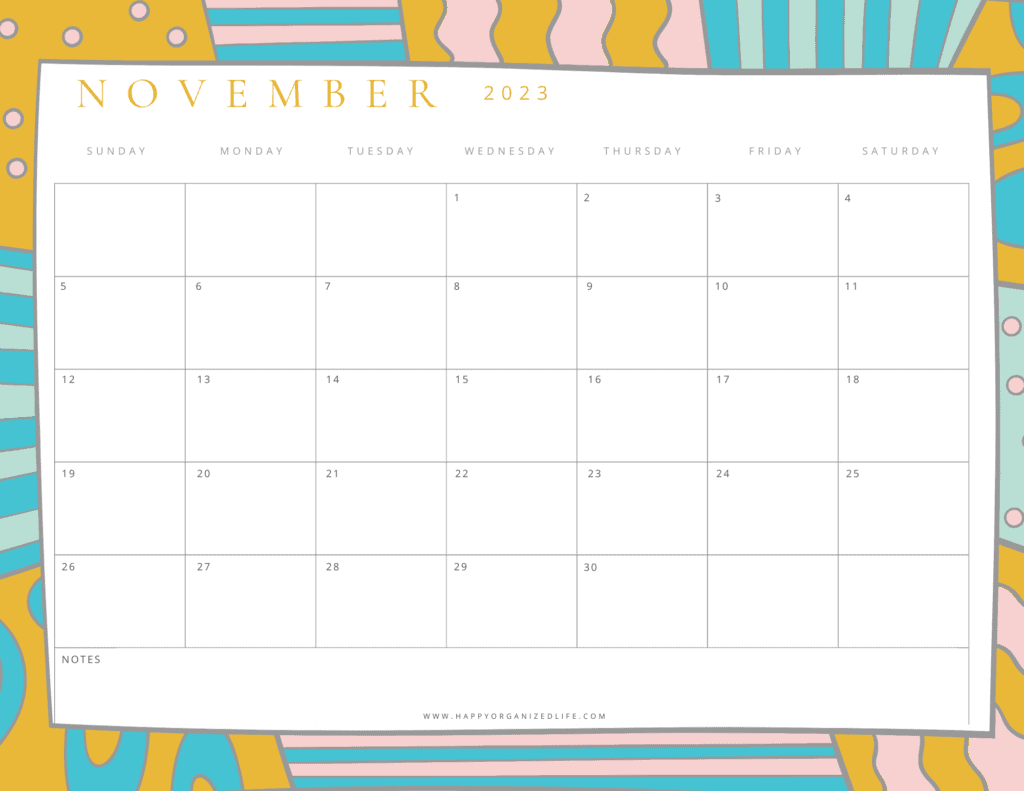 November 2023 Calendar – Squiggly
Calendar Printable for 2023 – Paint Splotches
November Calendar 2023 – Holiday Themes
Calendar Printable for 2023 – Pumpkins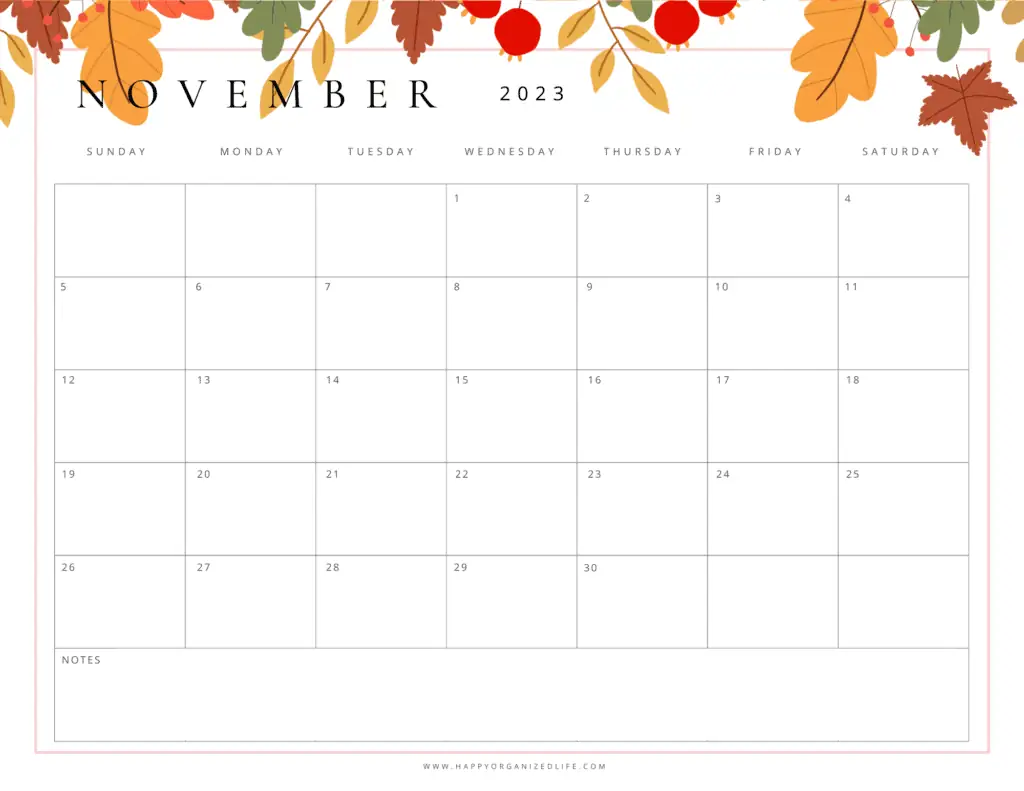 November 2023 Calendar – Fall Leaves
November 2023 Calendar – Pumpkin pie
November 2023 Calendar – Fall Color
Geometric Calendars for November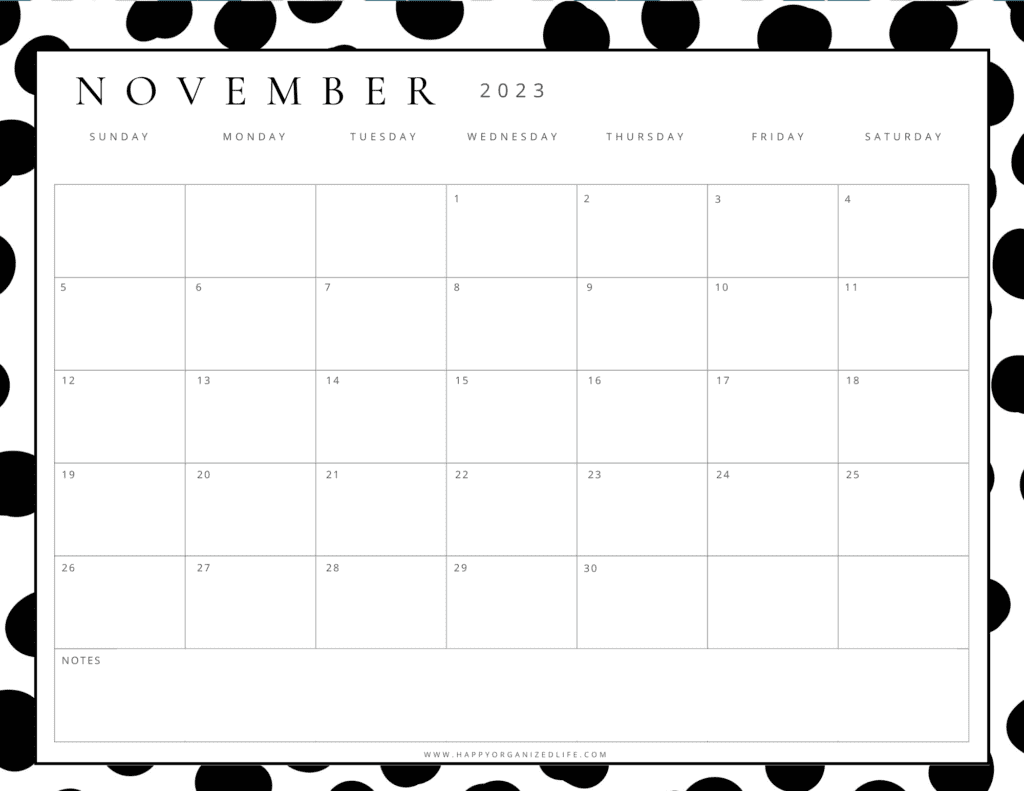 November 2023 Calendar Template – Black and White Polka Dots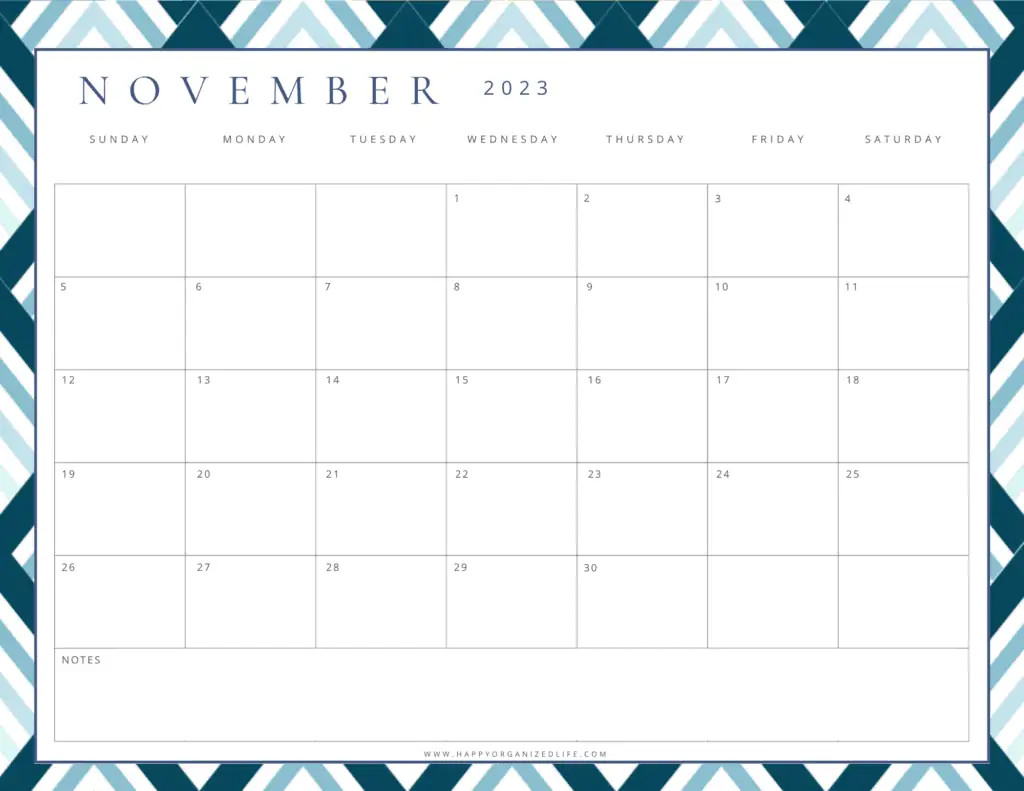 Calendar Templates for November – Blue Geometric
Printable November Calendar – Warm Geometric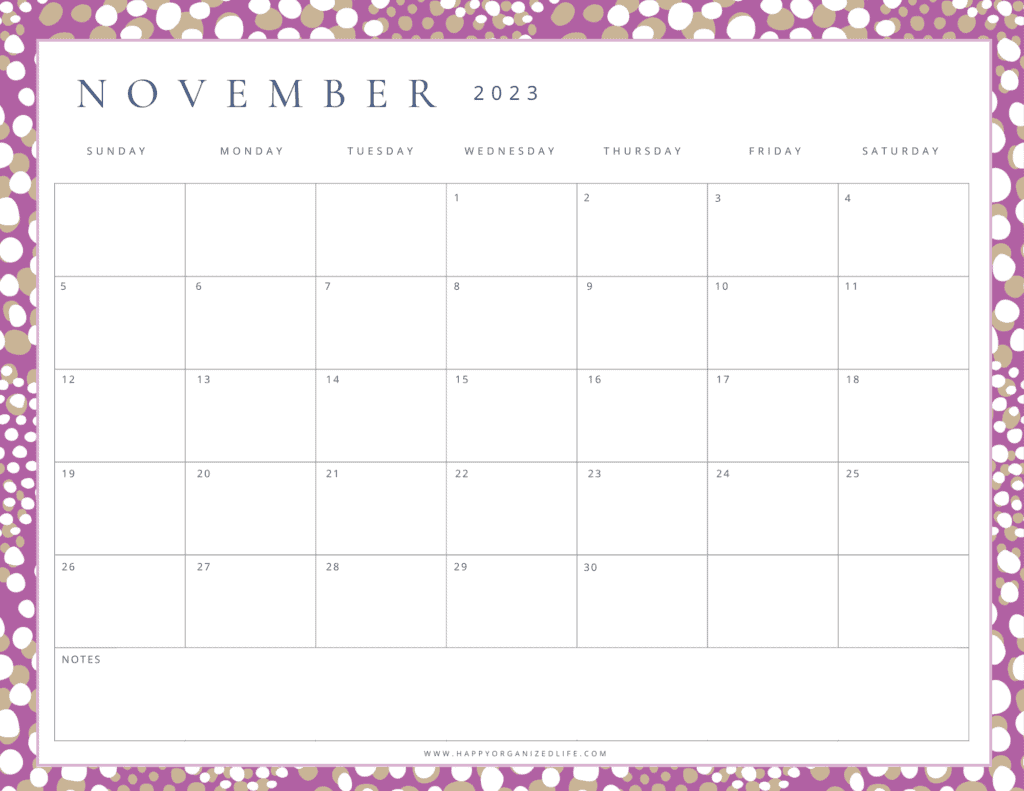 November Calendar Template – Purple with Polka Dots
2023 November Printable Calendar – Masculine Geometric
November 2023 Calendar Printable – Warm Spiral
Printable November Calendar – Coll Geometric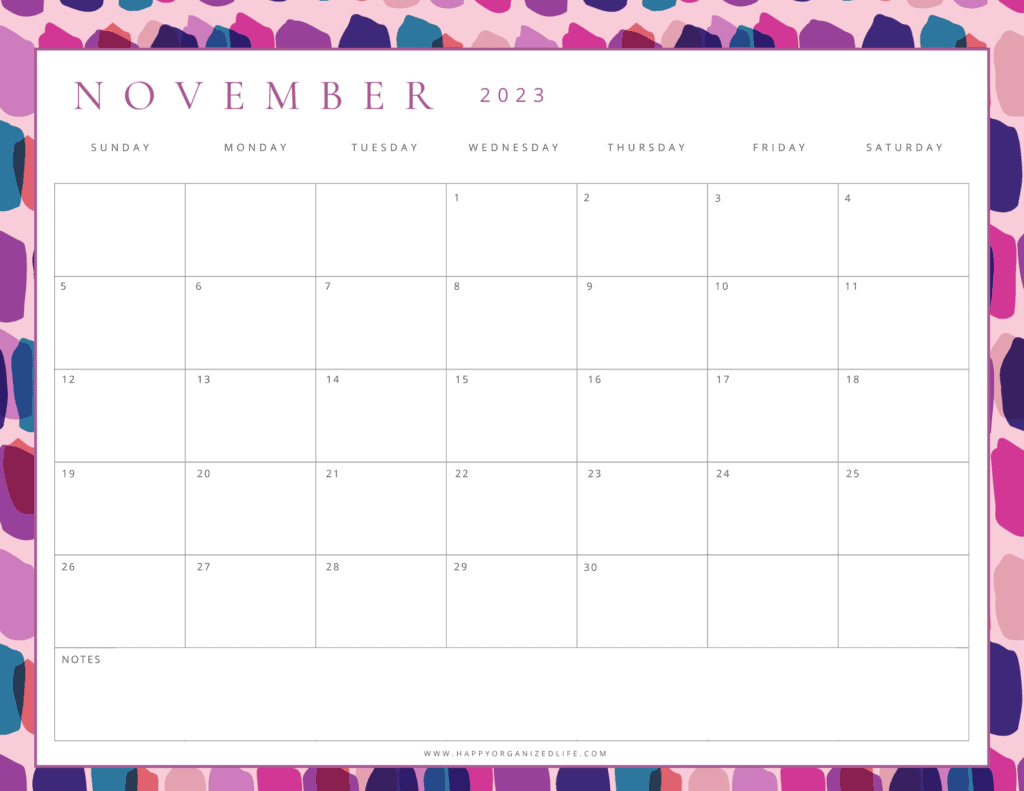 November Calendar 2023 – Swatches
Calendar Template for November 2023 – Coral and Blue
Vertical Calendars for November 2023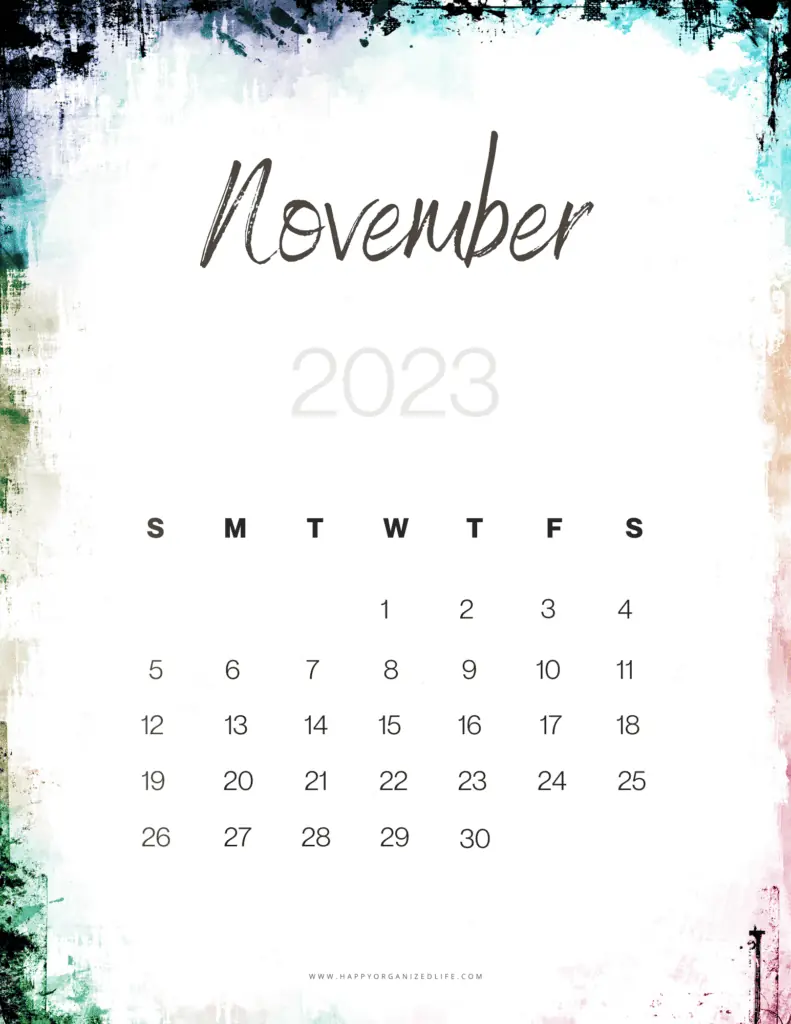 November 2023 Calendar – Vertical Orientation Bold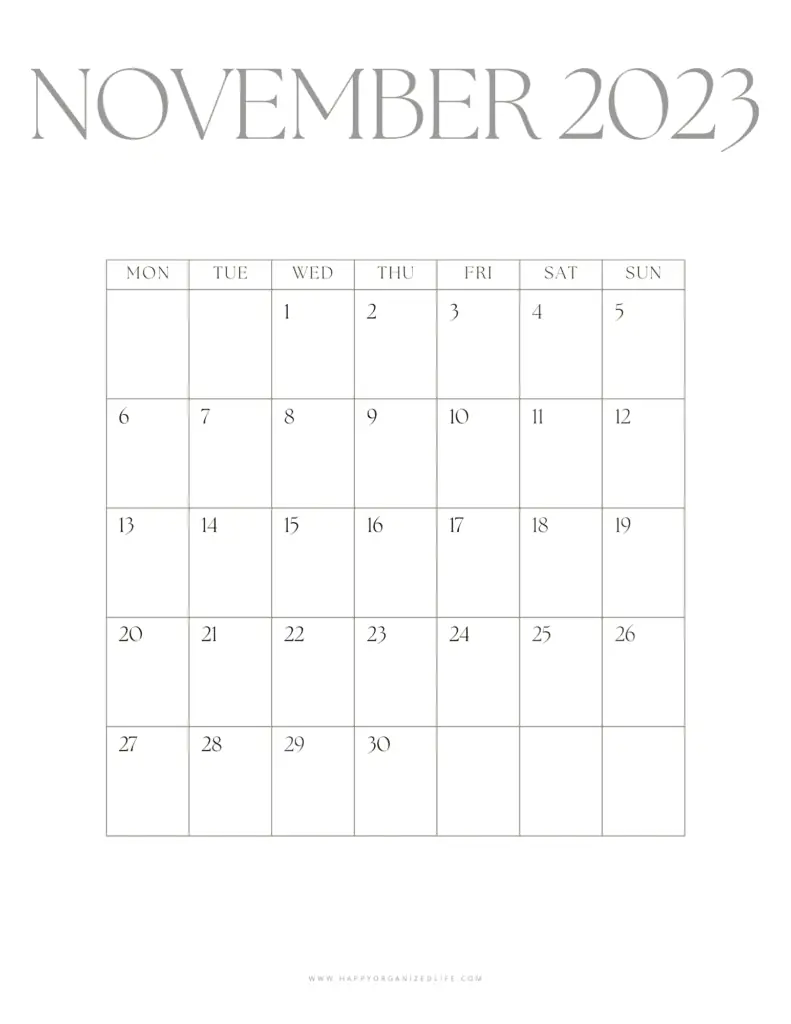 Minimalist Calendar Template – Portrait Orientation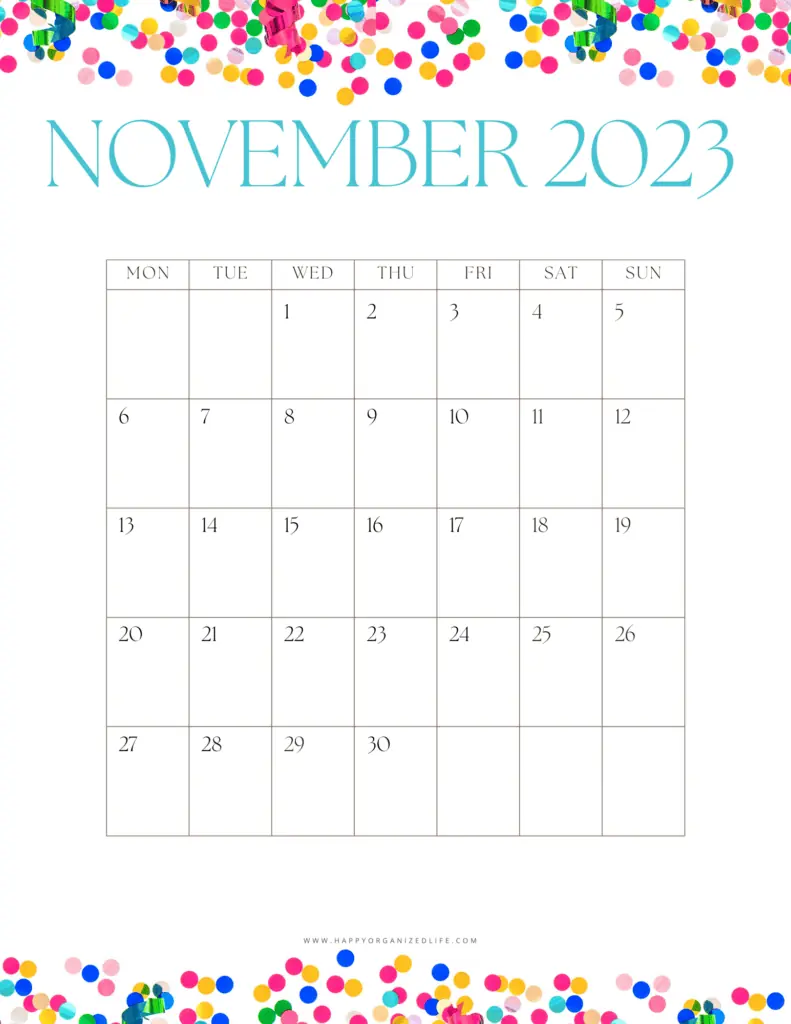 Vertical 2023 November Calendar – Confetti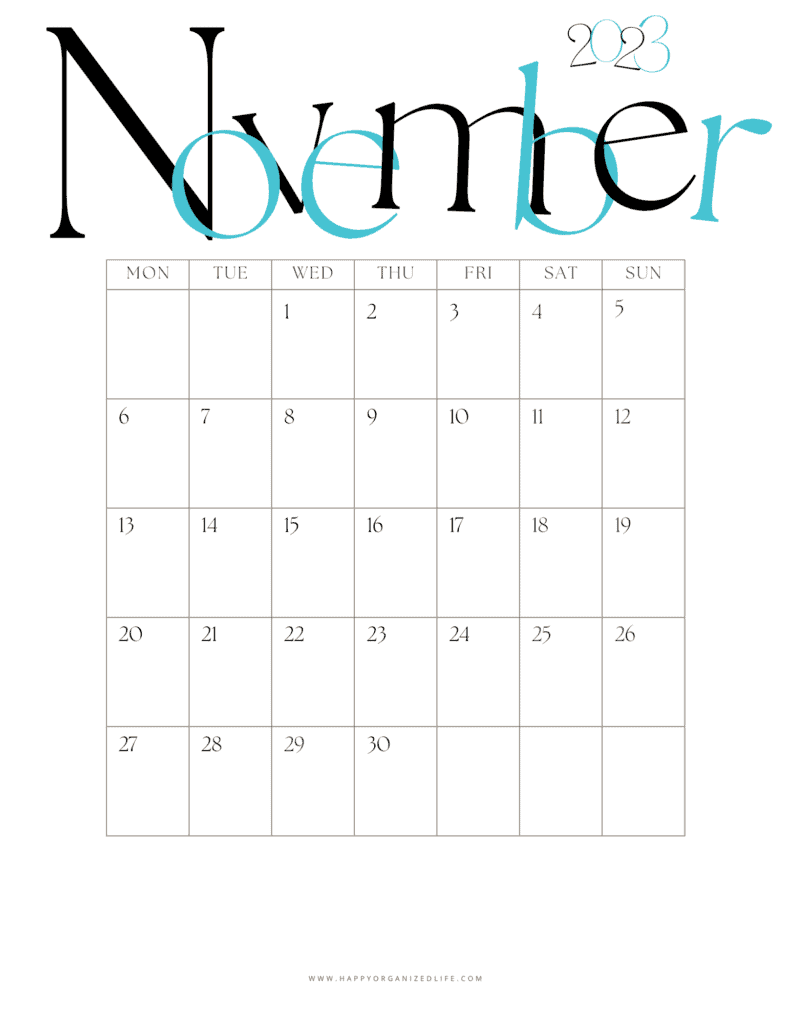 2023 Calendar Vertical Style – Tipsy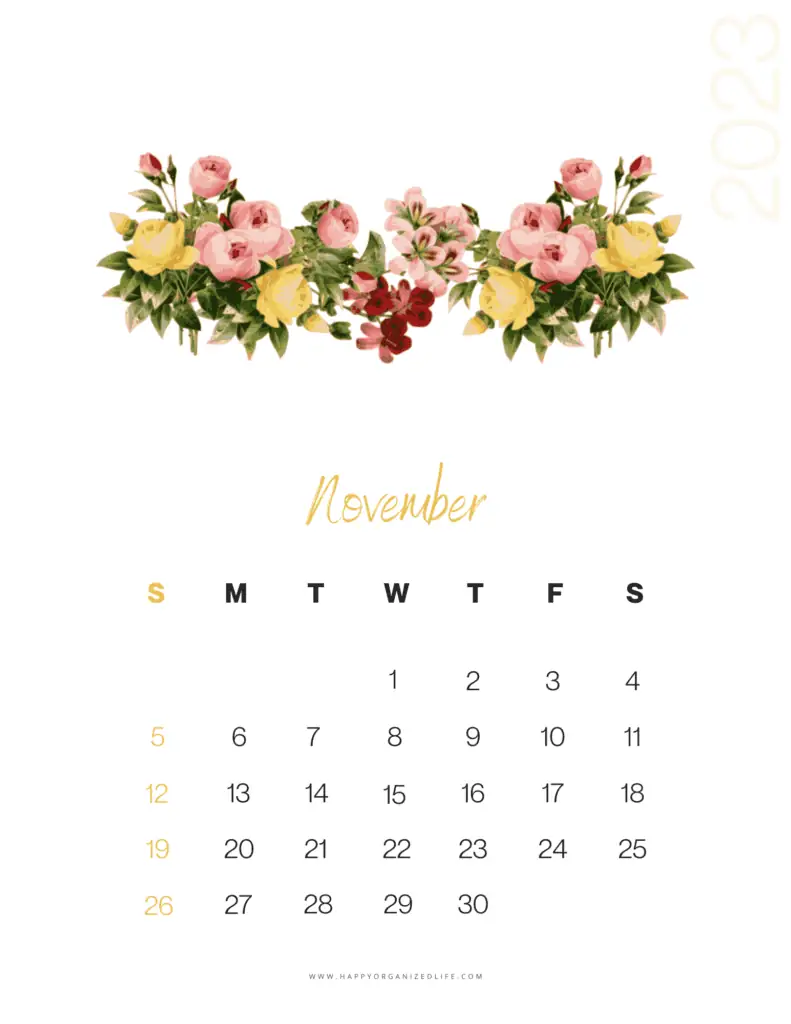 November 2023 Vertical Calendar – Bouquet
Click November Calendar 2023 Vertical – Modern Bloom
November 2023 Calendars with a Monday Start
Free Printable November 2023 – Monday Start Calendars with Minimalist Script
November Calendar Template – Green Palms
2023 November Calendar Template – Sun and Water
DOWNLOAD & PRINT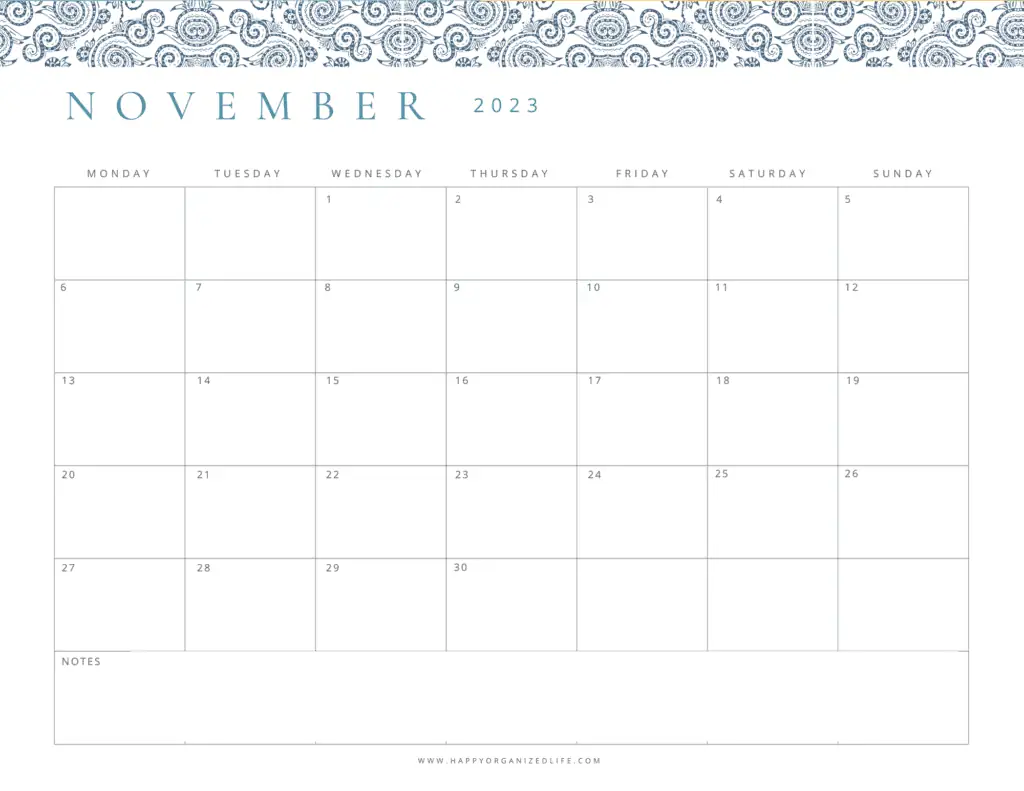 November 2023 Horizontal Orientation – Intricate Blue
Calendar Template November 2023 – Basic Blue
November is a time for reflection, gratitude, and coming together to honor various occasions that hold deep cultural, historical, and personal significance. Let's explore some important dates that mark this 11th month of the year.
All Saints Day
All Saints Day, observed on November 1st, is a day to honor the saints and all those who have embodied:
Profound love
Compassion, and
Wisdom
As we celebrate their lives, we are reminded that the journey toward enlightenment is not exclusive to a select few but is accessible to all who seek the divine within themselves.
The celebration of All Saints Day varies across cultures and regions, reflecting the unique traditions and customs of each community. Many people:
Attend religious services
Offering prayers and praises to honor the saints
Seek their intervention
In some countries, like Mexico, vibrant festivals like Día de los Muertos (Day of the Dead) correspond with All Saints Day, featuring elaborate altars, colorful decorations, and joyful gatherings to remember and celebrate our departed loved ones. People may also light candles or visit gravesites, leaving flowers and tokens of remembrance.
Regardless of the specific customs, All Saints Day serves as a time to:
Come together
Pay respects to the saints, and
Cherish the spiritual connections that bind us together
Veteran's Day
We observe Veteran's Day on November 11th every year in the USA. Communities throughout the United States unite in gratitude, organizing ceremonies and events to honor the service of our military veterans. From wreath-laying ceremonies at national cemeteries to community parades celebrating their contributions, Veteran's Day is an emotional reminder of the gratitude we owe to those who have selflessly served.
Remember, support for our veterans extends beyond just one day. Let us embrace an ongoing commitment to honor, respect, and advocate for our military veterans. Together, we can create a culture of appreciation and support that ensures their service and sacrifices are always recognized and celebrated.
Daylight Savings Time Ends
It's that time of the year again – when you set your clocks back and bid farewell to Daylight saving time (DST). On Sunday, November 6, get ready to revel in an additional hour of precious sleep. 
Did you know that DST was initially proposed over 200 years ago as a way to maximize the light day hours and conserve candles? It's a fascinating historical tidbit that adds to the intrigue of this biannual ritual.
While most states observe DST, there are some places that don't participate in the time change:
Most of Arizona
Hawaii
Virgin Islands
American Samoa
Puerto Rico
Guam
Northern Mariana Islands
With the end of DST, Americans will enjoy an additional hour of sleep. As the clocks are set back, the mornings will become brighter, but the evenings will grow darker earlier. Daylight saving time, originally proposed as an economic measure over two centuries ago, has seen a rising movement to make it permanent. Senator Marco Rubio reintroduced the Sunshine Protection Act, which received unanimous approval in the Senate, but not in the White House.
Thanksgiving Day
Ah, Thanksgiving – the holiday that brings families together, fills our homes with mouthwatering aromas, and kicks off the festive season. It's a time to:
Come together
Reflect on our blessings, and
Indulge in a delicious spread of traditional dishes
Originating from a harvest celebration between the Pilgrims and Native Americans in 1621, Thanksgiving Day has evolved into a cherished national holiday in the USA.
On this special day, families and friends gather around a bountiful table, with the star of the show – the Thanksgiving turkey. From creamy mashed potatoes to tangy cranberry sauce and delightful pumpkin pie, the feast is a celebration of culinary delights.
Get ready to loosen your belt and embrace the deliciousness that is Thanksgiving! Download my special free printable Thanksgiving planner and have a stress-free holiday everyone will enjoy!
Start of the Holiday Shopping Season
As we bid farewell to Thanksgiving, another eagerly anticipated season takes center stage—the start of the holiday shopping frenzy. This time of year marks the beginning of a whirlwind of shopping events, each with its own unique charm and purpose.
Black Friday
First up, we have the infamous Black Friday. Known for its early-morning store openings and jaw-dropping deals, Black Friday has become synonymous with retail madness. Brave bargain hunters eagerly line up outside their favorite stores, ready to snatch incredible discounts on a wide range of products. It's a day of adrenaline-fueled shopping, marked by:
Long lines
Shopping cart races, and
A feeling of triumph when you get an item at an unbeatable price
Small Business Saturday
This day celebrates the contributions of local businesses and encourages shoppers to support their neighborhood shops. It's an opportunity to explore:
Charming boutiques
Cozy bookstores, and
Family-owned restaurants
Small Business Saturday reminds us of the importance of shopping small and the positive impact it has on local communities. Use it to discover unique treasures and forge personal connections with the people behind the counters.
Cyber Monday
As the digital age continues to thrive, Cyber Monday steals the spotlight. This online shopping bonanza brings fantastic deals and steals directly to our screens. Taking place on the Monday after Thanksgiving, Cyber Monday brings the excitement of Black Friday straight to your screens. From the latest gadgets and fashion trends to home appliances and beyond, you'll find an abundance of irresistible deals just a click away.
So mark your calendars, sharpen your digital shopping skills, and prepare to uncover some incredible Cyber Monday bargains.
Giving Tuesday
Falling on the Tuesday following Thanksgiving, Giving Tuesday is a global movement that encourages charitable acts and donations. It's a day to support nonprofits, charities and causes that make a positive impact in our communities. From volunteering time to making monetary contributions, Giving Tuesday reminds us of the joy of giving back.
Other Days in November to Know About
Look at the other intriguing dates to mark on your holiday calendar:
02

November – 

National Men Make Dinner Day

03

November –

National Sandwich Day

04

November –

National Candy Day

05

November –

Daylight Saving Time Ends and 

American Football Day

08

November –

National STEM/STEAM Day

09

November –

World Freedom Day and World Adoption Day

13

November –

World Kindness Day

14

November –

World Diabetes Day

15

November –

America Recycles Day

and National Clean Out Your Refrigerator Day

16

November –

International Day for Tolerance

16

November –

World Philosophy Day

17

November –

World Prematurity Day

and

National Take-a-Hike Day

18

November –

National Princess Day

19

November –

National Play Monopoly Day and

International Men's Day

 19

November –

World Toilet Day

20

November –

Universal Children's Day

23

November –

National Adoption Day

25

November –

National Play Day With Dad and International Day for the Elimination of Violence Against Women

26

November –

National Cake Day

30

November –

International Computer Security Day
History of November
How November Got Its Name. Why Is It Called November?
November, the month of crisp autumn leaves, cozy sweaters, and pumpkin-spiced everything, has an interesting backstory to its name. The word 'November' finds its roots in the Latin novem, meaning 'nine.' Intriguingly, November was originally the ninth month in the ancient Roman calendar. It become the 11th month in our modern calendar (the Gregorian calendar) when Julius Ceaser approved the Julius calendar, adding January and February to the beginning of the calendar year, pushing November to the 11th spot. Despite its new position, the name November remained unchanged.
As for why it's called November, it's closely tied to the concept of gratitude. In ancient Rome, November was associated with the festival of Thanksgiving, known as 'Epulum Jovis.' Held in honor of Jupiter, the Roman god of the sky and thunder, this festival involved feasts and fun. It was a time for Romans to:
Come together
Offer thanks
Revel in the abundance of food and festivities
How Many Days Are in November?
November has 30 days.
Zodiac Signs of November and a Little About Their Personality Traits
Scorpio (23 Oct – 21 Nov)
If you were born between October 23 and November 21, you fall under the captivating sign of Scorpio. Scorpios are driven individuals who are not afraid to pursue their goals relentlessly. They are characterized by their:
Intense and focused behavior
Sharp intellect
Strong intuition (they easily perceive hidden motives and secrets)
While they may appear reserved, their passion and loyalty run deep, making them fiercely devoted friends and partners.
Sagittarius (22 Nov – 21 Dec)
If your birthday falls between November 22 and December 21, you belong to the spirited sign of Sagittarius. With their optimistic outlook and open-mindedness, Sagittarians:
Embrace change
Enjoy taking risks
They have a deep appreciation for knowledge
Are drawn to philosophical and intellectual pursuits
With their infectious enthusiasm and positive outlook, Sagittarians light up any room.
What Is the Birthstone for November?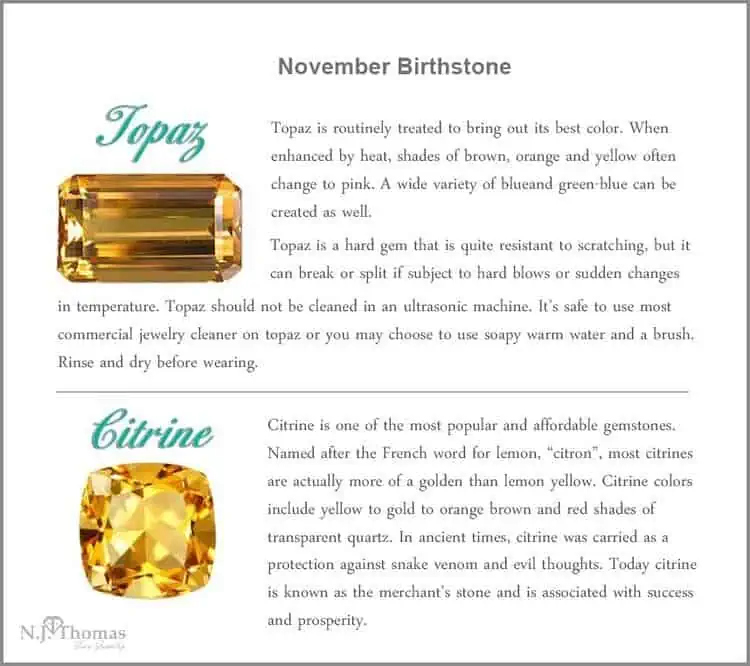 Actually, there's not one, but two birthstones for November! They are topaz and citrine.
Topaz
Topaz, with its stunning range of colors (from deep golden to fiery orange), is a symbol of:
Love
Friendship, and
Strength
It is believed to promote clarity of thought and protect against negative energies.
Citrine
Citrine, on the other hand, boasts a sunny yellow glow that exudes joy and positivity. It brings:
Success
Abundance, and
Vitality to its wearer
Whether you prefer the serene elegance of the topaz or the radiant energy of citrine, both birthstones of November offer a touch of warmth and sparkle to celebrate your special month.
Important Events in History That Occurred in November
A lot of impressive things happened in history during the month of November:
1 – 3 November
November 1, 1993 – The Maastricht Treaty led to the establishment of the European Union.
November 1, 1995 – South Africa witnessed the first all-race local government elections, signifying the end of the apartheid system.
November 2, 1721 – Peter I declared himself Emperor of all the Russias.
November 2, 1962 – President John F. Kennedy announced on TV during the Cuban Missile Crisis that the Soviet bases in Cuba were being dismantled, their missiles and related equipment were being crated, and the fixed installations at these sites were being destroyed.
November 3, 1534 – The Act of Supremacy passed by Parliament made King Henry VIII the Supreme Head of the Church of England.
November 3, 1903 – Panama declared independence from Colombia following a U.S.-engineered revolt.
November 3, 1948 – The front page of the Chicago Tribune newspaper featured the erroneous "Dewey Defeats Truman" banner headline. In reality, Harry Truman defeated Republican candidate Thomas E. Dewey for the presidency.
November 3, 1957 – The Soviet Union launched Sputnik II, the world's first inhabited space capsule, carrying a dog named Laika.
November 3, 1983 – White South Africans voted to grant limited power in the government to Indians and "Coloreds" (persons of mixed race) while continuing to exclude blacks.
4 – 5 November
November 4, 1842 – Mary Todd and Abraham Lincoln married in Springfield, Illinois.
November 4, 1862 – Richard Gatling obtained a patent for his first rapid-fire machine gun, which utilized revolving barrels rotating around a central mechanism to load, fire, and extract cartridges.
November 4, 1890 – The official opening of the first electrified underground railway system occurred in London.
November 4, 1942 – During World War II, British troops led by Bernard Montgomery achieved victory over the Germans under Erwin Rommel at El Alamein after a twelve-day battle.
November 5, 1733 – Colonial American printer and journalist John Peter Zenger published the first issue of the New York Weekly Journal.
November 5, 1911 – Aviator C.P. Snow successfully completed the first transcontinental flight across America, landing in Pasadena, California, after taking off from Sheepshead Bay, New York, on September 17. The total distance flown was 3,417 miles.
6 – 9 November
November 6, 1860 – Abraham Lincoln, the first Republican candidate, won the presidential election and became the 16th U.S. President. He secured 180 of the 303 possible electoral votes and garnered 40 percent of the popular vote.
November 7, 1811 – General William H. Harrison led a force of 1,000 Americans to victory in the Battle of Tippecanoe Creek near Lafayette, Indiana, defeating the Shawnee Indians.
November 7, 1837 – Abolitionist Elijah Lovejoy was attacked and killed by a pro-slavery mob at his printing works in Alton, Illinois.
November 7, 1885 – The completion of Canada's first transcontinental railway, the Canadian Pacific, took place in British Columbia.
November 7, 1944 – President Franklin D. Roosevelt won an unprecedented fourth term, defeating Thomas E. Dewey in the election. Roosevelt passed away less than a year later on April 12, 1945.
November 7, 1967 – Carl Stokes became the first African American mayor in the US when he was elected as the mayor of Cleveland, Ohio.
November 7, 1990 – Mary Robinson made history by becoming Ireland's first female president.
November 8, 1895 – Wilhelm Roentgen discovered X-rays (electromagnetic rays) at the University of Wuerzburg in Germany.
November 8, 1939 – A failed assassination attempt on Hitler took place at the Buergerbraukeller in Munich. Shortly after Hitler's speech commemorating the 1923 Beer Hall Putsch, a bomb exploded. Although Hitler survived, seven others lost their lives.
9 – 12 November
November 9-10, 1938 – Germany experienced Kristallnacht, known as the night of broken glass, during which Nazi mobs set synagogues on fire and vandalized Jewish shops and homes.
November 9, 1989 – After standing for 28 years as a symbol of the Cold War, the Berlin Wall was opened up. The 27.9-mile wall, constructed in 1961, underwent a historic transformation.
November 10, 1871 – Explorer Henry M. Stanley located missionary David Livingstone at Ujiji, Africa. Stanley had been searching for Livingstone since March of the previous year when the missionary had been missing for two years. Upon finding him, Stanley famously greeted Livingstone with the words, "Dr. Livingstone, I presume?"
November 11, 1918 – At 5 a.m., the Armistice between the Allied and Central Powers was signed in Marshal Foch's railway car in the Forest of Compiegne, marking the end of World War I. The guns fell silent at 11 a.m. – the 11th hour of the 11th day of the 11th month. To this day, many places in Europe observe a moment of silence in remembrance of the millions of fallen soldiers.
November 11, 1972 – The U.S. handed over its military base at Long Binh to the South Vietnamese, symbolizing the conclusion of direct American military involvement in the Vietnam War.
November 11, 1992 – The Church of England voted to permit the ordination of women as priests, a significant step toward gender equality within the clergy.
November 12, 1867 – Mount Vesuvius in Italy commenced a major eruption that lasted for several months.
November 12, 1923 – Adolf Hitler was arrested in Germany following the unsuccessful Beer Hall Putsch.
13- 16 November
November 13, 1927 – The Holland Tunnel, the first underwater tunnel built in the United States, opened to traffic, connecting New York City and Jersey City beneath the Hudson River. The tunnel consists of two tubes, each accommodating two lanes of traffic.
November 13, 1945 – General Charles De Gaulle was appointed as the President of the French provisional government.
November 14, 1994 – The inaugural paid passengers embarked on a new rail service through the Channel Tunnel, linking England and France.
November 15, 1777 – The Continental Congress adopted the Articles of Confederation, serving as the first constitution of the United States.
November 15, 1881 – The Federation of Organized Trades and Labor Unions of the USA and Canada was established in Pittsburgh, Pennsylvania. It was later renamed the American Federation of Labor (AFL) five years later.
November 16, 1918 – Hungary declared itself an independent republic following the dissolution of the Austro-Hungarian Empire.
November 16, 1995 – The United Nations charged Bosnian Serb leader Radovan Karadzic and his military commander Ratko Mladic with genocide in relation to the conflicts in Bosnia and Herzegovina.
17 – 18 November
November 17, 1558 – At age 25, Queen Elizabeth I assumed the throne of England, ruling until 1603 at the age of 69. Her reign witnessed England's rise as a global power, marked by the defeat of the Spanish Armada and a flourishing era of literature featuring renowned writers like William Shakespeare and Edmund Spenser.
November 17, 1800 – The U.S. Congress convened for the first time in the newly established capital of Washington, D.C. President John Adams became the first resident of the Executive Mansion, later renamed the White House.
November 17, 1869 – After more than a decade of construction, the Suez Canal was officially inaugurated, providing a vital maritime passage connecting the Mediterranean and the Red Sea.
November 18, 1477 – William Caxton printed the first book in the English language, titled "The Dictes and Sayengis of the Phylosophers."
November 18, 1993 – South Africa adopted a new constitution, ending over 300 years of white majority rule. The constitution granted fundamental civil rights to the black population and received approval from representatives of the ruling party and various other political groups.
19 November
November 19, 1493 – During his second voyage to the New World, Christopher Columbus discovered Puerto Rico.
November 19, 1703 – The "Man in the Iron Mask," a prisoner held by Louis XIV in the Bastille prison in Paris, passed away. The true identity of the prisoner, which sparked much speculation, has been the subject of literary works like Alexandre Dumas' The Viscount Bragelonne.
November 19, 1863 – President Abraham Lincoln delivered the Gettysburg Address at the dedication of a National Cemetery on the Gettysburg Battlefield. In his concise speech, Lincoln's words came to symbolize the essence of democracy, despite initial indifference from the audience who witnessed the historic moment.
November 19, 1969 – News reports surfaced revealing that American troops committed a massacre of civilians in My Lai Village during the Vietnam War, which occurred in March 1968.
November 19, 1978 – The tragic event known as the Jonestown Massacre took place as over 900 followers of Reverend Jim Jones' "Peoples Temple" cult died in Guyana. Forced to consume a cyanide-laced drink, those who resisted got injected forcibly. The incident followed the ambush and murder of California Congressman Leo J. Ryan and others investigating the cult.
November 19-20, 1990 – The Cold War concluded with a summit in Paris, where leaders of NATO and the Warsaw Pact signed the Treaty on Conventional Forces in Europe. This historic agreement led to significant reductions in military arsenals between the two blocs.
November 19, 1998 – The U.S. House of Representatives initiated an impeachment inquiry against President Bill Clinton, marking only the third such inquiry in U.S. history. The previous instances were the impeachment inquiries of President Andrew Johnson in 1868 and President Richard Nixon in 1974.
20 November
November 20, 1789 – The first state to ratify the Bill of Rights was New Jersey.
November 20, 1917 – Tanks were used for the first time in battle during World War I at Cambrai, France. The British General Sir Douglas Haig commanded over 300 tanks in an assault against the Germans.
November 20, 1943 – The Battle of Tarawa commenced in the Pacific War, with American troops launching an attack on the heavily fortified Gilbert Islands. The intense battle resulted in the deaths of over 1,000 Americans and 4,700 Japanese casualties.
November 20, 1945 – The Nuremberg War Crime Trials began, charging 24 former leaders of Nazi Germany with various crimes including conspiracy to wage wars of aggression, war crimes, and crimes against humanity.
November 20, 1962 – The Cuban Missile Crisis ended, as President John F. Kennedy announced lifting the U.S. Naval blockade of Cuba, declaring that all known offensive missile sites on the island are dismantled.
22- 25 November
November 22, 1497 – Portuguese navigator Vasco Da Gama became the first to sail around the Cape of Good Hope while leading a fleet of four ships in search of a sea route to India.
November 22, 1935 – Trans-Pacific airmail service was inaugurated when the Pan American flying boat, known as the China Clipper, departed from San Francisco and reached the Philippines after 59 hours. Commercial passenger service commenced the following year.
November 22, 1963 – At 12:30 p.m., President John F. Kennedy got shot on Elm Street in downtown Dallas. He was first struck in the back and then in the head. Despite the efforts of 15 doctors at Parkland Memorial Hospital, John Fitzgerald Kennedy, the 35th President of the United States, was pronounced dead at 1 p.m. At 2:38 p.m., Lyndon B. Johnson was sworn in as the 36th President aboard Air Force One.
November 22, 1990 – After serving 11 years in office, the longest term of any British Prime Minister in the 20th century, Margaret Thatcher announced her resignation as the British Prime Minister.
November 24, 1859 – Charles Darwin's groundbreaking book, "On the Origin of Species by Means of Natural Selection," was published for the first time. This work presented Darwin's theory of evolution, proposing that all living creatures descended from a common ancestor through the process of natural selection.
November 24, 1863 – The Battle of Chattanooga took place during the American Civil War. General Ulysses Grant's Union soldiers successfully scaled heavily fortified Lookout Mountain, overrunning Confederate General Braxton Bragg's army, a significant victory for the Union forces.
November 25, 1995 – In a closely contested vote, Ireland voted by a margin of less than one percent to legalize divorce. This historic vote marked a significant change in Irish society and the dissolution of the constitutional ban on divorce.
26 – 28 November
November 26, 1789 – President George Washington proclaimed the first American holiday, Thanksgiving Day. It was a day of prayer and public thanksgiving, celebrated in gratitude for the successful establishment of the new American republic.
November 26, 1832 – New York City witnessed the debut of the first horse-drawn streetcar. This innovative mode of transportation carried passengers along Fourth Avenue, between Prince Street and 14th Street, marking the beginning of a new era in urban mobility.
November 26, 1940 – During the Holocaust, the Nazis initiated the process of walling off the Jewish Ghetto in Warsaw. This act confined approximately 400,000 Jewish inhabitants within the ghetto, subjecting them to appalling living conditions with inadequate food, sanitation, and housing, leading to immense suffering.
November 28, 1520 – Renowned Portuguese explorer Ferdinand Magellan achieved a significant milestone in his voyage as he navigated through the strait that now bears his name, the Strait of Magellan. This passage, located at the southern tip of South America, enabled Magellan and his crew to traverse from the Atlantic Ocean into the vast expanse of the Pacific.
November 28, 1942 – Tragedy struck the Coconut Grove nightclub in Boston when a devastating fire broke out. The inferno quickly engulfed the establishment, resulting in the deaths of nearly 500 people who were tragically trapped inside the building.
29 – 30 November
November 29, 1864 – A distressing event unfolded in Sand Creek, Colorado, when the US Army troops, led by Colonel John Chivington, launched a brutal attack on Cheyenne and Arapahoe Indians. Despite the Native Americans' surrender, the troops indiscriminately killed at least 400 individuals in what became known as the Sand Creek Massacre.
November 29, 1947 – The United Nations General Assembly made a momentous decision by partitioning Palestine into separate Jewish and Arab territories. This significant resolution laid the groundwork for establishing of the independent Jewish state of Israel the following year.
November 29, 1989 – The nation of Czechoslovakia marked the end of 41 years of Communist rule. This pivotal moment symbolized a significant shift in the country's political landscape and paved the way for democratic reforms for a new era in Czechoslovakian history.
November 30, 1782 – A provisional peace treaty, marking a crucial step towards the conclusion of the American War of Independence, was signed between Great Britain and the USA. The treaty, finalized in Paris on September 3, 1783, affirmed the United States' sovereignty and recognized it as a free and independent nation, officially ending the conflict.
November 30, 1995 – President Bill Clinton made history by becoming the first sitting American President to visit Northern Ireland. This visit carried great significance as it aimed to support peace efforts and promote reconciliation in the region, underscoring the importance of dialogue and diplomacy in resolving conflicts.
Celebrities Who Were Born in November (Both Modern and Historical)
If you're curious about the famous people born in November, here's a short list:
November 2, 1755 – Marie Antoinette, former Queen Consort of France
November 4, 1969 – Matthew McConaughey, one of the most versatile and highest-grossing Hollywood actors
November 7, 1867 – Marie Curie, the first woman to win a Nobel Prize
November 8, 1966 – Gordon Ramsay, one of the most influential chefs
November 10, 1483 – Martin Luther, German theologian, religious reformer, and a key figure in the Protestant Reformation
November 11, 1974 – Leonardo DiCaprio, an actor
November 12, 1980 – Ryan Gosling, an actor
November 12, 1982 – Anne Hathaway, Academy Award-winning actress
November 13, 1921 – Charles Bronson, an American actor
November 17, 1944 – Danny DeVito, an actor, director, and producer
November 20, 1925 – Robert F. Kennedy, US Senator, brother of President John F. Kennedy
November 22, 1984 – Scarlett Johansson, an actress
November 23, 1992 – Miley Cyrus, a pop artist who has the most US Billboard 200 Top-5 Albums in the 21st century by a female
November 26, 1939 – Tina Turner, the "Queen of Rock 'n' Roll"
November 27, 1940 – Bruce Lee, the most influential martial artist of all time
November 27, 1942 – Jimi Hendrix, one of the most influential electric guitarists & instrumentalists in the history of Rock music
November 29, 1976 – Chadwick Boseman, an actor
November 30, 1835 – Mark Twain, an author
November 30, 1965 – Ben Stiller, an actor, comedian
November 30, 1874 – Winston Churchill, Prime Minister of the United Kingdom
History of Veteran's Day
As November 11th approaches, our nation prepares to commemorate Veteran's Day, a special occasion dedicated to recognizing the selfless service and sacrifices of our military veterans of the United States. This day, originally introduced as "Armistice Day" in 1919 by President Woodrow Wilson, is established to honor those who have donned the uniform and protected our nation in World War I (known as the "war to end all wars"). It became a national holiday in 1938.
After World War II and the Korean War, in 1954, the holiday was renamed "Veterans' Day" in honor of all veterans.
Communities across the US unite to pay tribute to these extraordinary individuals through various events and activities. From attending solemn ceremonies at local veterans' memorials to participating in parades to celebrate their remarkable contributions, we get together to honor their courage and dedication.
In addition, consider getting involved in initiatives that support veterans directly.
Volunteer: assist veterans with various needs, like job placement, housing, mental health support, etc.
Write heartfelt letters or cards to express your gratitude
Organize care packages
Visit veterans locally: take the time to listen to the stories of veterans in your community about the realities of military service
History of Day Light Savings Time
As November approaches, we prepare to turn our clocks back an hour and say goodbye to Daylight Saving Time (DST). DST, a phenomenon that affects clocks twice a year, has a rich history spanning over a century. It emerged as an effort to:
Optimize the light part of the day
Save candles, and
Make better use of the longer days during the warmer months
The concept of adjusting clocks forward in spring and backward in fall has evolved since its introduction, influenced by:
Economic factors
Energy conservation, and
Societal changes
Senator Marco Rubio introduced the Sunshine Protection Act, which garnered unanimous support in the Senate. If it passes in the House of Representatives and gets signed into law by President Joe Biden, we might bid farewell to the clock adjustments altogether. The prospect of a fixed schedule throughout the year excites many Americans who have grown weary of changing their clocks twice annually. Who wouldn't appreciate the simplicity and convenience of permanent DST?
History of Thanksgiving Day
Get ready to loosen your belts and gather around the table because Thanksgiving is almost here! This cherished holiday, rooted in history and gratitude, brings families and friends together for a day of feasting and merriment.
Dating back to the Pilgrims, who recently arrived in America, and Native Americans sharing a bountiful harvest meal in 1621, Thanksgiving Day has become an iconic celebration in the United States. To express their gratitude for the bountiful yield and the Native Americans' support, they organized a feast that lasted for three days. This shared celebration symbolized:
Unity
Cultural exchange, and
The spirit of cooperation
The tradition of giving thanks and celebrating the harvest continued in subsequent years, but it wasn't until the 19th century that Thanksgiving gained widespread recognition. Influenced by the efforts of notable figures like Sarah Josepha Hale, who campaigned for a national day of thanks, President Abraham Lincoln declared Thanksgiving a national holiday in 1863, and we celebrate it on the fourth Thursday of November.
Thanksgiving is synonymous with mouthwatering dishes that make your taste buds dance with delight. The golden-roasted turkey, surrounded by traditional sides like creamy mashed potatoes, velvety gravy, sweet cranberry sauce, and the all-time favorite, fluffy stuffing, or the grand finale – the pumpkin pie! It's a feast that fills both our plates and our hearts.
So, as we gather around the table and create new memories, let's remember the rich history that gave birth to this cherished day.
Quotes About November
Here are 5 of my favorite November calendar quotes you can write in your bullet journal:
No shade, no shine, no butterflies, no bees, No fruits, no flowers, no leaves, no birds – November!

– Thomas Hood
A September to remember. An October full of splendor. A November to treasure.

– Unknown
How sad would be November if we had no knowledge of the spring!

– Edwin Way Teale
November at its best – with a sort of delightful menace in the air.

– Anne Bosworth Greene
I know that I have died before—once in November.

– Anne Sexton
Supplies to Print Your Free November Calendar Printables
These are some of my favorite printing and planning supplies:
Printers
Paper
Pens & Highlighters
Frixion erasable pens are amazing! They come in black, blue, and a mix of bright colors, and they aren't like the erasable pens I grew up with that made a mess of paper and didn't really erase. They erase easily, look great, and are my most favorite pens to plan with because I can color-code events, and I can easily erase them when things change.
If you want a pen that doesn't erase, the BIC Gel-Ocity pens are my favorite. They write so smoothly and area. pleasure to use. According to my Amazon history, I've purchased the 12 pack linked below 14 times so my love for them is pretty serious!
Highlighters
These Frixion Highlighters are just as great as the pens! They erase beautifully, don't damage paper, and make my color-coding dreams come true!
If you like a more subtle highlighter, these Mildliner Highlighters are gorgeous. I like to use these when I want a softer look, and I'm certain I won't need to change or erase anything. They also have ink on both ends so you can easily make different sized lines.
Post-it Notes
I love post-it notes. They're great for reminders, organizing ideas, quick decluttering labels, and even bookmarks! I like to use post-its in various colors, sizes, and sometimes different shapes too. The heart notes are a great way to leave little love notes for your partner or kiddo. These are my favorites:
Free Printable Calendars for November 2024 Coming Soon!
Did you enjoy our free November calendar printables? Then, you're going to love these other posts, too:
Link to previous and next month's printable calendars