Looking for a July Calendar? Grab these 45 Free Printable Templates and Designs and make the most of the seventh month of the year.
Looking for a July calendar to help you schedule your month? You're in the right place! We've gathered 45 free printable calendars for you to download and use. Whether you're looking for a template with portrait or landscape orientation, Sunday start, Monday start, a blank July calendar to customize, or a pre-designed event calendar to keep your daily schedule under control, we've got you covered. Just find the design (or designs) you like and click the link below it for the pdf file.
This post contains affiliate links.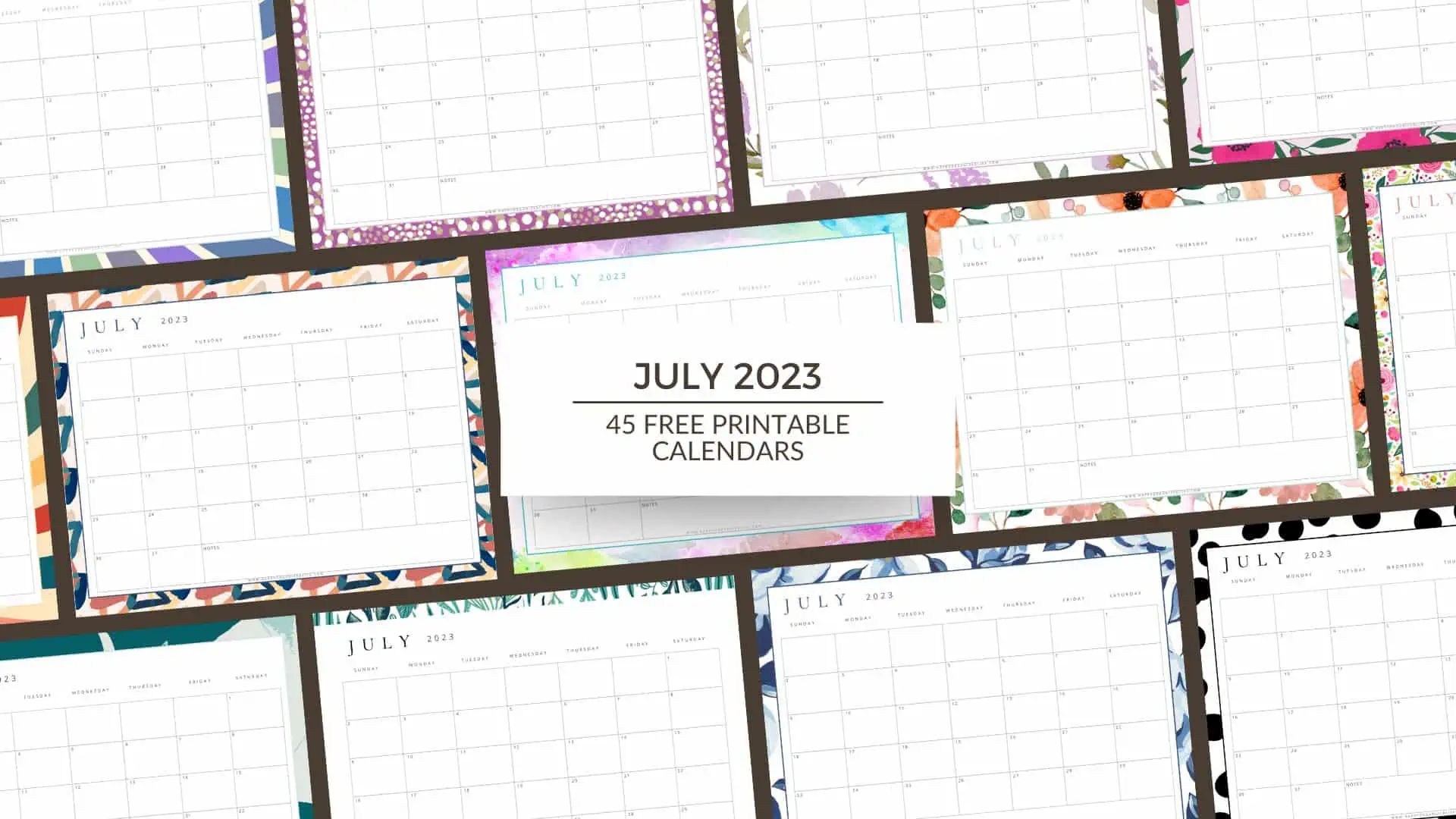 This post contains affiliate links.
July Calendar Template Free Printables for 2023
With our calendars, you can easily keep track of important dates and plan your activities accordingly. To download your free July calendar printables, just click on the image you like (or text below) and start planning a month won't forget!
Blank July 2023 Calendar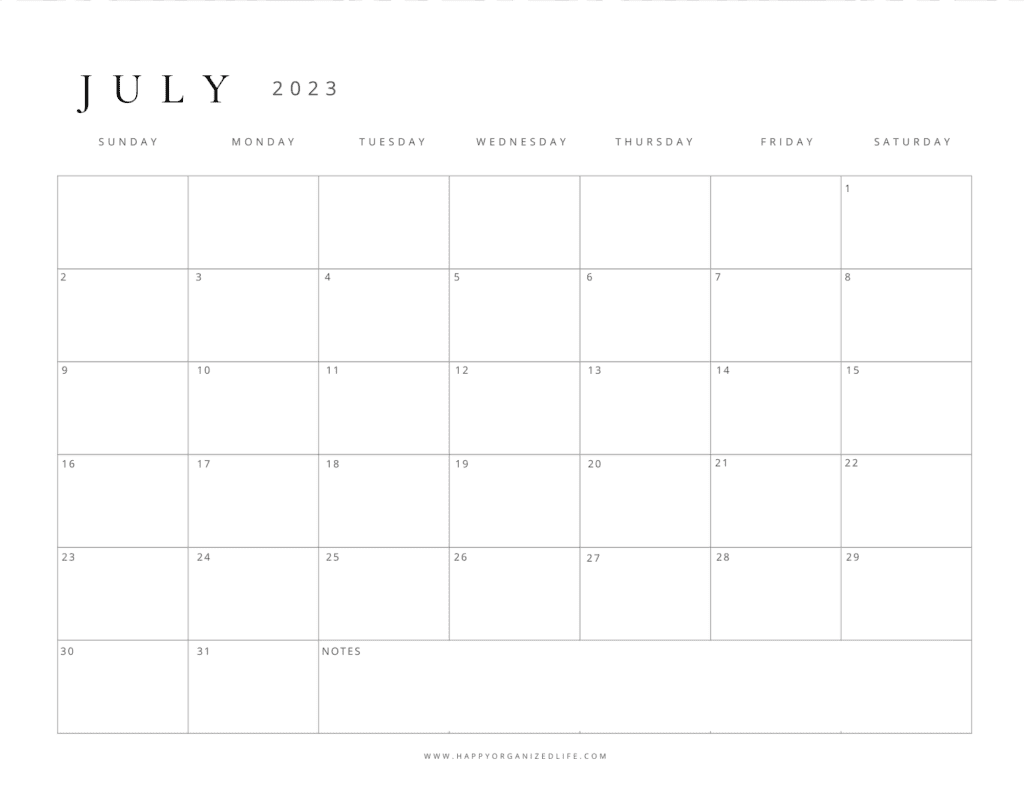 July 2023 Calendar – Blank Calendar Design
Minimalist Designs – Simple July Calendars for 2023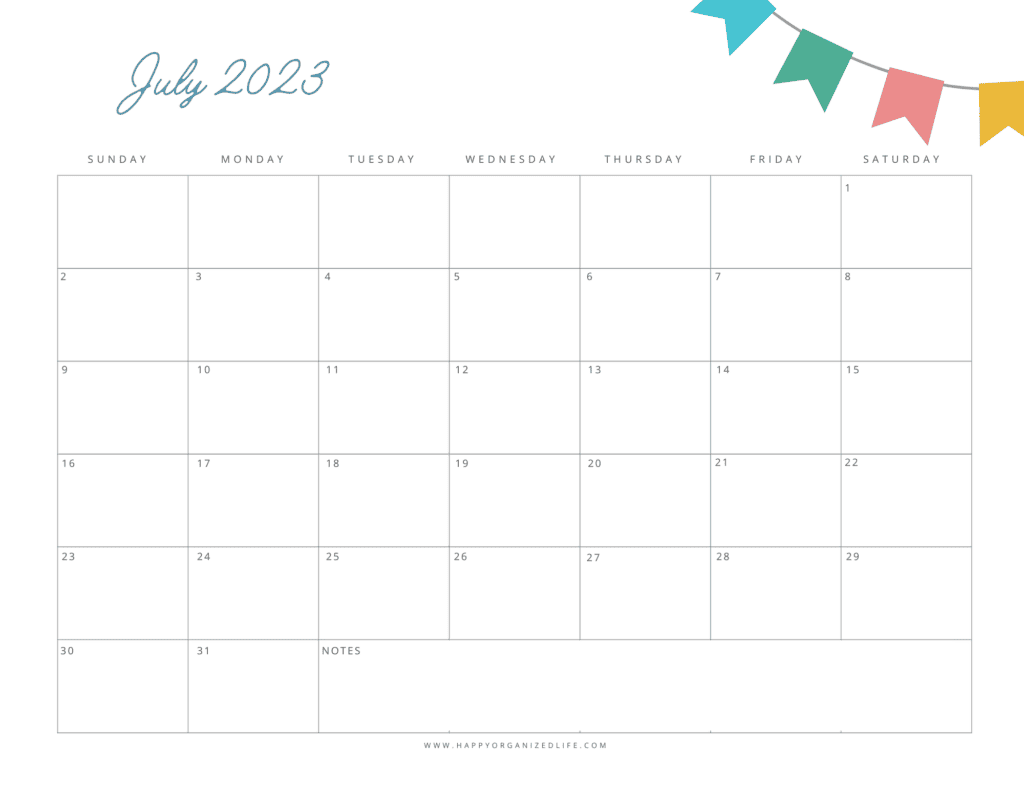 2023 July Calendar – Banners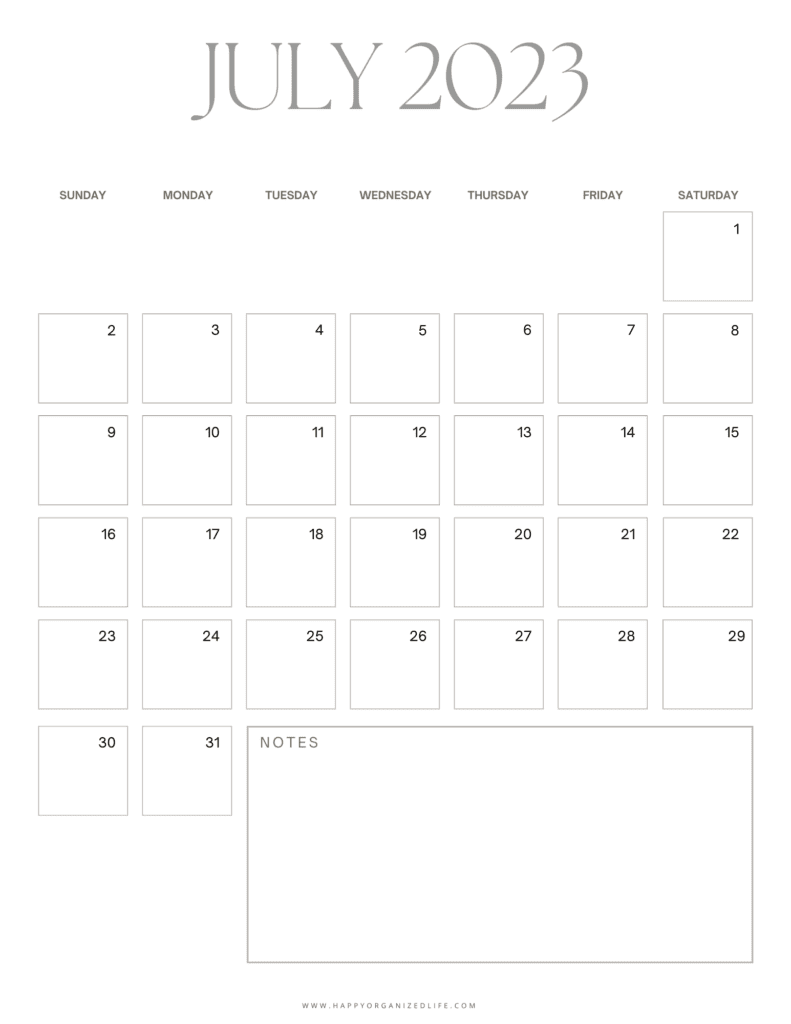 Printable July Calendar – Corporate Calendar in Vertical Orientation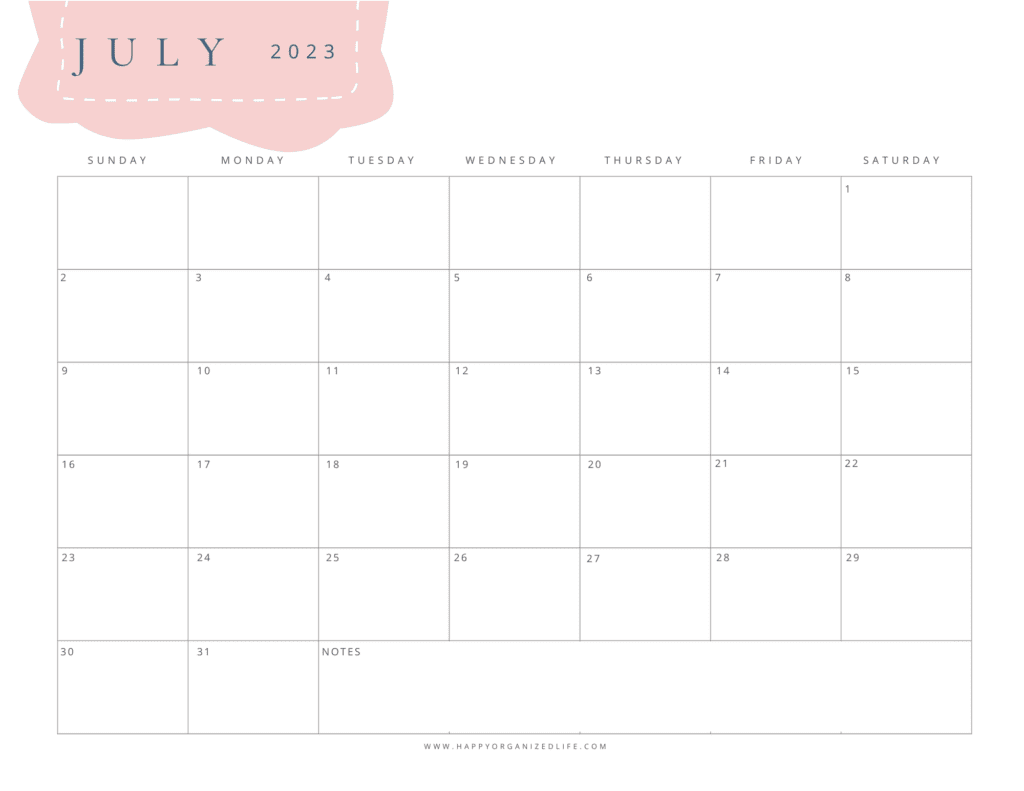 2023 July Printable Calendar – Pink with White Stitches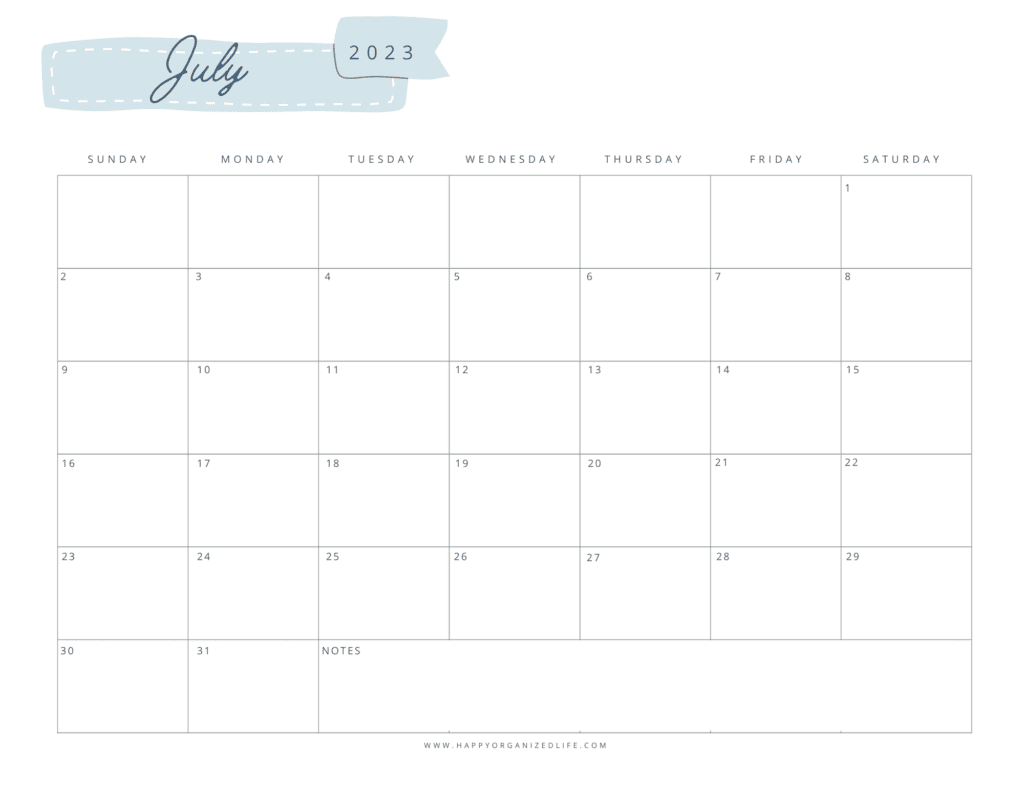 July Calendar 2023 – Blue with White Stitches
Printable July 2023 Calendar – Floral Designs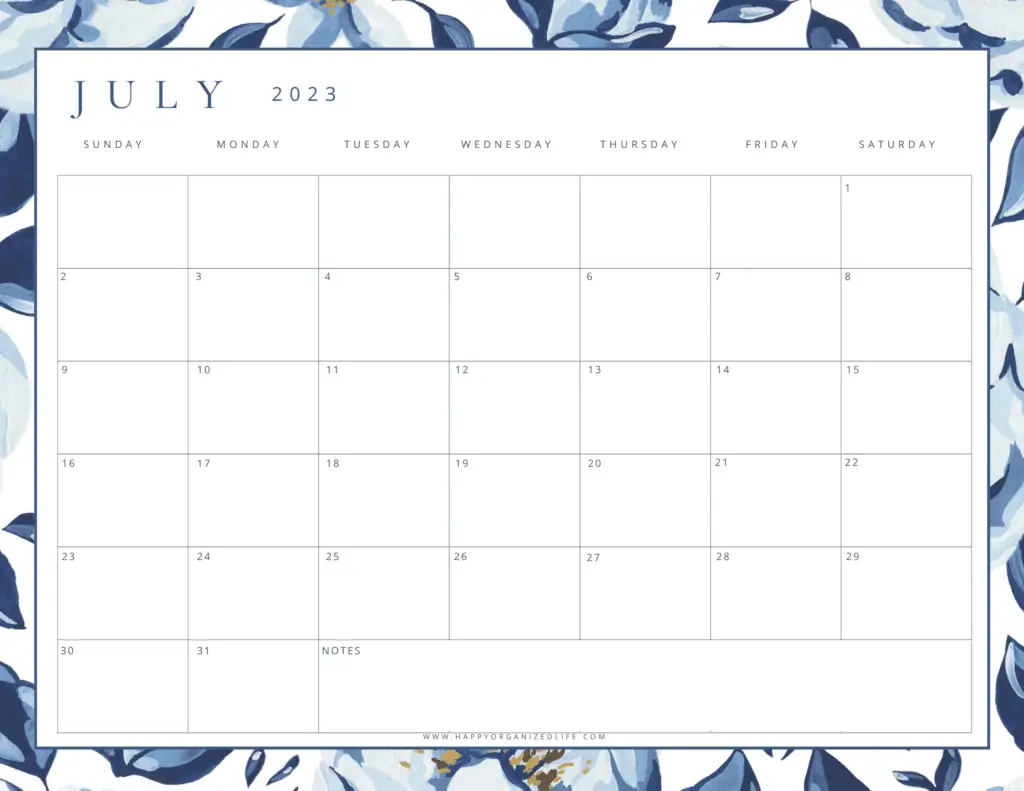 July Calendar 2023 – Blue Floral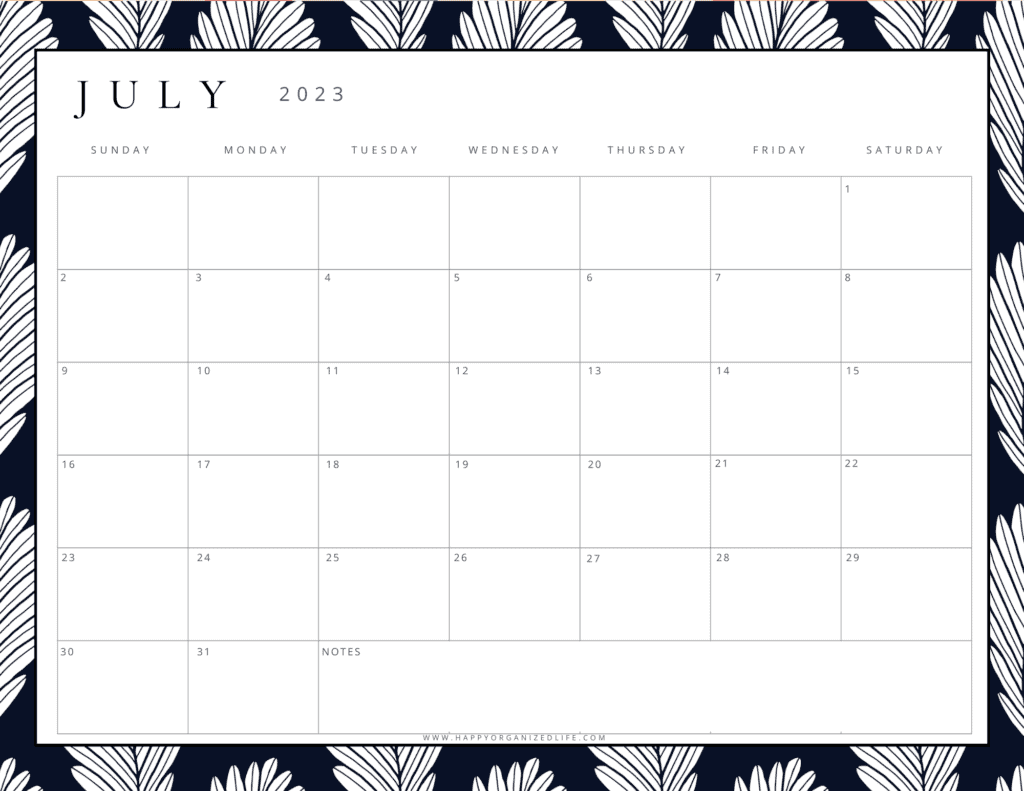 2023 Calendar for July – Black and White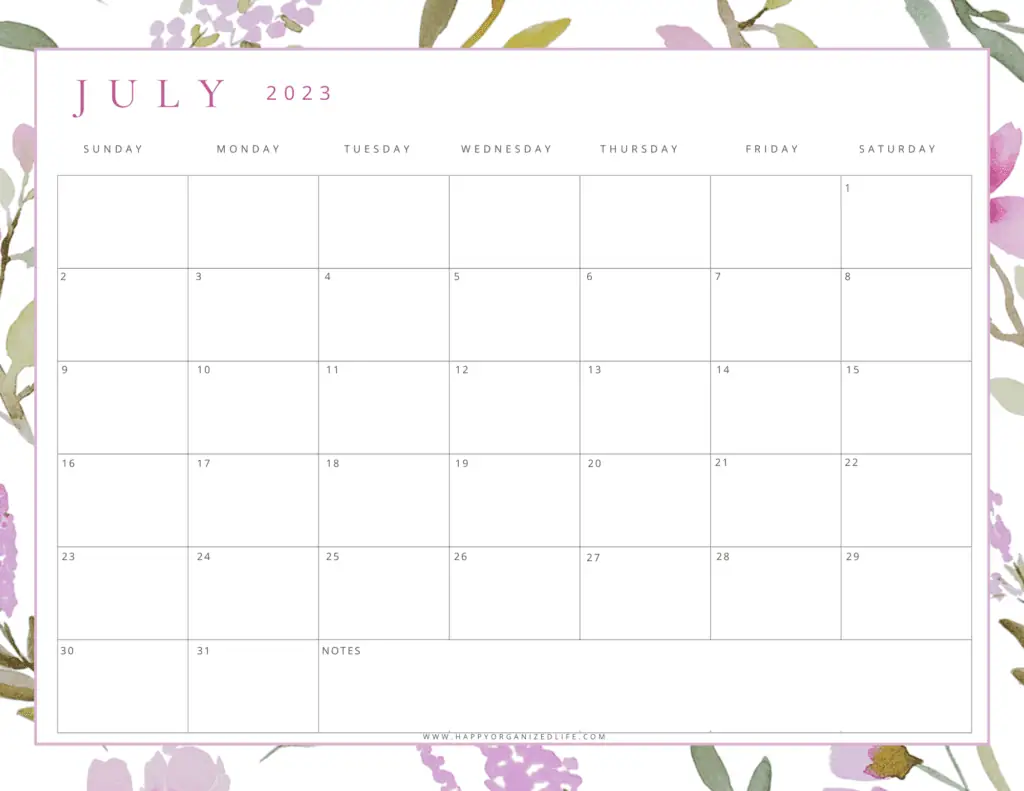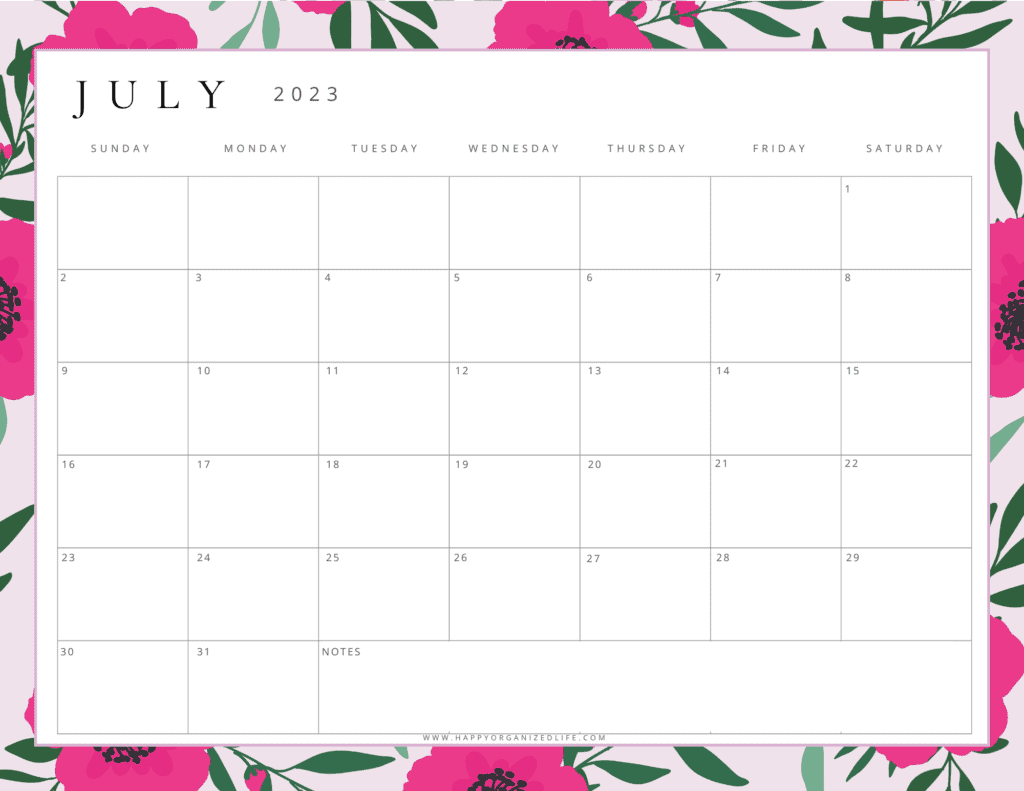 Free Printable Calendar for July 2023 – Electric Pink & Green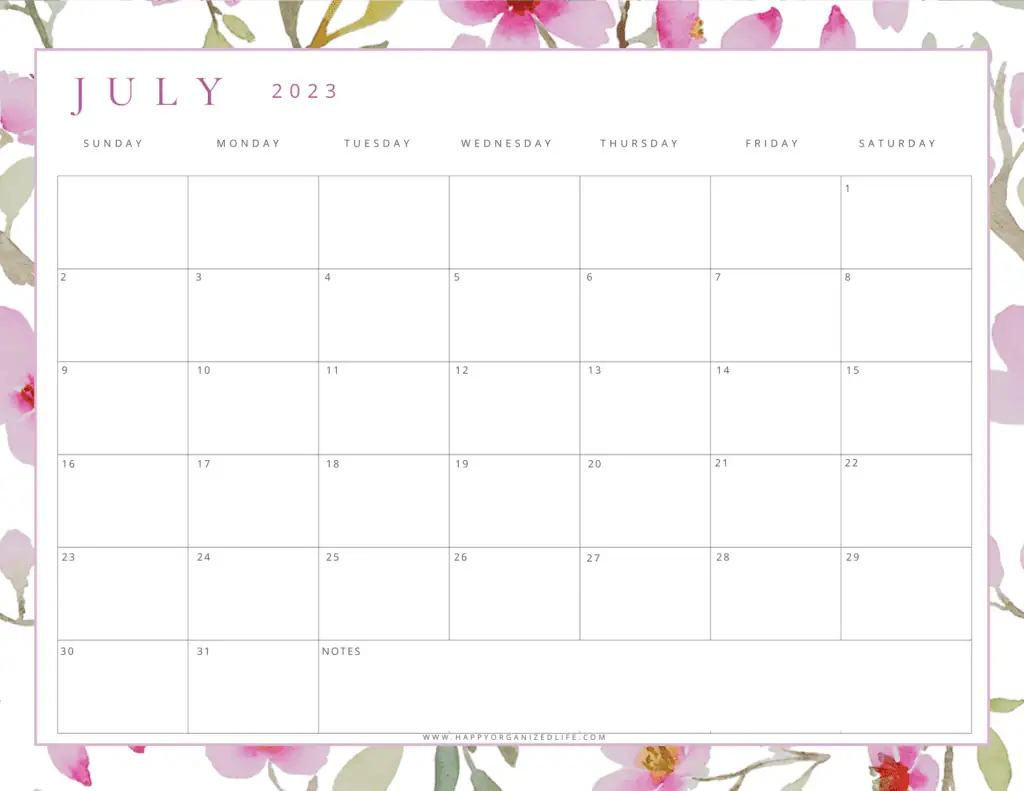 2023 July Calendar – Purple & Green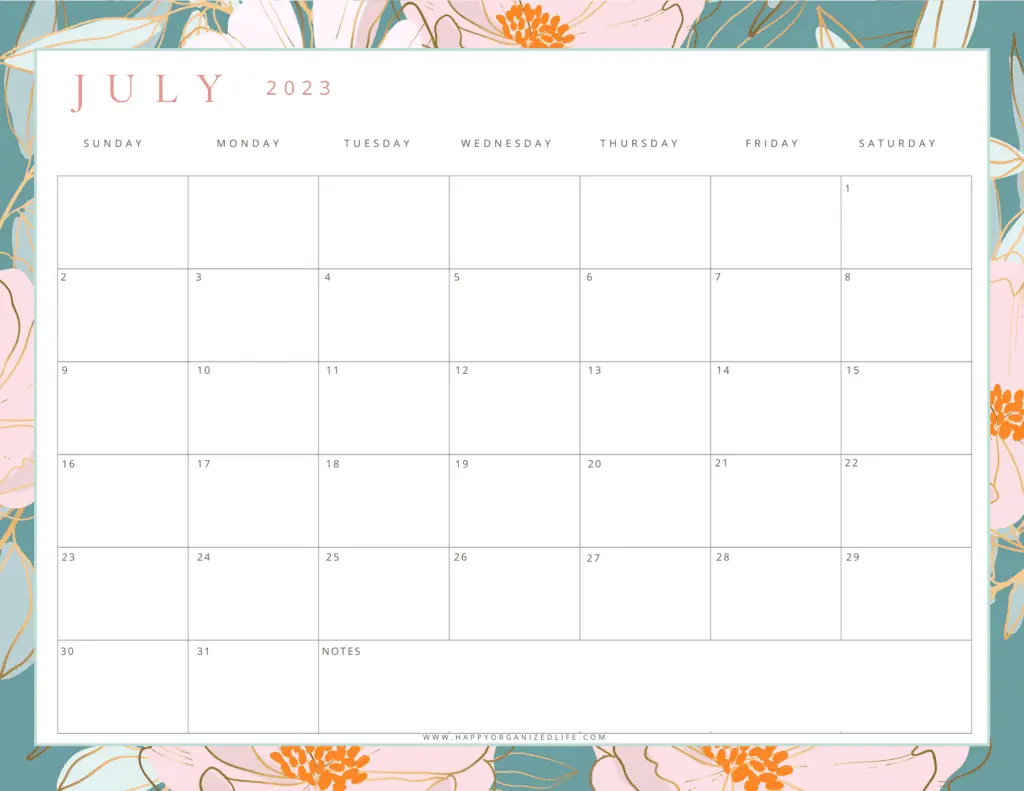 July 2023 Calendar – Blush & Sage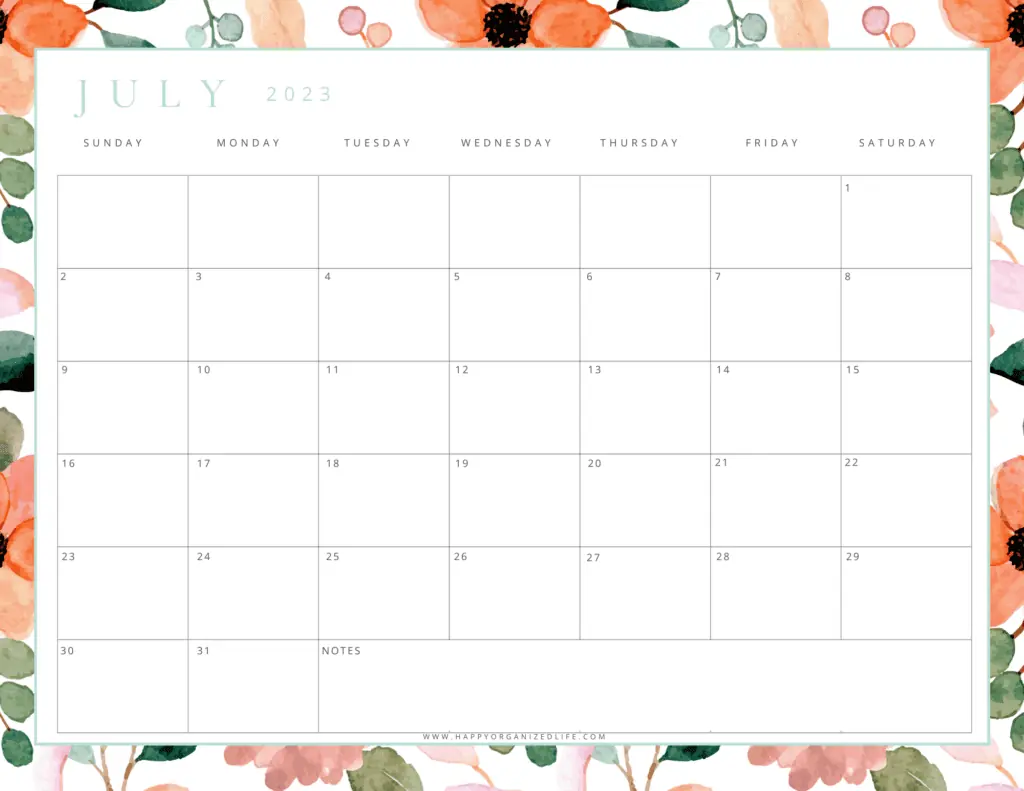 2023 Free Printable Calendar – Orange Floral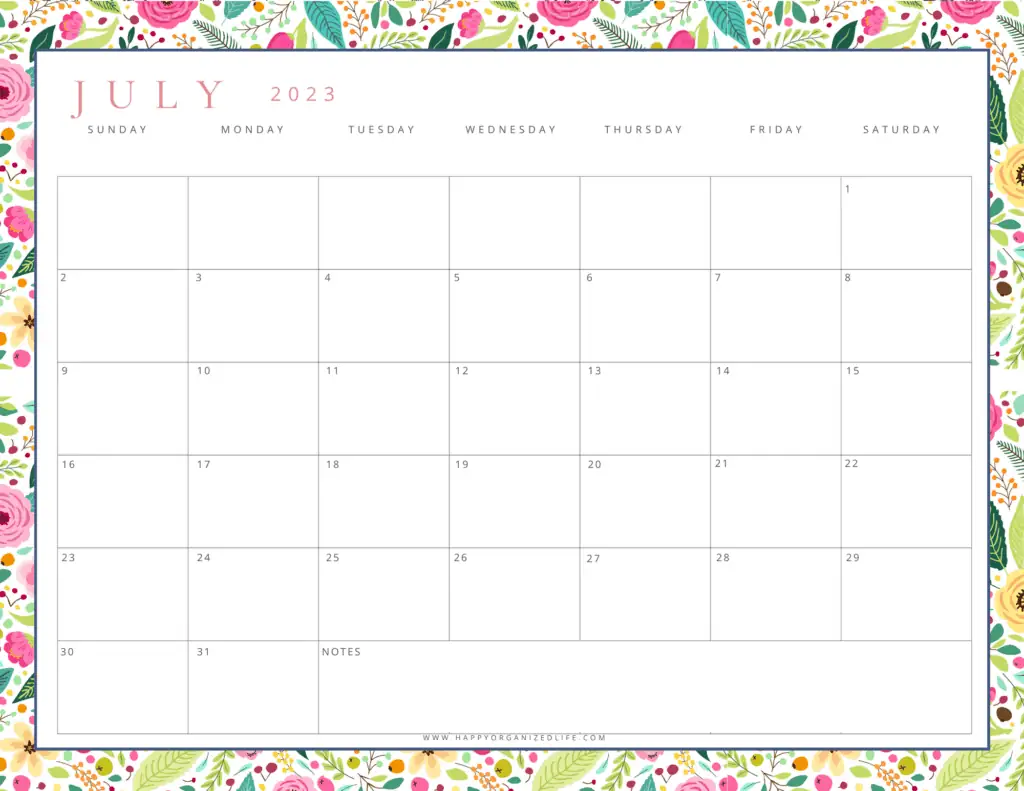 July 2023 – Small Colorful Flowers
July 2023 Free Printable – Black & White Floral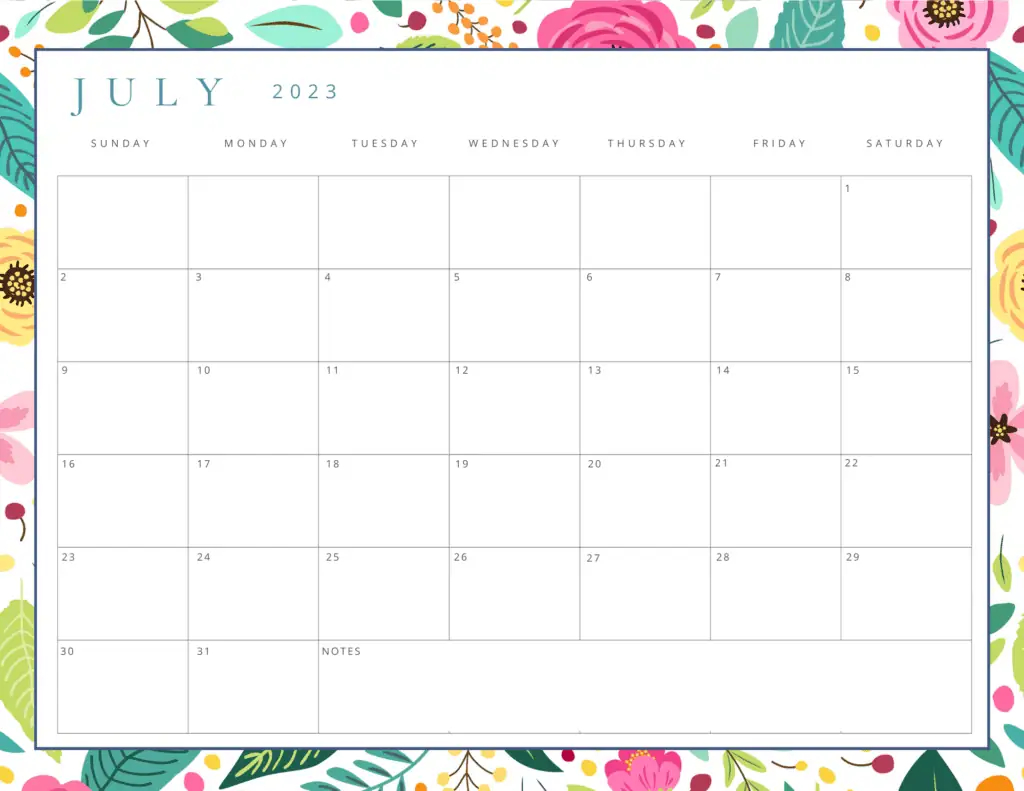 Printable July Calendar – Large Colorful Flowers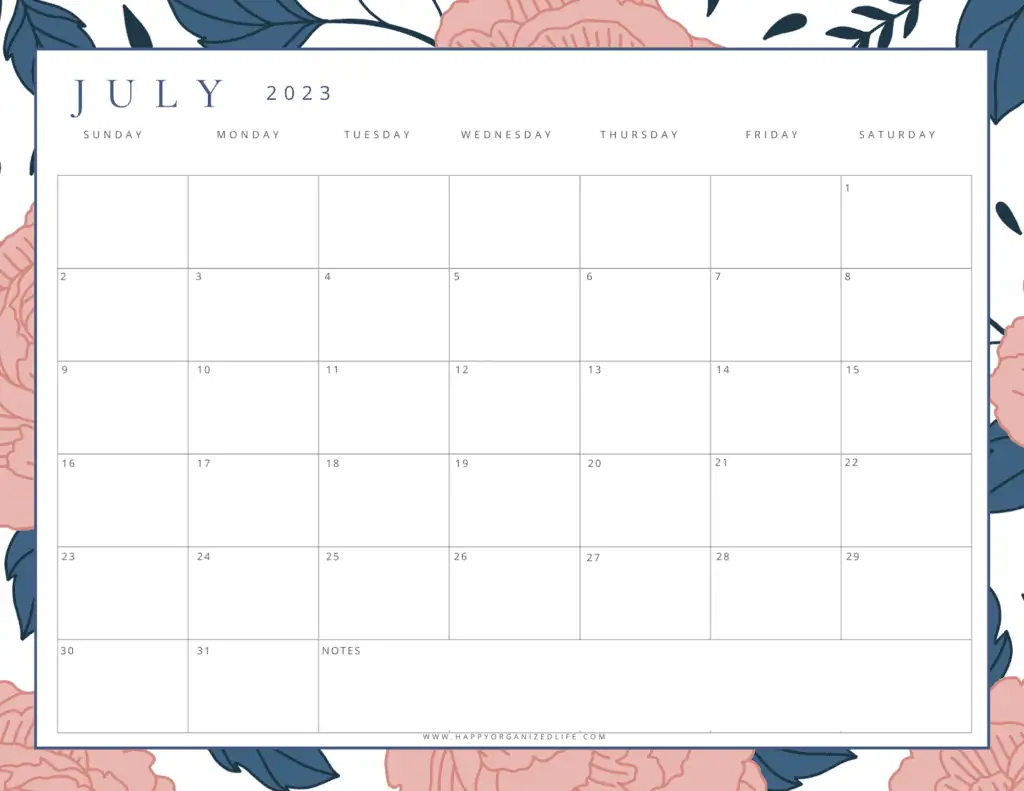 July Calendar for 2023 – Pink & Navy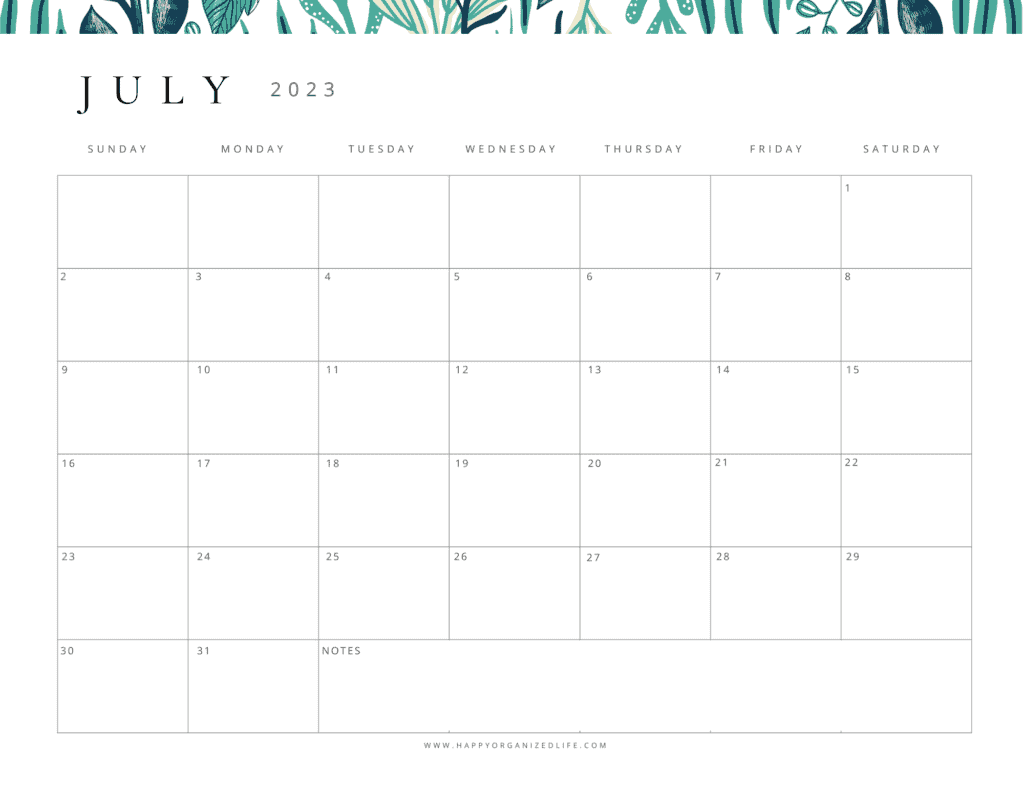 Blue & Green Border
Colorful July Calendars for 2023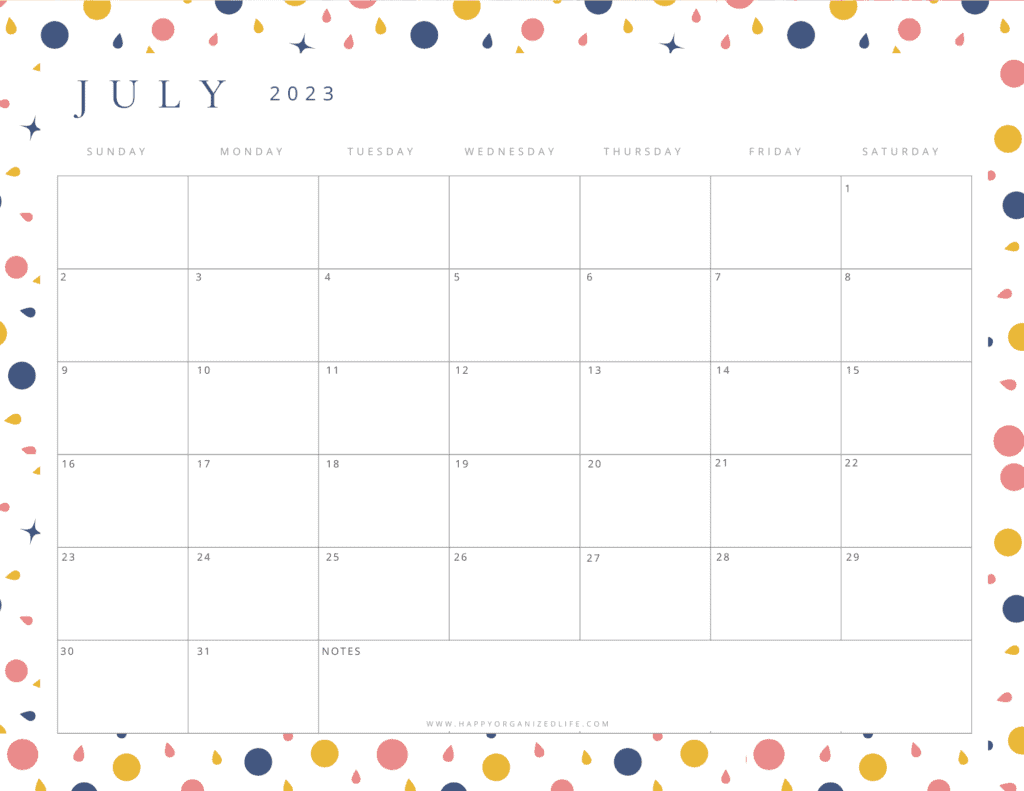 Free Printable July Calendar – Polka Dots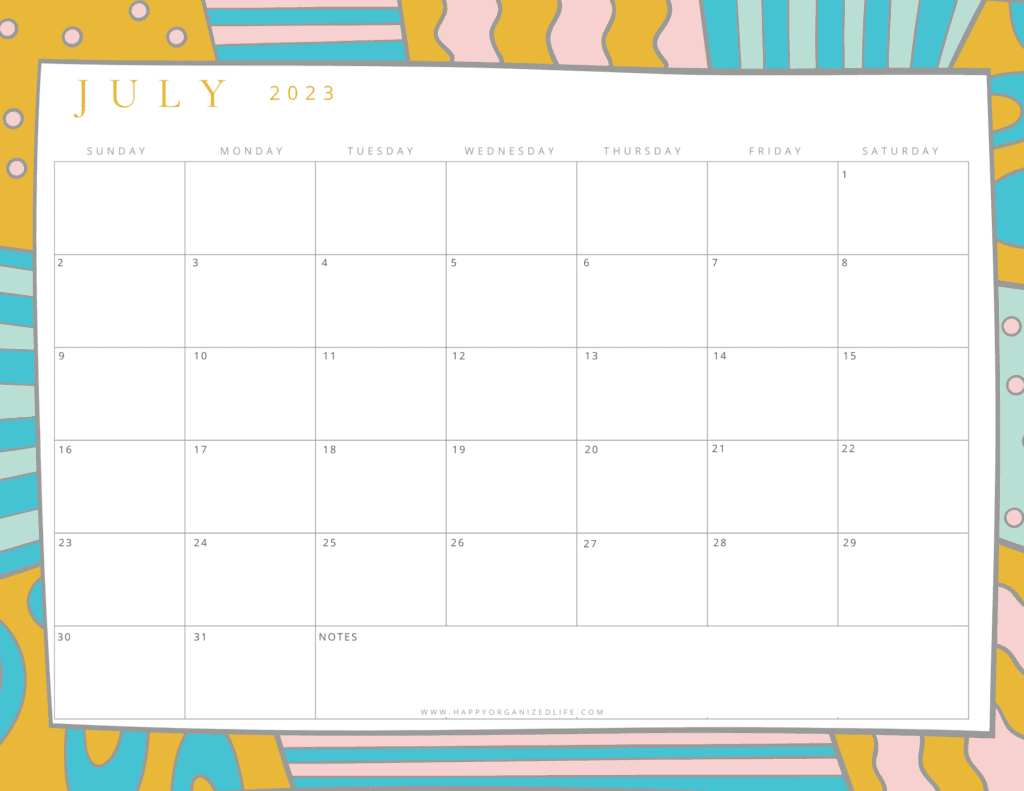 July 2023 Calendar – Squiggly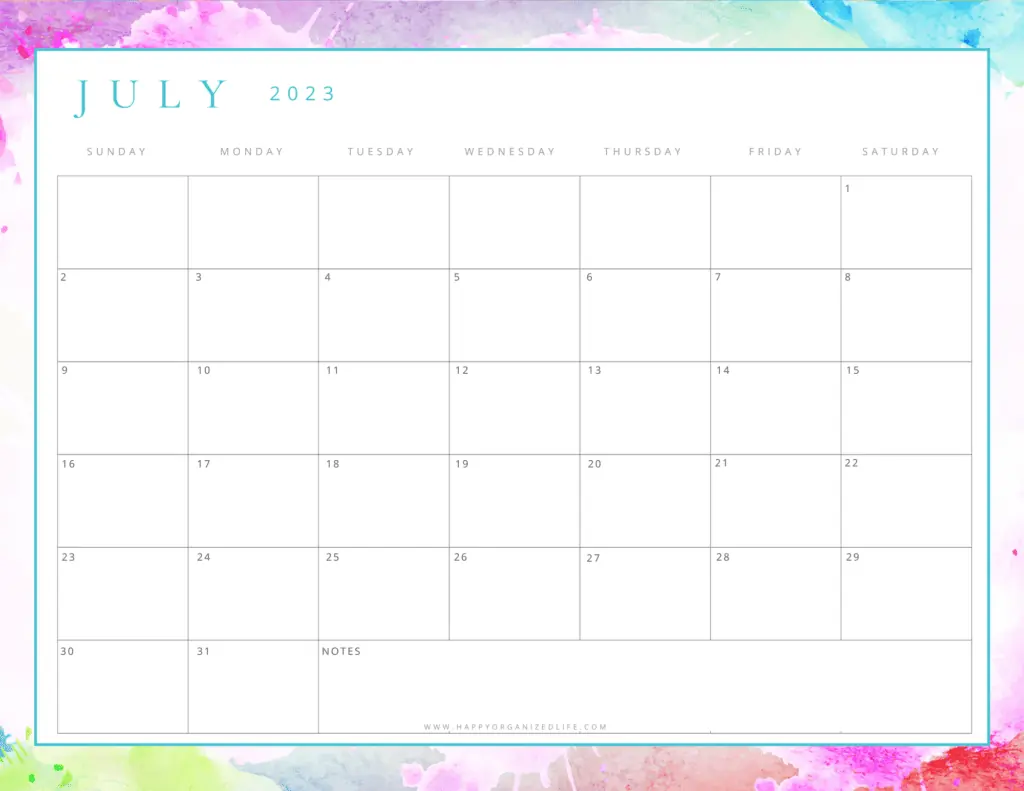 Calendar Printable for 2023 – Paint Splotches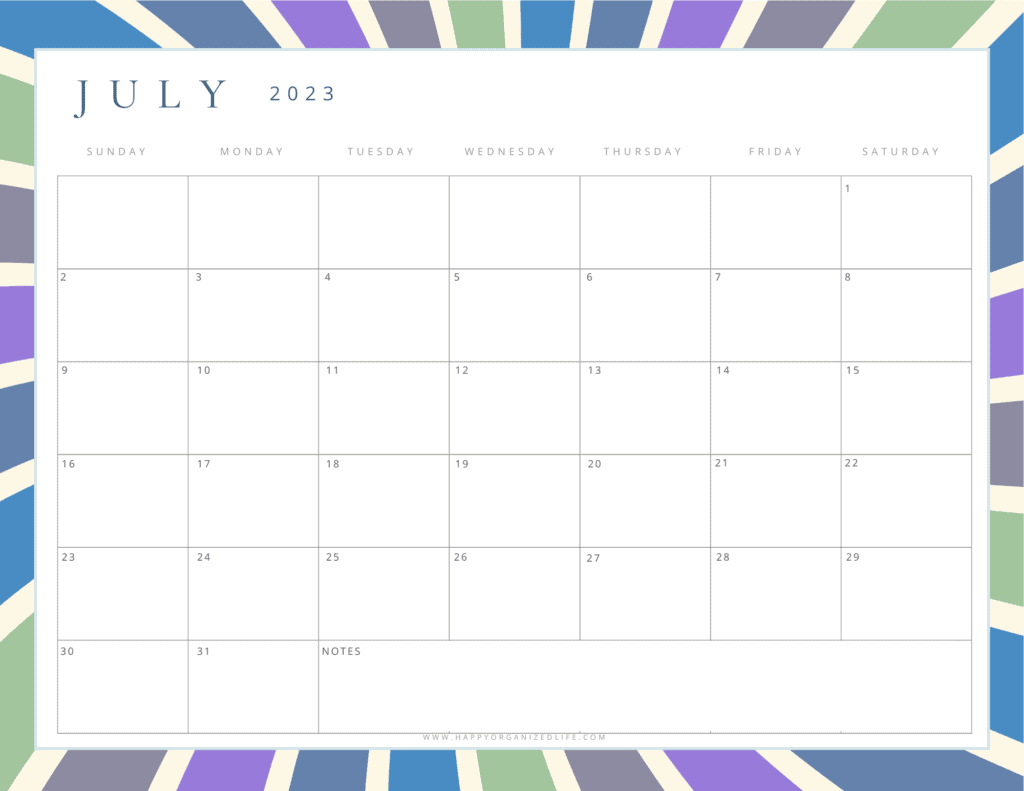 Calendar Printable for 2023 – Colorful Stripes
July Calendar 2023 – Summer Themes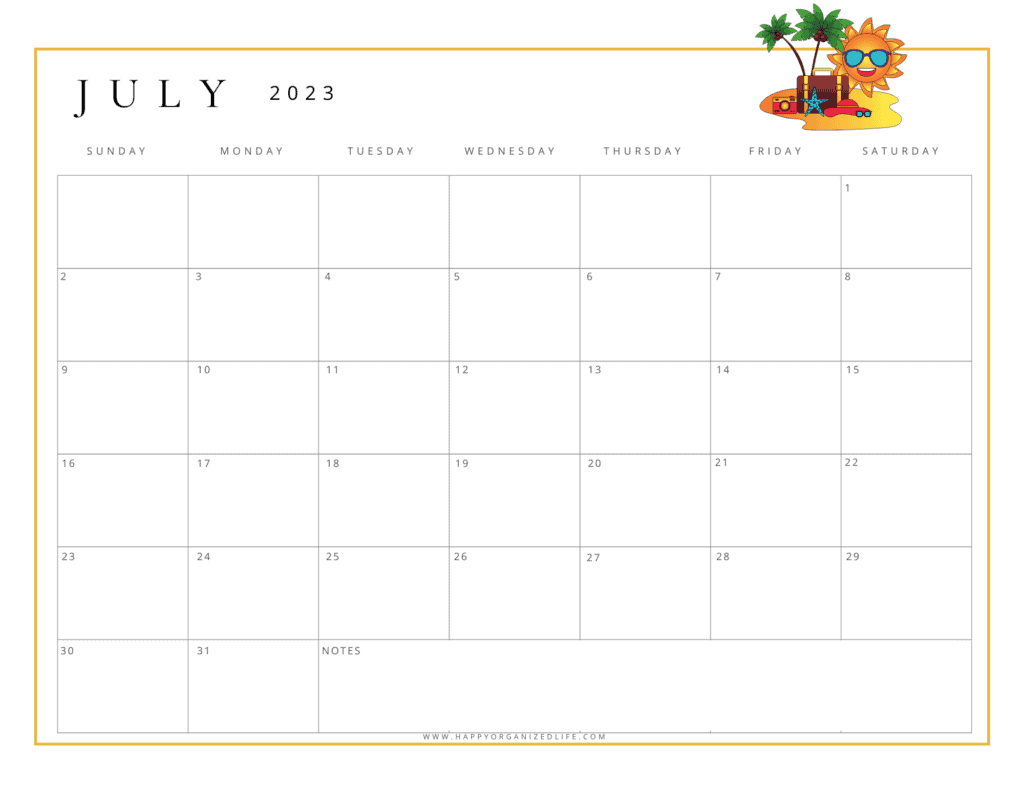 July 2023 Calendar – Day at the Beach
Summer 2023 Calendar – Summer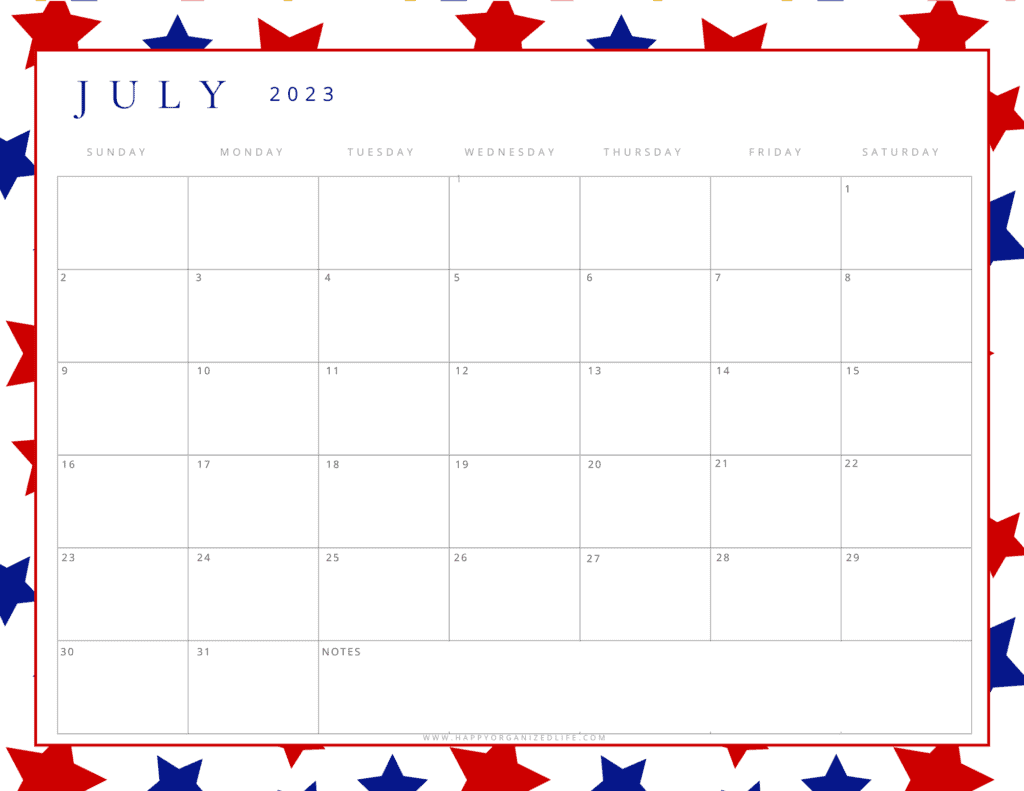 July 2023 Calendar – Independence Day
Geometric Calendars for July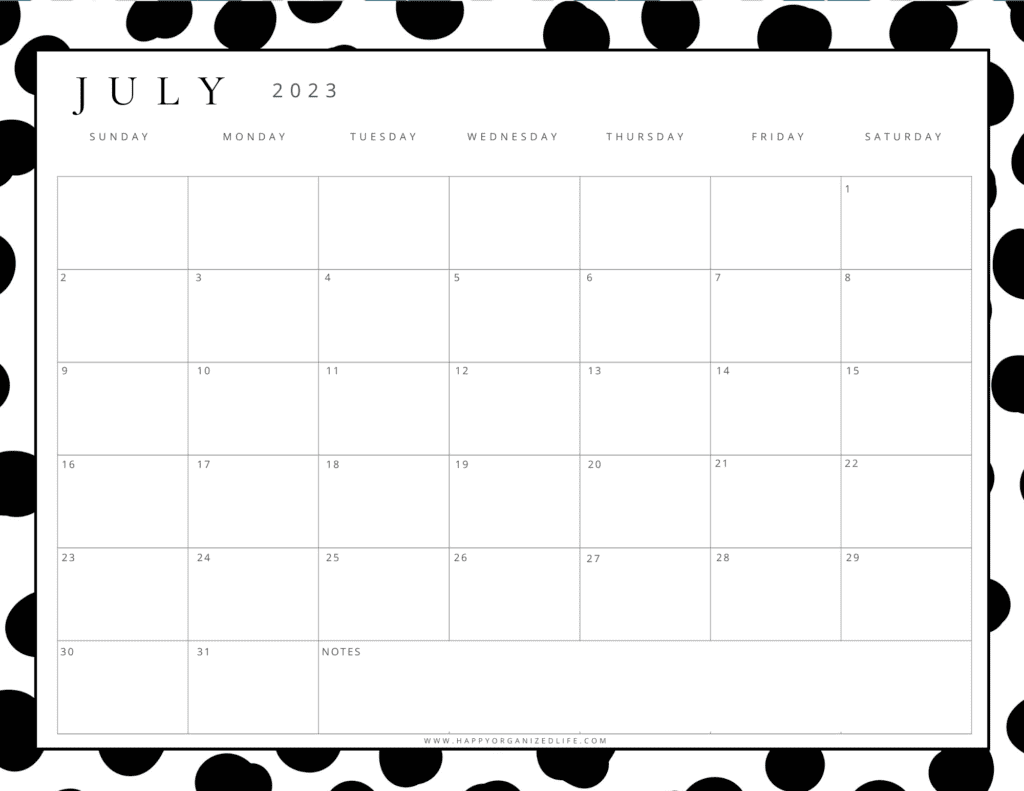 July 2023 Calendar Template – Black and White Polka Dots
Calendar Templates for July – Blue Geometric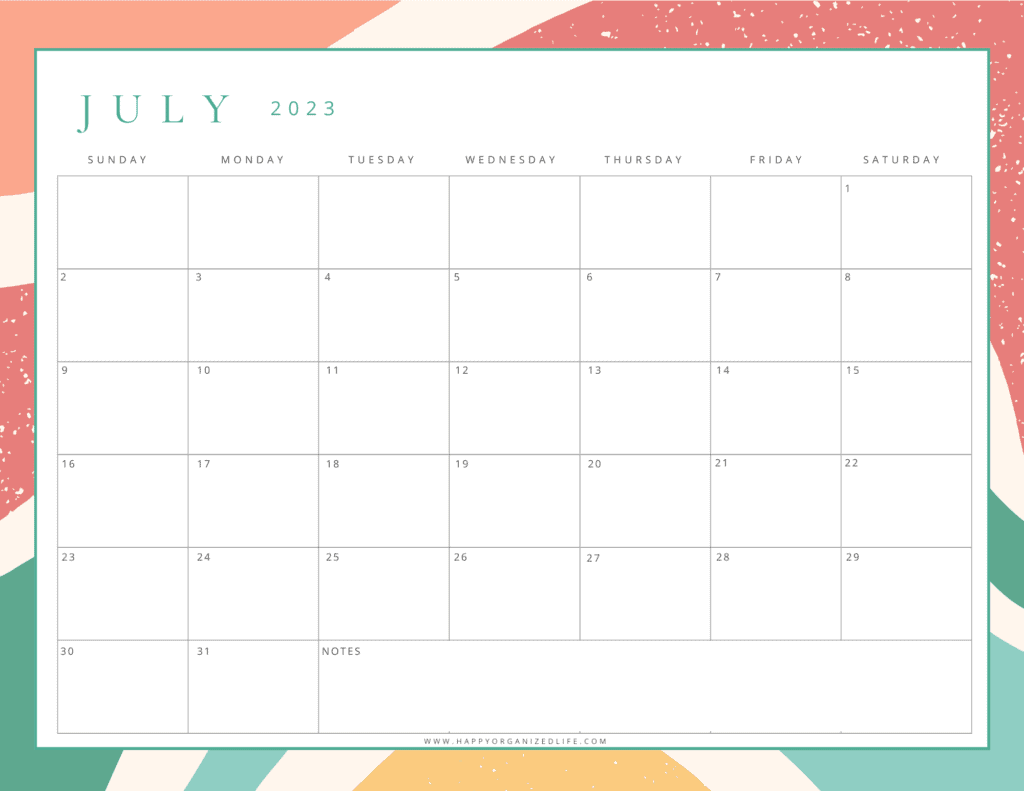 Printable July Calendar – Warm Geometric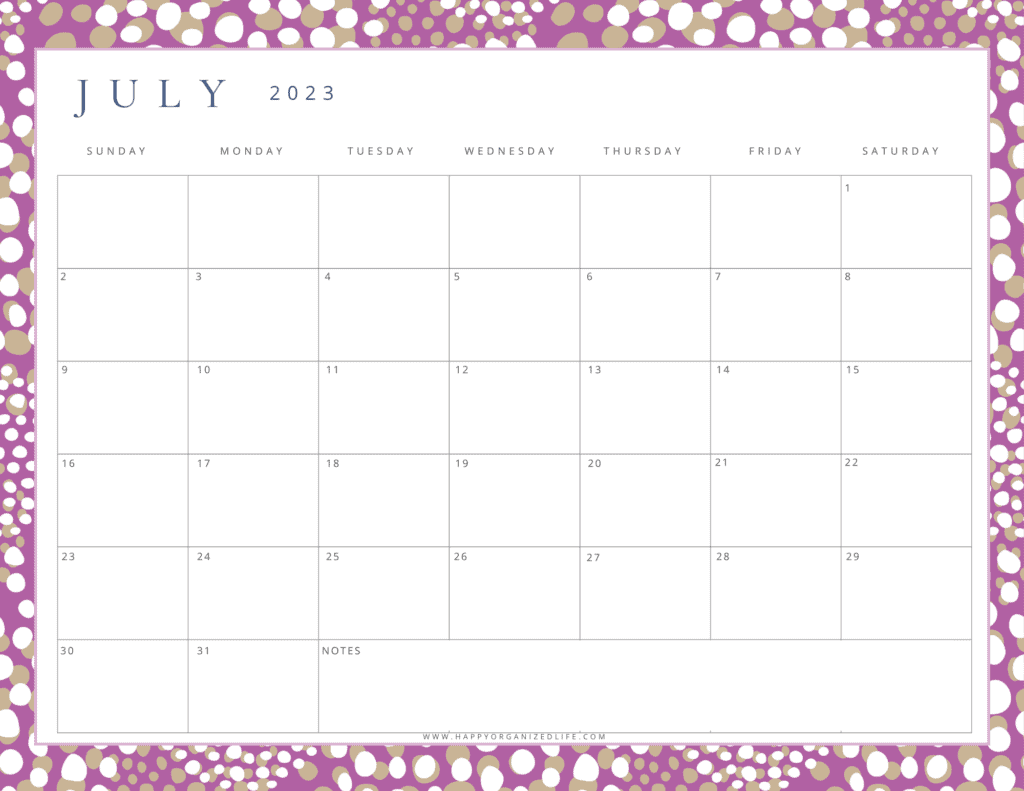 July Calendar Template – Purple with Polka Dots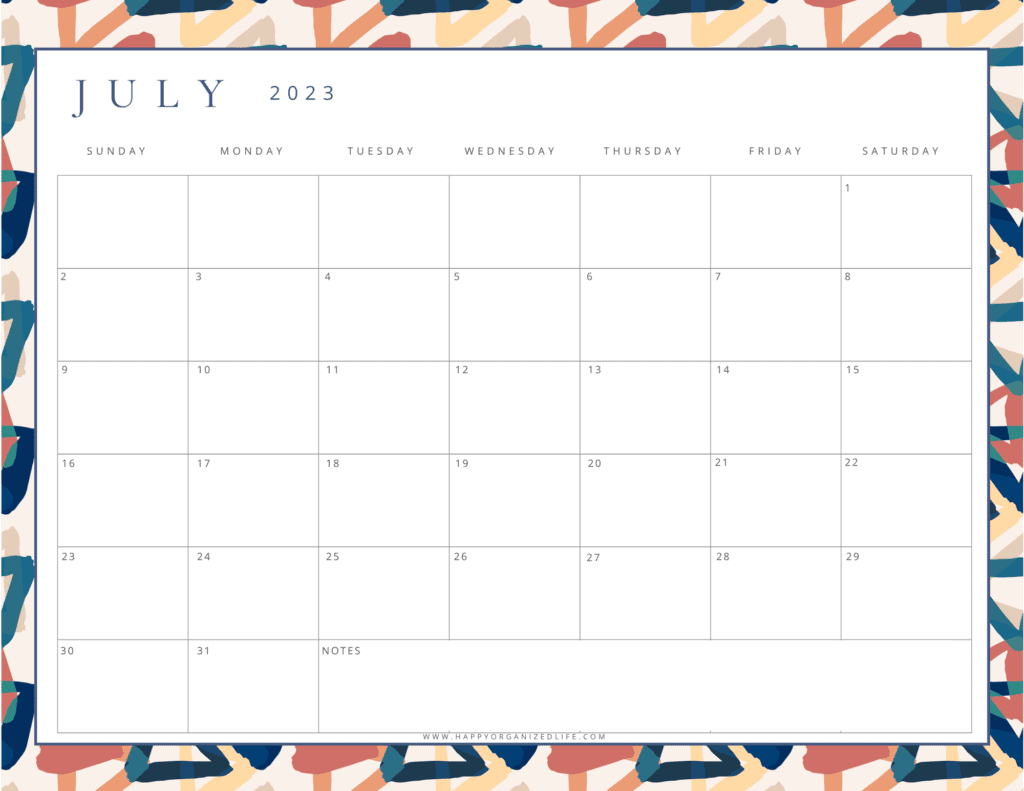 2023 July Printable Calendar – Masculine Geometric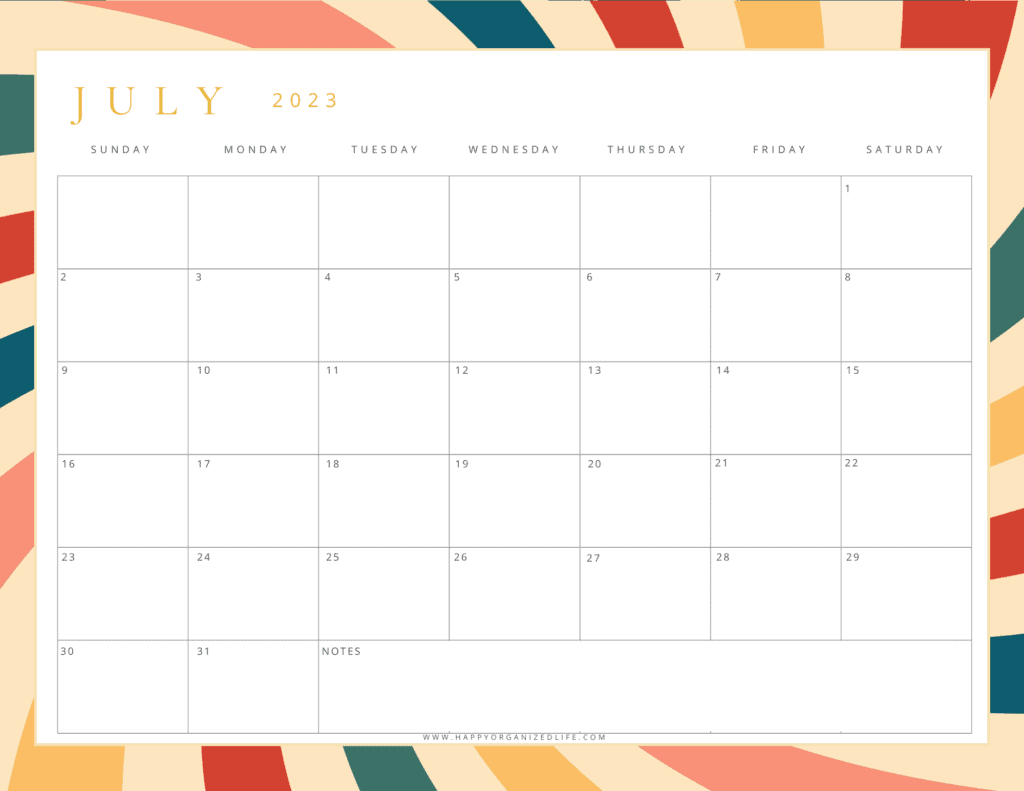 July 2023 Calendar Printable – Warm Spiral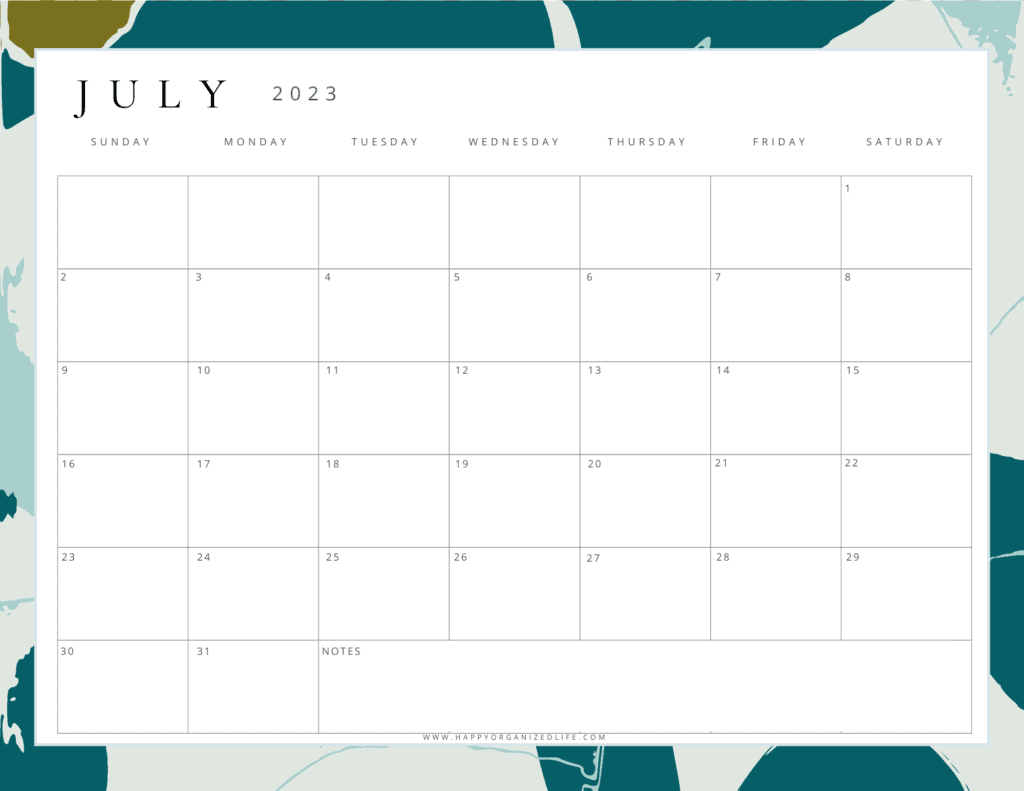 Printable July Calendar – Coll Geometric
2023 July – Chevron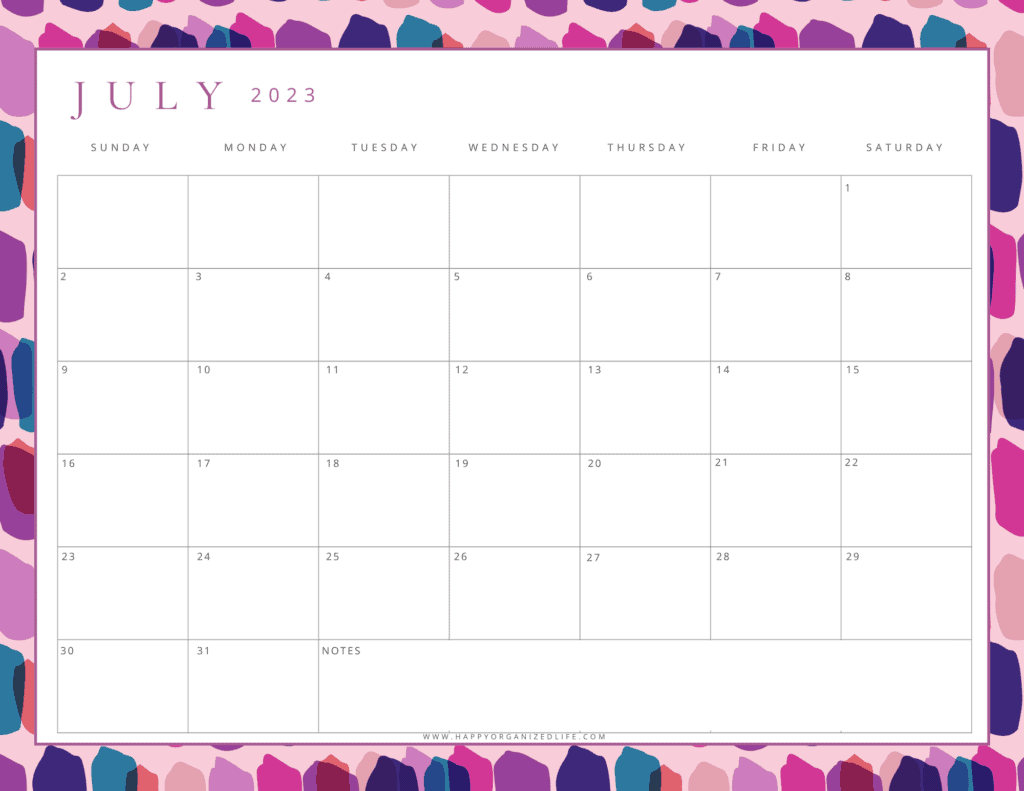 July Calendar 2023 – Swatches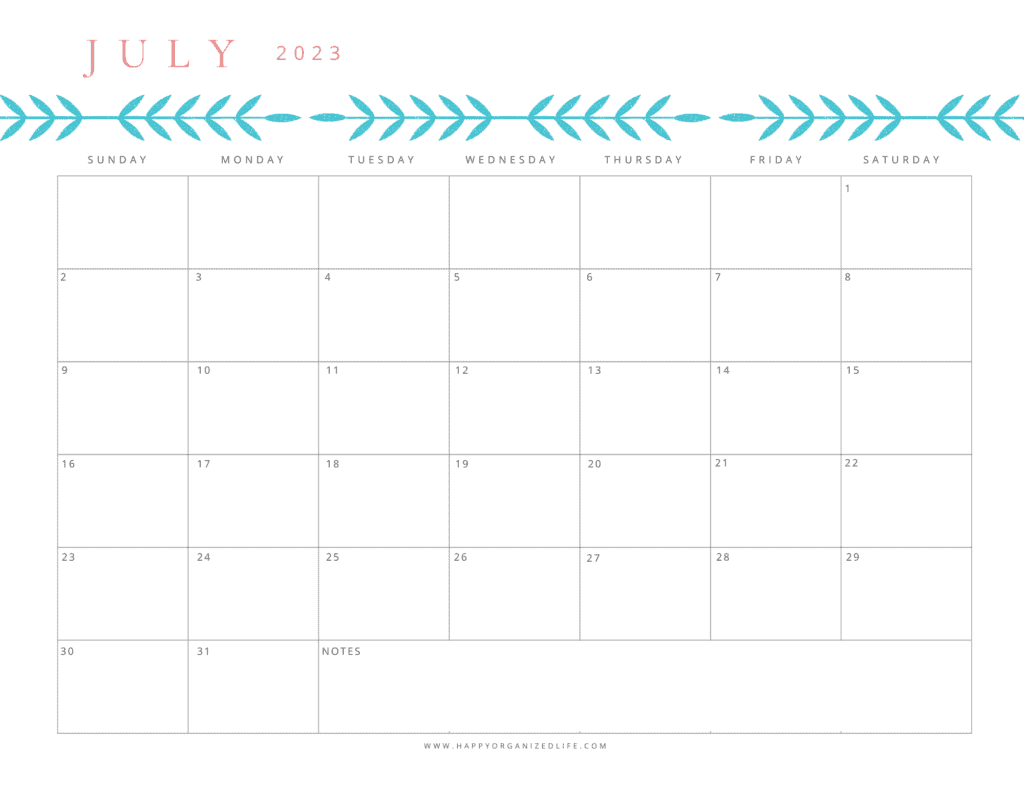 Calendar Template for July 2023 – Coral and Blue
Vertical Calendars for July 2023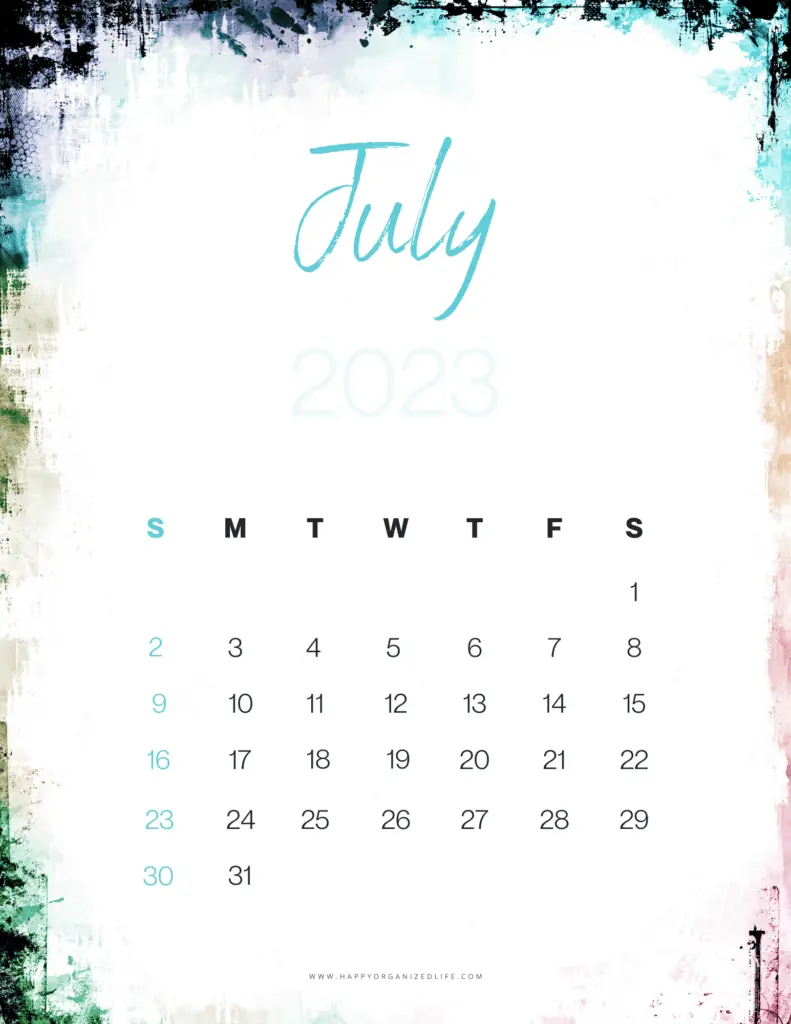 July 2023 Calendar – Vertical Orientation Bold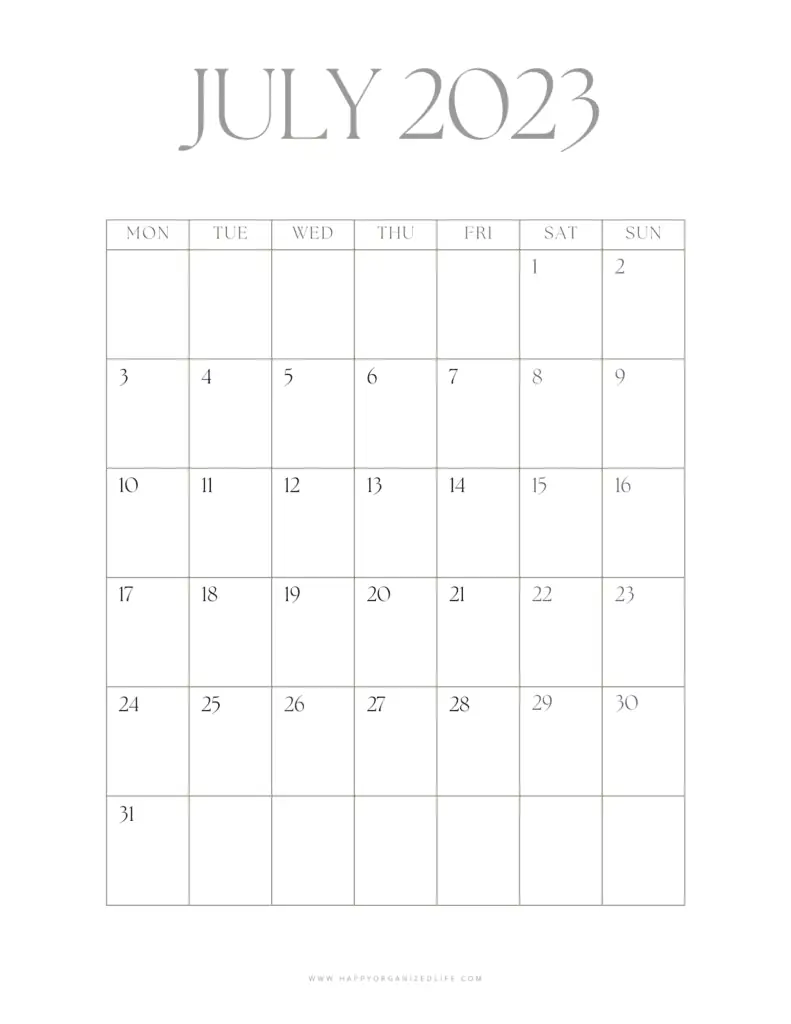 Minimalist Calendar Template – Portrait Orientation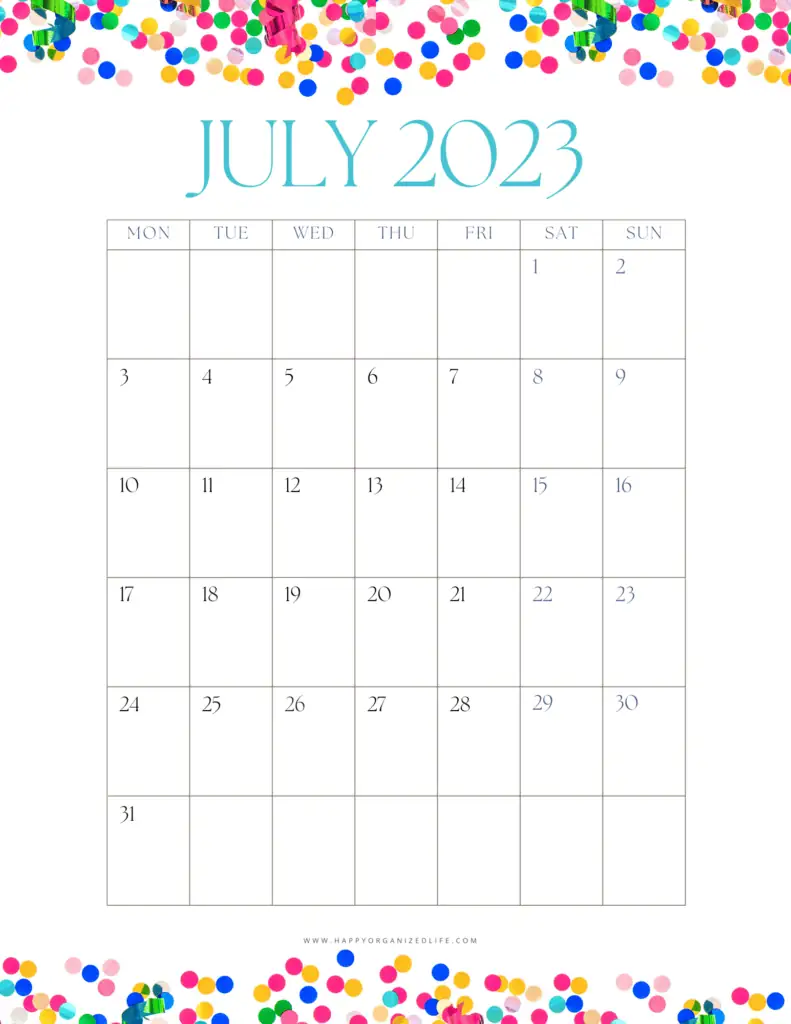 Vertical 2023 July Calendar – Confetti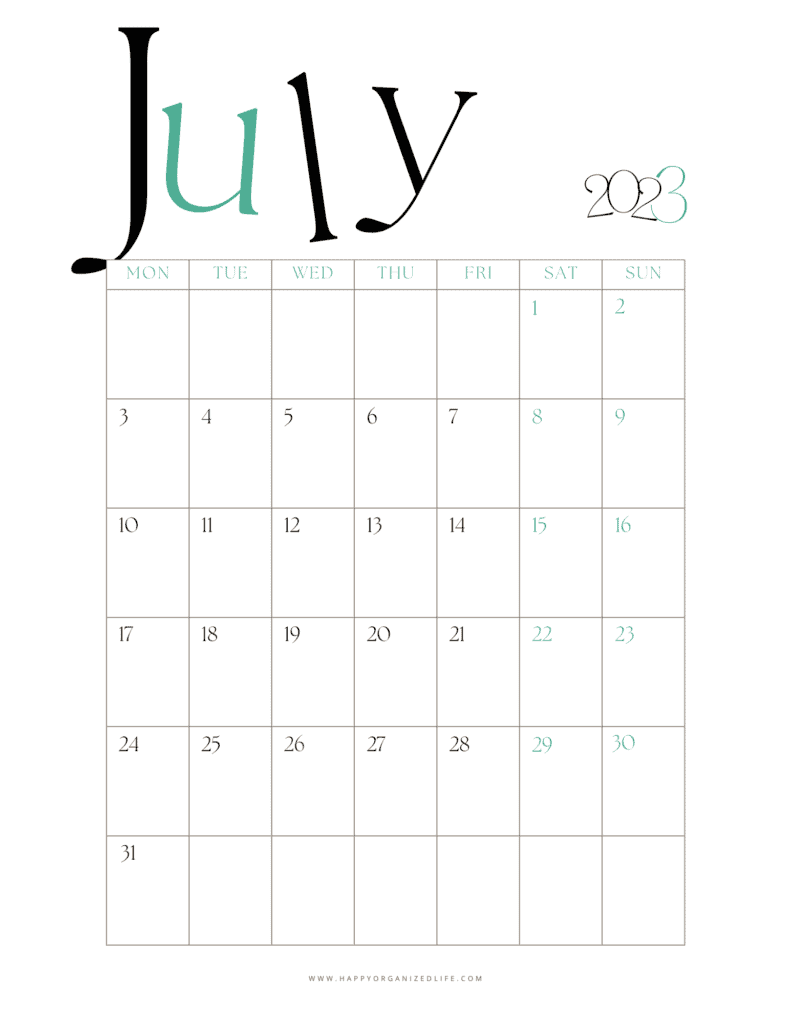 2023 Calendar Vertical Style – Tipsy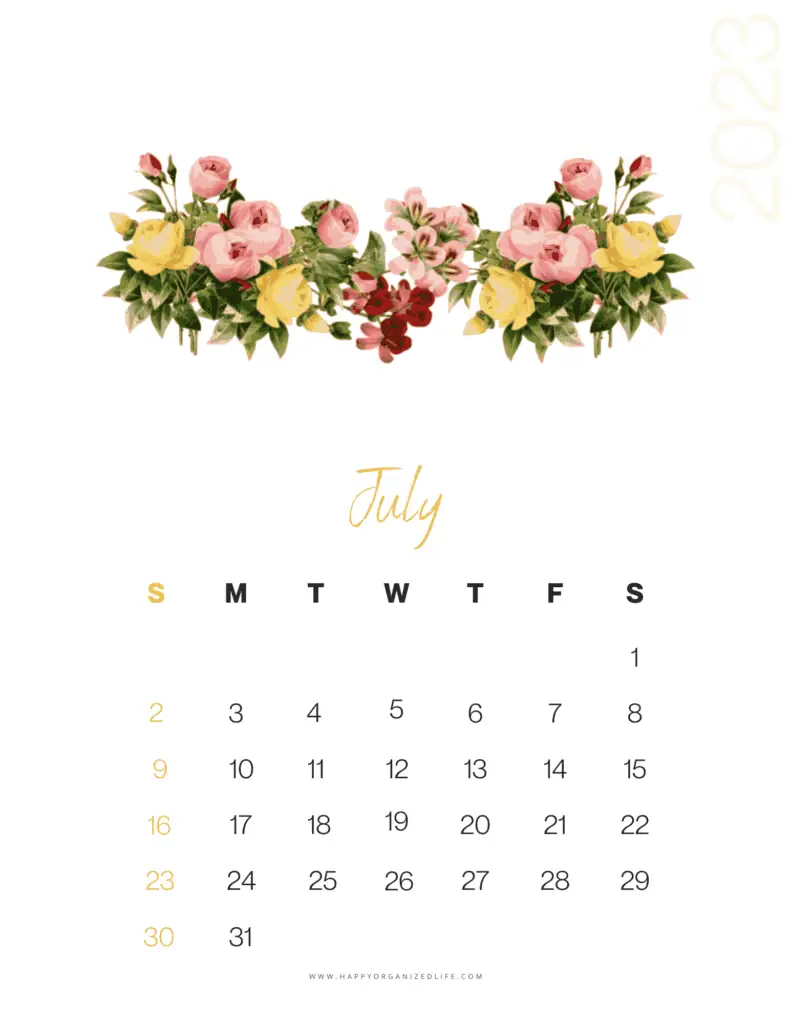 July 2023 Vertical Calendar – Bouquet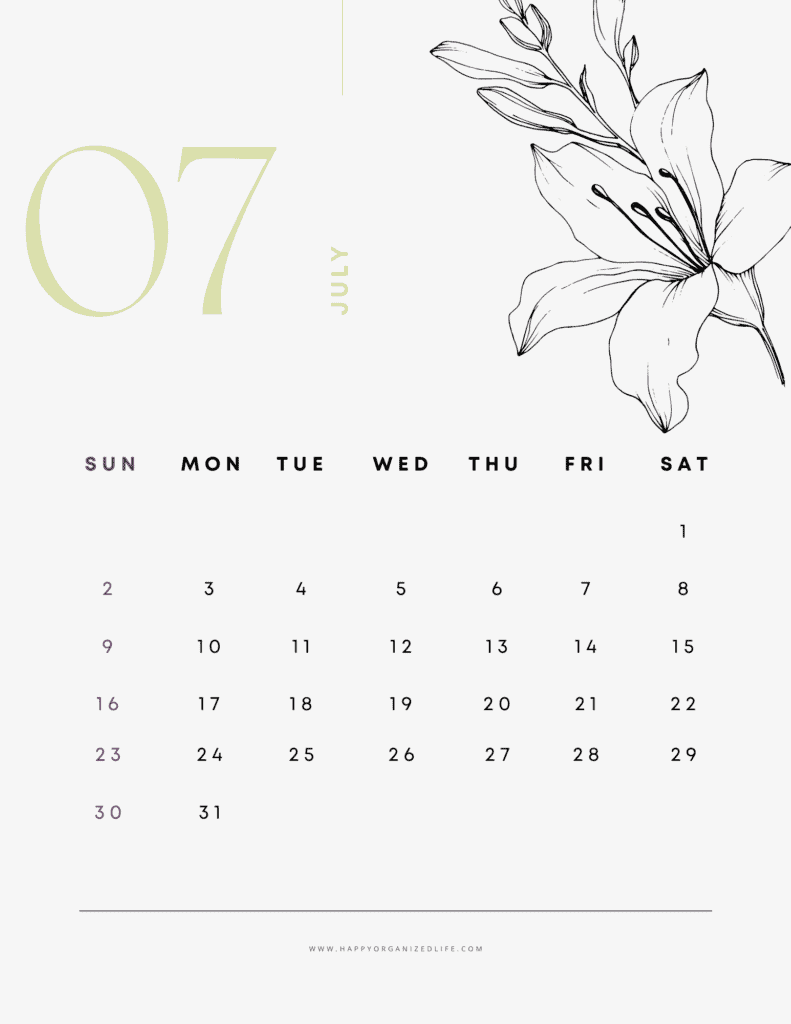 Click July Calendar 2023 Vertical – Modern Bloom
July 2023 Calendars with a Monday Start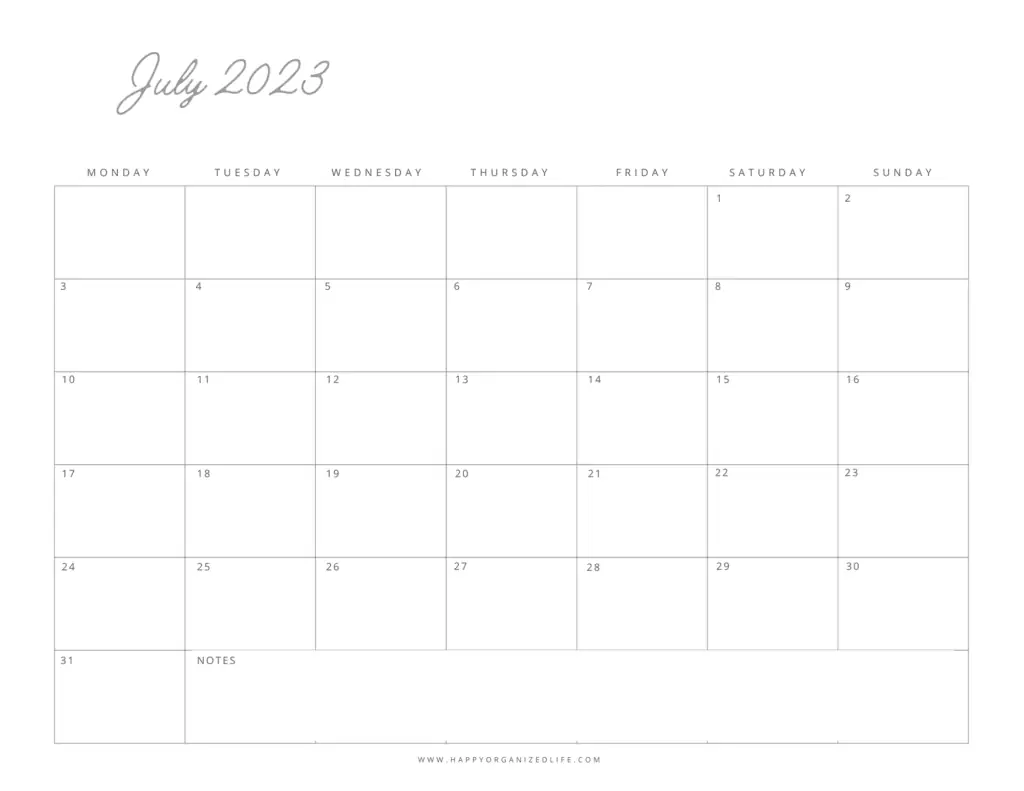 Free Printable July 2023 – Monday Start Calendars with Minimalist Script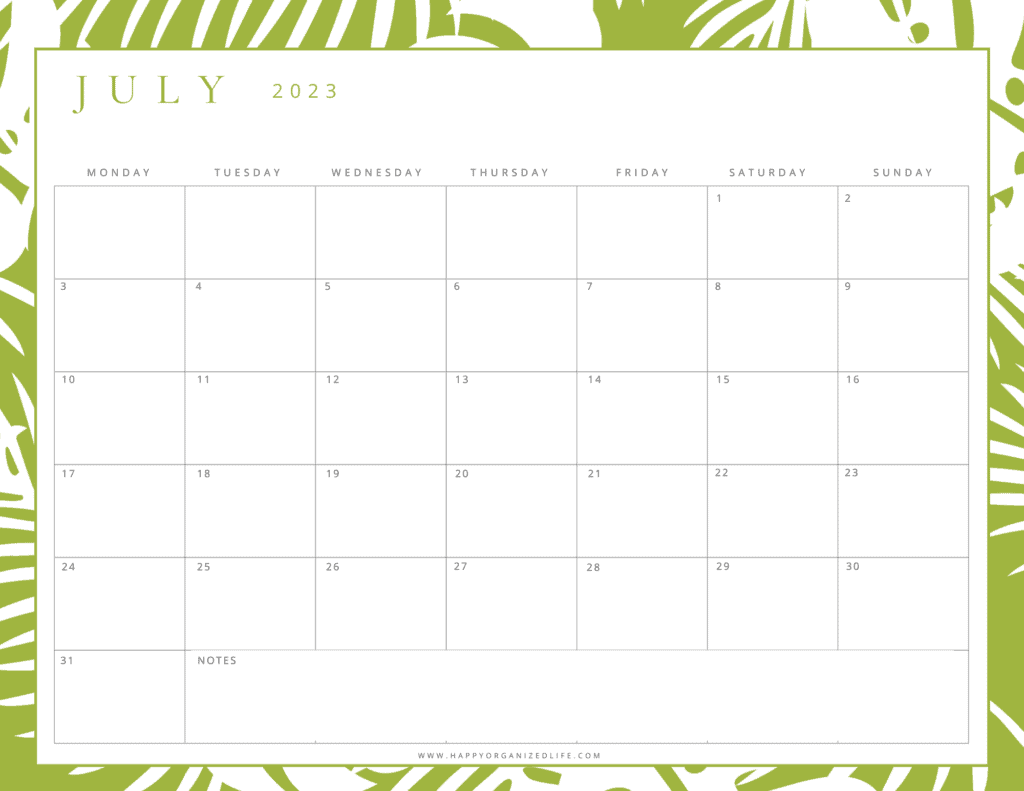 July Calendar Template – Green Palms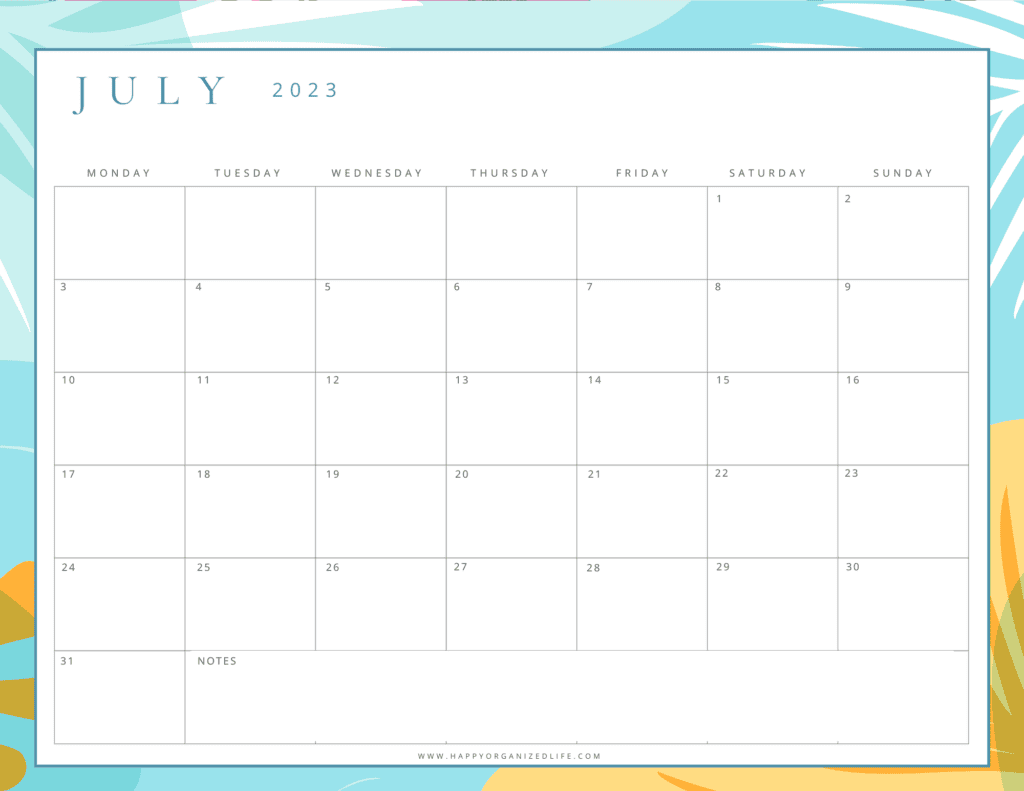 2023 July Calendar Template – Sun and Water
DOWNLOAD & PRINT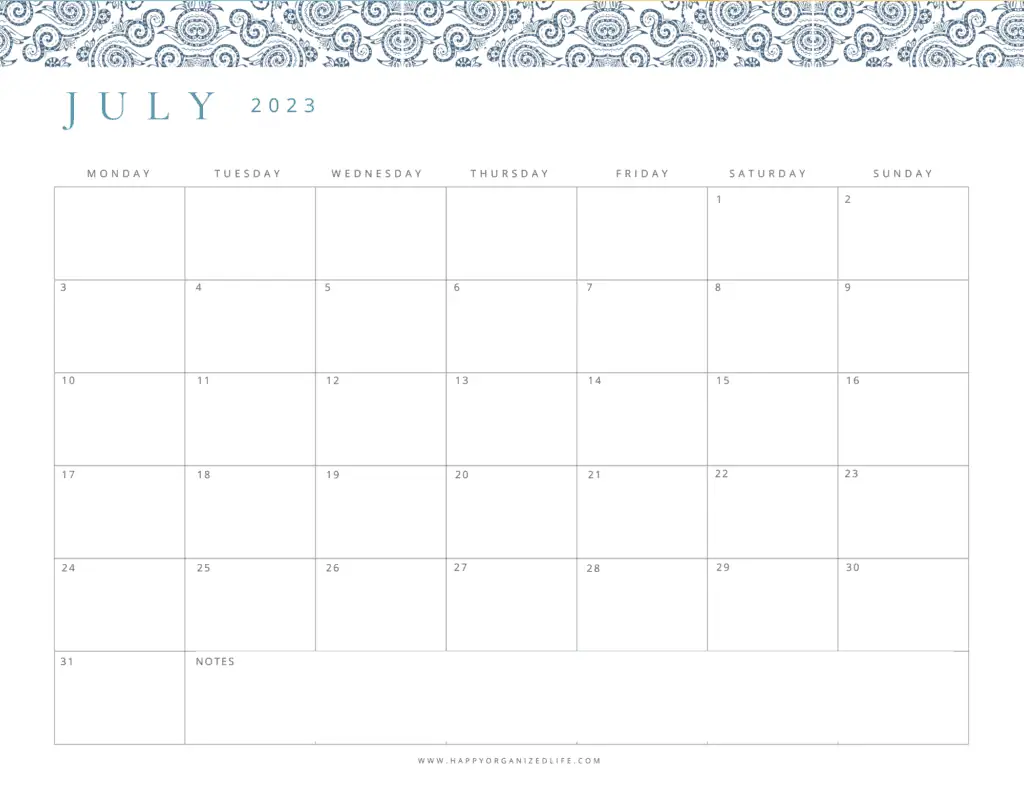 July 2023 Horizontal Orientation – Intricate Blue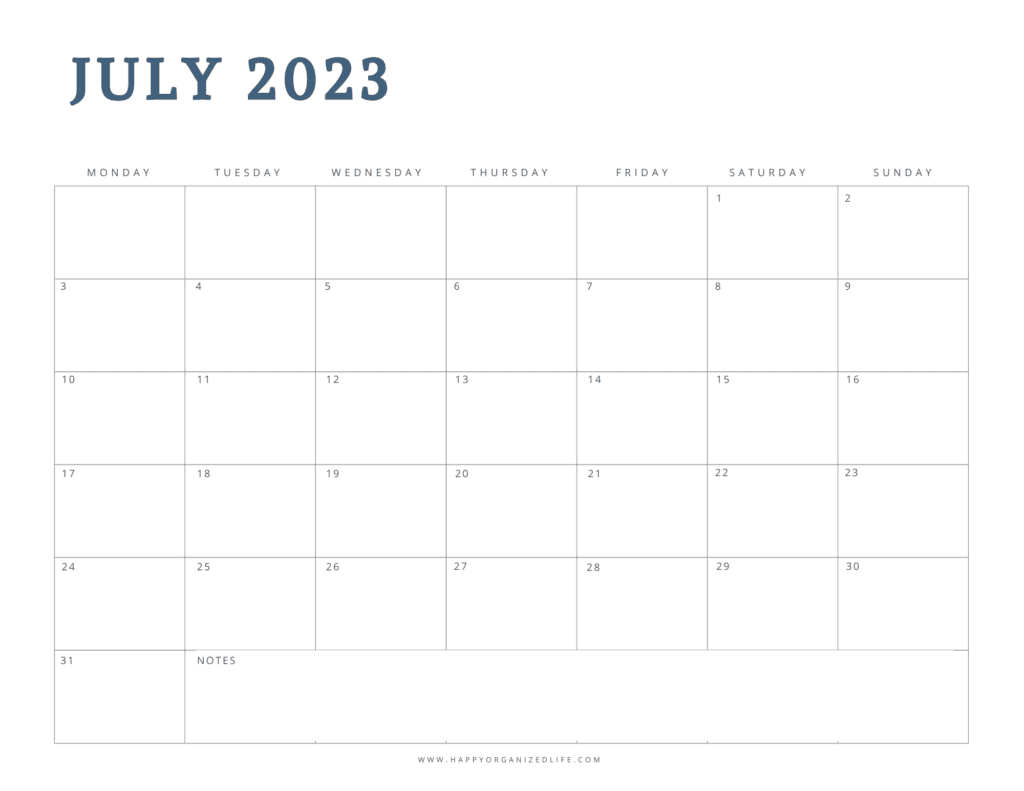 Calendar Template July 2023 – Basic Blue
July Holidays and Observances
July is a month filled with fun holidays and observances to celebrate. From Independence Day to International Day of Friendship, there's something for everyone to enjoy. Print your own monthly calendar from the pdf templates above and start marking some important dates.
Independence Day (July 4)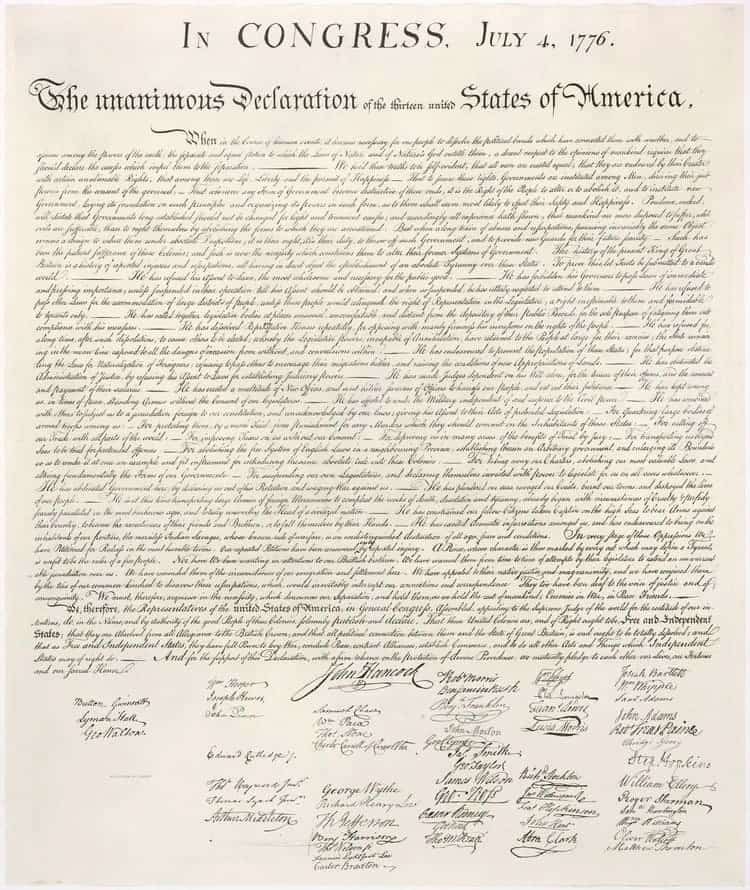 The Fourth of July – are you feeling prepared to handle the stress of this national holiday? As a mom of many, I know it can be overwhelming to plan the perfect Independence Day celebration while juggling everything else on your plate. But fear not! It does take some planning, and it involves you doing particular tasks before the event but it's worth it because you can (almost) effortlessly make this holiday a success.
American Independence Day is a federal holiday, which commemorates the adoption of the Declaration of Independence, the document that set the great American nation free. July 4th is about celebrating freedom, so you can think about how to turn the day into a fun history lesson for your kids, too. And if you ask me, there's no better way to celebrate this holiday than with some good old-fashioned patriotic-themed family fun! 
What To Do On the 4th Of July?
Plan a picnic or barbecue
Decorate your home in the colors of the American flag (red, white, and blue)
Soak up the patriotic atmosphere at  a local parade
And, of course, end the day with some fireworksjul
Make sure to mark all the preparation for this important day on your July calendar so you don't forget anything. As overwhelming as it may seem, you can handle it all. Download a free printable blank calendar from the designs above in the post and start planning your perfect Independence Day celebration today.
Remember, the day is about celebrating the freedom of our great country. Take a deep breath and enjoy the celebration with your family and friends. Happy Independence Day, ladies!
Bastille Day (July 14)
Feeling a little adventurous? Why not celebrate Bastille Day on July 14th? This French national holiday memorializes the storming of the Bastille – the prison that symbolized the tyranny of the French monarchy, on July 14, 1789. It's the perfect excuse to indulge in French culture, food, and wine!
Plan a French-themed dinner party, or if you're feeling more casual, grab some croissants and coffee and enjoy a simple breakfast with the family. Or you can join a French cooking class. Or, if you really want to get into the spirit of things, consider brushing up on your French language skills and impressing your guests with your newly acquired foreign vocabulary.
Make sure you mark Bastille Day on your July calendar and celebrate in style!
Other Days in July to Know About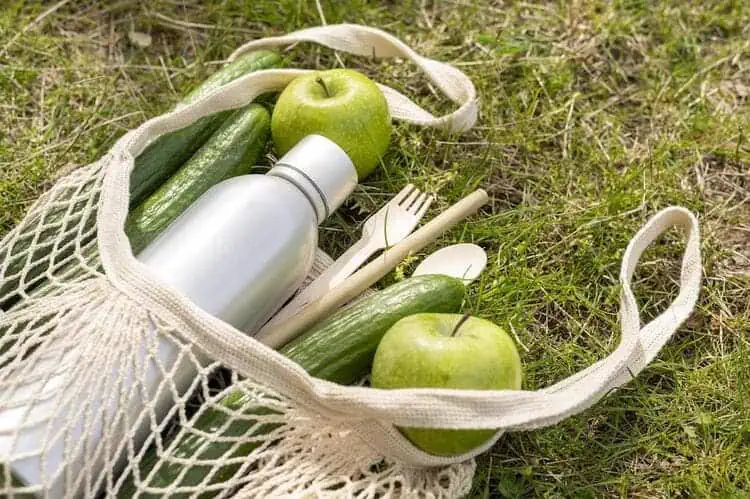 03 July – National Stay Out of the Sun Day and International Plastic Bag Free Day
06 July – International Kissing Day
07 July – Global Forgiveness Day and World Chocolate Day
08 July – National Video Game Day
10 July – National Kitten Day
15 July – National Give Something Away Day
16 July – National Ice Cream Day
17 July – World Emoji Day

18 July – International Nelson Mandela Day
20 July – National Moon Day

International Chess Day

23

July – Parents' Day and

 

National Gorgeous Grandma Day

24 July – Cousins Day
25 July – National Hire A Veteran Day
26 July – Uncle and Aunt Day
27 July – National Disability Independence Day
29 July – National Chicken Wings Day
30 July – International Friendship Day, National Father-in-Law Day, and

World Day Against Trafficking in Persons

31 July – World Ranger Day
History of July
Why Is It Called July? How July Got Its Name
In the Roman calendar, the month of July was initially called Quintilis (the Latin word for 'fifth,' since it was the fifth month of the calendar). However, in 44 BC, the Roman Senate honored Julius Caesar after his assassination by renaming Quintilis to Julius (July). In Ancient Rome, July was also the month of the Ludi Apollinares, a festival dedicated to the god Apollo, which included games and theatrical performances.
So, next time you're marking off your July's summer vacation, remember that this seemingly ordinary month has a fascinating history behind it.
How Many Days Are In July?
July has a total of 31 days.
Zodiac Signs of July and a Little About Their Personality Traits
Are you curious about the zodiac signs of July and their personality traits? Yes, me too! We'll start with Cancer, the zodiac sign which spans from June 21 to July 22.
Cancer (21 June – 22 July)
Those born under the Cancer sign are known for their:
Emotional depth
Sensitivity, and
Loyalty
They have deep emotional intelligence and are excellent at reading people's feelings. Cancerians are nurturing and caring individuals. They prioritize family and close relationships above all else. However, if you're dealing with Cancer, keep in mind that they need to be approached with care and consideration since they can also be:
Easily overwhelmed
Moody
Take things too personally
Easily hurt
If you're a Cancer, embrace your nurturing side and use your natural empathy and compassion to make the world a better place. Don't forget that your sensitivity is your strength.
Leo (23 July – 31 August)
Leo – the king of the Jungle is a fire sign and fifth in the zodiac. Born between July 23 and August 22, Leos are:
Bold and Confident
Creative
Passionate
A natural-born leader with unshakable confidence
Thriving in the spotlight and never shying away from being the center of attention
With an irresistible charisma that draws people in
Let's also not forget their lion-like courage, which makes them fearless in the face of challenges. In relationships, they are loyal, generous, and protective of those they love. But watch out, Leos don't like being told what to do, and if provoked, they can also act:
Fiercely independent
Stubborn
Hot-tempered
So, if you have any Leos in your life born in the seventh month of the year, don't forget to mark their birthday on our beautiful free printable July calendar from the templates above in this post.
What is the Birthstone for July?
Are you wondering what the birthstone for July is? Well, it's the fiery red ruby. This gemstone symbolizes:
It's believed to inspire confidence and strength in those who wear it. So, if someone you know and love was born in July, surprise them with a stunning ruby piece of jewelry like this beautiful necklace.
Important Events in History that Occurred in July
There are many fascinating historical events that happened in July! Here's just a short but very interesting list:
1 – 7 July
1 July 1862 – President Abraham Lincoln signed the first income tax bill, levying a 3% income tax on annual incomes of $600-$10,000 and a 5% tax on income over $10,000. The Bureau of Internal Revenue was established by an Act of Congress on the same day.
1 July 1863 – Beginning of the Battle of Gettysburg during the American Civil War.
2 July 1788 – Congress announced the United States Constitution had been ratified by the required nine states and that a committee had been appointed to prepare for the new American government.
3 July 1775 – During the American Revolution, George Washington took command of the Continental Army at Cambridge, Massachusetts.
4 July 1882 – The "Last Great Buffalo Hunt" began on Indian reservation lands near Hettinger, North Dakota as 2,000 Teton Sioux Indians in full hunting regalia killed about 5,000 buffalo. By this time, most of the estimated 60-75 million buffalos in America had been killed by white hunters who usually took the hides and left the meat to rot. By 1883, the last of the free-ranging buffalo were gone.
6 July 1885 – Louis Pasteur gave the first successful anti-rabies injection to a boy who had been bitten by an infected dog.
7 July 1898 – President William McKinley signed a resolution annexing Hawaii.
8 – 14 July
8 July 1776 – The first public reading of the Declaration of Independence occurred as Colonel John Nixon read it to an assembled crowd in Philadelphia.
9 July 1868 – The 14th Amendment to the U.S. Constitution is ratified. The Amendment defined U.S. citizenship and prohibited individual States from abridging the rights of any American citizen without due process and equal protection under the law. The Amendment also barred individuals involved in any rebellion against the U.S. from holding public office.
10 July 1973 – The Bahamas gained independence after 250 years as a British Crown Colony.
10 July 1991 – Boris Yeltsin took the oath of office, becoming the first popularly elected president in Russia's thousand-year history.
12 July 1943 – During World War II, during the Battle of Kursk, the largest tank battle in history, took place outside the small village of Prohorovka, Russia. About nine hundred Russian tanks attacked an equal number of German tanks fighting at close range. When Hitler ordered a cease-fire, 300 German tanks remained strewn over the battlefield.
14 July 1791 – In England, the Birmingham riot occurred on the second anniversary of the fall of the Bastille. Mob rule lasted for three days, targeting controversial scientist and theologian Joseph Priestly's home and laboratory, as well as the homes of his friends. Priestly, who expressed support for the American and French revolutions, fled to London with his family and later moved to America.
15 – 20 July
16 July 1769 – The Mission San Diego de Alcala by father Junipero Serra founded San Diego.
16 July 1945 – The experimental Atomic bomb "Fat Boy" was set off at 5:30 a.m. in the desert of New Mexico, creating a mushroom cloud rising 41,000 ft. The bomb emitted heat 3 times the temperature of the interior of the sun and wiped out all plant and animal life within a mile.
16 July 1969 – The Apollo 11 Lunar landing mission began with a liftoff from Kennedy Space Center at 9:37 a.m.
17 July 1918 – In the Russian town of Ekaterinburg in Siberia, former Czar Nicholas II, his wife Alexandra, and their five children were brutally murdered by Bolsheviks.
18 July 1947 – President Harry Truman signed an Executive Order determining the line of succession if the president becomes incapacitated or dies in office.
19 July 1863 – During the American Civil War, Union troops made a second attempt to capture Fort Wagner near Charleston, South Carolina. Colonel Robert Gould Shaw, who commanded the 54th Massachusetts Colored Infantry, led the attack and was killed, along with half of the 600 men in the regiment. This battle marked the first use of black Union troops in the war.
20 July 1954 – The People's Army of Vietnam and French forces in Vietnam signed an agreement in Geneva, Switzerland, ending hostilities.
20 July 1969 – The  Apollo 11 Astronaut Neil Armstrong took his first step onto the moon. As he stepped onto the moon, he proclaimed, "That's one small step for man, one giant leap for mankind" – inadvertently omitting an "a" before "man" and slightly changing the meaning.
20 – 25 July
22 July 1934 – FBI agents shot and killed bank robber John Dillinger (1902-1934) as he left Chicago's Biograph Movie Theater. Dillinger was the first criminal labeled by the FBI as "Public Enemy No. 1." After spending nine years (1924-1933) in prison, Dillinger went on a deadly crime spree, traveling through Indiana, Illinois, Ohio, Wisconsin, Minnesota, and Iowa. He was reportedly betrayed by the "Lady in Red."
23 July 1952 – Egyptian army officers launched a revolution changing Egypt from a monarchy to a republic.
24 July 1945 – At the conclusion of the Potsdam Conference in Germany, Winston Churchill, Harry Truman, and China's representatives issued a demand for unconditional Japanese surrender. The Potsdam Declaration was rejected by the Japanese on July 26, unaware that the demand was backed up by an Atomic bomb.
25 July 1909 – Louis Bleriot achieved the world's first international overseas airplane flight in a small monoplane. After asking, "Where is England?" he took off from France and landed in England near Dover, where British police greeted him.
25 July 1943 – Two weeks after the Allied attack on Sicily, Mussolini was deposed. Mussolini was ousted from office and placed under arrest after the Fascist Grand Council met for the first time since December of 1939 and took a confidence vote. Then, King Victor Emmanuel of Italy ordered Marshal Pietro Badoglio to form a new government.
26 – 31 July
26 July 1953 – The beginning of Fidel Castro's revolutionary "26th of July Movement." In 1959, Castro led the rebellion that drove out dictator Fulgencio Batista. Although he once declared that Cuba would never again be ruled by a dictator, Castro's government became a Communist dictatorship.
27 July 1953 – The Korean War ended with the signing of an armistice by U.S. and North Korean delegates at Panmunjom, Korea. The war lasted just over three years.
31 July 1790 – The U.S. Patent Office first opened its doors.
Celebrities Who Were Born in July (Both Modern and Historical)
Many famous people celebrate their birthdays in July. Here's just a short list:
1 – 15 July:
July 1, 1961 – Princess Diana, the first wife of Charles, Prince of Wales
July 3, 1962 – Tom Cruise, one of the highest-grossing box office stars of all time
July 4, 1995 – Post Malone, best-selling pop singer, and songwriter, who has won 10 Billboard music awards
July 6, 1946 – Sylvester Stallone, best known for playing the boxer Rocky Balboa in the 'Rocky' film series
July 6, 1979 – Kevin Hart,  a well-known comedian
July 6, 1907 – Frida Kahlo, a Mexican painter known for her brilliantly colored self-portraits
July 9, 1956 – Tom Hanks, one of the most popular film stars worldwide
July 10, 1856 – Nikola Tesla, an inventor, engineer & futurist, obtained over 300 patents
July 10, 1972 – Sofia Vergara, actress
July 12, 1978 – Michelle Rodriguez, actress and screenwriter
July 13, 1942 – Harrison Ford, one of the highest-grossing actors in North America
16 – 30 July:
July 18, 1967 – Vin Diesel, an American best known for his role in the "Fast & Furious" films
July 19, 1976 – Benedict Cumberbatch, an English actor known for his work on screen and stage
July 21, 1899 – Ernest Hemingway, American literary icon known for his straightforward prose & use of understatement
July 21, 1951 – Robin Williams, actor and a comedian
July 22, 1992 – Selena Gomez, singer and songwriter
July 23, 1989 – Daniel Radcliffe, actor known for his role as Harry Potter
July 24, 1897 – Amelia Earhart, the first female aviator to fly solo across the Atlantic ocean
July 24, 1969 – Jennifer Lopez, popular singer, actress, and dancer
July 25, 1967 – Matt LeBlanc, American actor famous for his role as 'Joey Tribbiani' in the TV Sitcom 'Friends'
July 26, 1964 – Sandra Bullock, one of the highest-paid actresses
July 30, 1947 – Arnold Schwarzenegger, actor & Former Mr. Universe
July 30, 1863 – Henry Ford, founder of the 'Ford Motor Company'
July 30, 1968 – Terry Crews, actor, and American football player
July 31, 1965 – J. K. Rowling, Author of the children's fantasy series, 'Harry Potter'
History of Independence Day – Why July 4th is celebrated?
Are you curious about the history of Independence Day and why we celebrate it on July 4th? Well, buckle up because I'm about to give you a rundown of some important historical facts!
On July 4th, 1776, the Second Continental Congress, represented by the 13 American colonies, declared their independence from Great Britain by signing the Declaration of Independence. A committee of five drafted the document, including Thomas Jefferson. The Declaration expressed the colonies' complaints against the British government, along with an announcement they'll create a new country.
Although the agreement was signed on July 4, it was not formally adopted until July 8. This resulted in not all of the colonies celebrating the event. John Adams (one of the signers of the Declaration) actually thought that July 2nd should be the day recognized and celebrated because it was the day the Congress voted in favor of independence. July 4th was declared a federal holiday in 1941.
Today, on American Independence Day we celebrate with:
Fireworks
Parades
Picnics
Listening to political speeches
Visiting patriotic displays
History of Bastille Day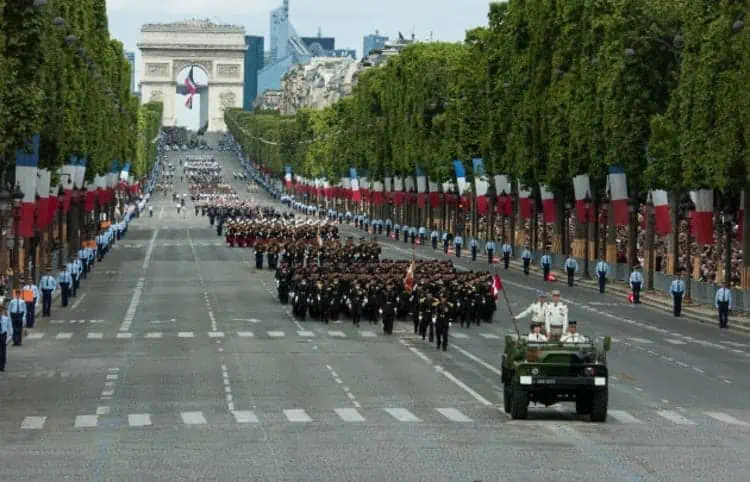 The Bastille Day celebrated on July 14th, is a significant day in French history. It commemorates the fall of the Bastille prison, a symbol of the French monarchy's tyranny. The event marked a turning point in the French Revolution and the beginning of the end of the French monarchy.
The Bastille Day is a national holiday in France and French people celebrate it with:
Parades, including the famous military parade on the Champs-Elysées in Paris
Fireworks
Other festivities
Quotes about July
I think July is probably everyone's favorite summer month, which is why I couldn't miss sharing my top 5 favorite July quotes with you!
If I had my way, I'd remove January from the calendar altogether and have an extra July instead. – Roald Dahl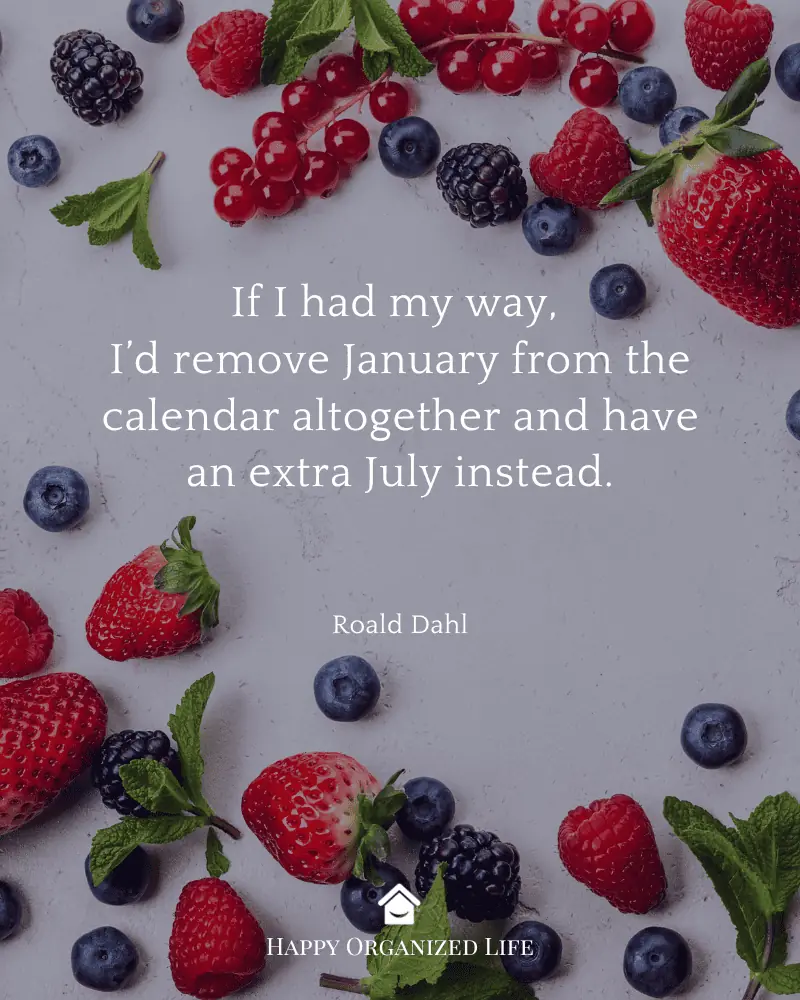 July is a blind date with summer. – Hal Borland
But here I am in July, and why am I thinking about Christmas pudding? Probably because we always pine for what we do not have. The winter seems cozy and romantic in the hell of summer, but hot beaches and sunlight are what we yearn for all winter. – Joanna Franklin Bell
Supplies to Print Your Free July Calendar Printables
These are some of my favorite printing and planning supplies:
Printers
Paper
Pens & Highlighters
Frixion erasable pens are amazing! They come in black, blue, and a mix of bright colors, and they aren't like the erasable pens I grew up with that made a mess of paper and didn't really erase. They erase easily, look great, and are my most favorite pens to plan with because I can color-code events, and I can easily erase them when things change.
If you want a pen that doesn't erase, the BIC Gel-Ocity pens are my favorite. They write so smoothly and are a pleasure to use. According to my Amazon history, I've purchased the 12 pack linked below 14 different times so my love for them is pretty serious!
Highlighters
These Frixion Highlighters are just as great as the pens! They erase beautifully, don't damage paper, and make my color-coding dreams come true!
If you like a more subtle highlighter, these Mildliner Highlighters are gorgeous. I like to use these when I want a softer look, and I'm certain I won't need to change or erase anything. They also have ink on both ends so you can easily make different sized lines.
Post-it Notes
I love post-it notes. They're great for reminders, organizing ideas, quick decluttering labels, and even bookmarks! I like to use post-its in various colors, sizes, and sometimes different shapes too. The heart notes are a great way to leave little love notes for your partner or kiddo. These are my favorites:
And that wraps up our July overview, my friends! It's time to embrace the summer vibes, plan those vacations, and make lasting memories. From the exciting celebrations of Independence Day to the intriguing history behind the name "July," this month is packed with significance and meaning. So go ahead, download your favorite July template, mark down those important dates, and make the most of this summer season. Stay organized, stay focused, and keep rockin' that happy organized life!
Did you like this post with July calendar printables? Then, you're going to love these other articles, too: