This won't come as a surprise to anyone who knows me, but I'm what you would call an "indoor girl."
For some reason I've never really enjoyed being outside of extended periods of time. I take that back. It's not "for some reason," the reason is quite specific… bugs. I'm not a fan of having creepy, crawly, buzzy things all around me so I tend to spend most of my time indoors, but there is one sure fire way to get me outside. S'mores.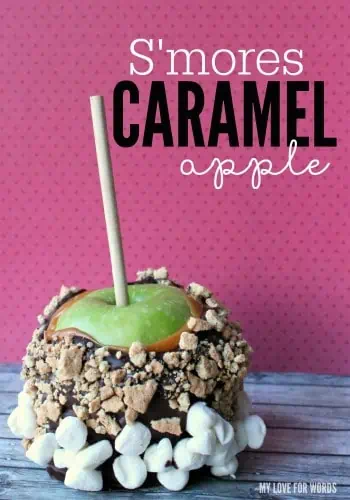 Making s'mores around the fire is one of my favorite memories from childhood. The graham crackers and ooey gooey marshmallows and melted chocolate… yep, I can withstand some bugs for that deliciousness.
When I was brainstorming creative different toppings for caramel apples, trying to recreate a s'more sounded like a fun challenge. Best case scenario I'd have a new delicious creation. Worst case scenario I'd have to eat my failure (or is that a second best case scenario? I'm not sure.) It seemed like a win-win situation for sure.
It's as easy as this:
1) Clean the apples with soap and an abrasive sponge to remove any wax on the apple's skin. Removed the stem and insert the stick where the stem had been. Grease a baking sheet so it's ready for the apples once they are coated.
2) Melt the caramel on the stove in a double boiler until it reaches 170 degrees. This was, by far, the most difficult part of the entire process because I had to be patient (not my strong suit). Thankfully, I still had a large chunk of unmelted caramel next to me, which I may or may not have snacked on.
3) When the caramel reaches 170 degrees, roll the apple in the melted caramel, and place them on a greased baking sheet to cool. Once all the apples are dipped, place the baking sheet in the refrigerator for 15 minutes to allow the caramel to set.
4) As the caramel cools, clean your double boiler and start melting the dark chocolate. Wait 15-20 minutes until the caramel sets and then dip the apples in the chocolate. Return the apples to the baking sheet (this time on a heavy dipping mat provided in the kit) and let them cool for a few minutes in the fridge again. You will want the chocolate to harden slightly but still be wet enough for ingredients to stick to it.
5) Once the chocolate has set, apply your chosen ingredients. For the S'mores Caramel Apple I added marshmallows and crushed graham crackers. You can mix the ingredients up more or do larger or smaller pieces. There's no way to mess this up! If necessary, they can be returned to the refrigerator for additional cooling.
6) Now, for the best step of all, EAT! This apple tastes just like a s'more, but with the added treats of sweet, chewy caramel and the crisp, tart apple.
To see other caramel apple ideas, be sure to check out these posts:
What are your favorite caramel apple toppings?
I received this kit for free from Chocoley to create whatever I wished. All thoughts and opinions are 100% my own.