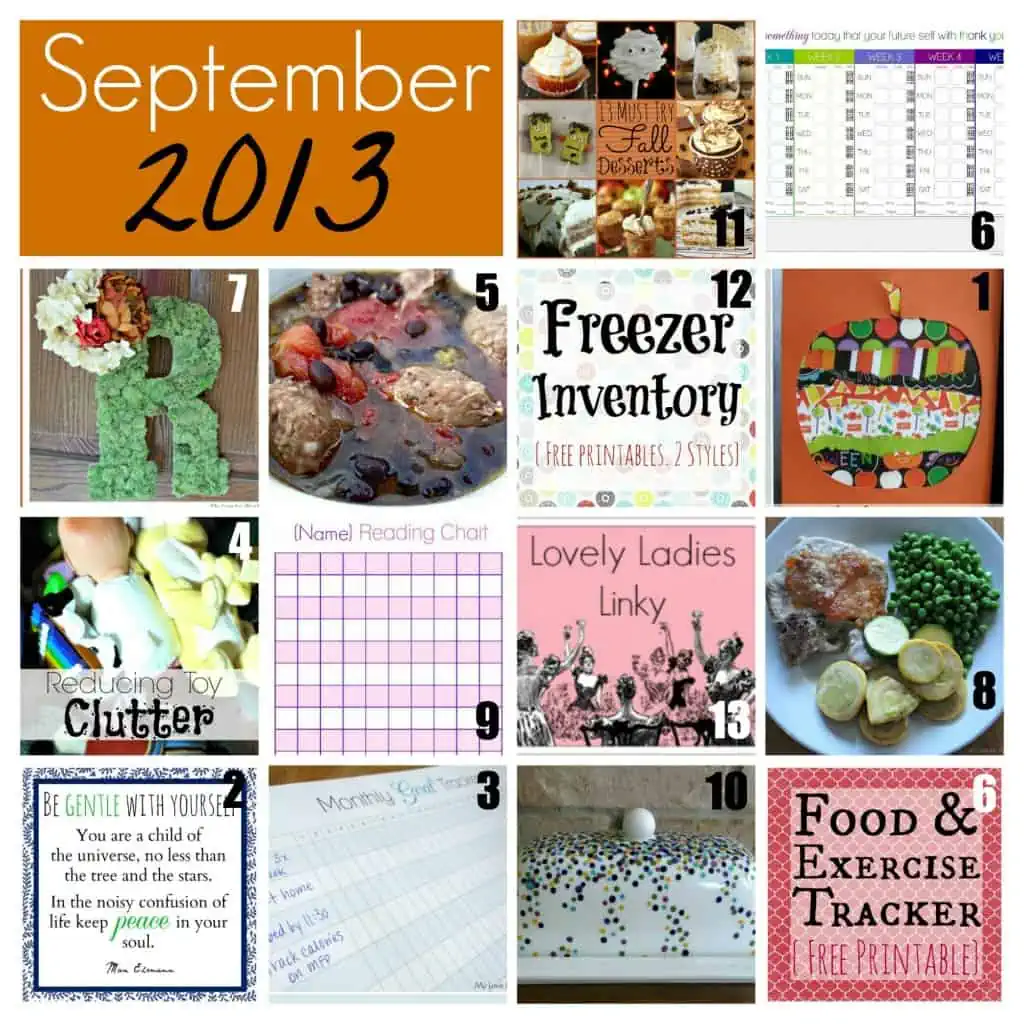 September was a fun and hectic month! My son went back to school, two kids started soccer, I joined a fabulous group of ladies for our Wednesday Lovely Ladies Linky, and I started working on changing some of my bad habits.
My September Goals (which you can see here) started off pretty well. I figured out pretty quickly that the best way for me to fit in a work out is to get it done early in the morning before the kids are awake. We have a little workout room above our garage so I really have no excuse not to exercise. Seriously, I don't even have to leave the house. I did a great job for the first two weeks until we went out of town to visit family… I've only exercised a couple times since. Not good.
Going to bed early happened once. ONCE! I was starting to wonder why it was even on my list to be honest. I'd look at the clock one minute and have hours before my self imposed bed time only to check again (what felt like minutes later) to see it was already 11:30 or later! Oh well. I think I'll make October's goal to be in bed by midnight. Even that will be a stretch for me, but it will help me stay on an exercise schedule.
I'm very excited to say that my goal tracker and food and exercise printables are really helping me a lot. I wasn't sure how much having the visible reminders (on my fridge and bathroom mirror respectively) would help me stay on track, but they're helping immensely! I need to print off copies for October, and get started in this month already!
The organizing and decluttering is coming along slowly but surely. My husband and I actually just started a big room make over today that I'm very excited about! I'll be sharing pictures and updates soon.
Goals for October:
Exercise 4 times a week (that's a huge increase from zero!). I think I'll shoot for Tuesday, Thursday, Saturday, and Sunday mornings.
Track calories and exercise on My Fitness Pal and on my printables so I can see them around the house as reminders to stay on track.
Be in bed by midnight every night. No one wants to be around a grumpy mama.
Keep decluttering, organizing, and working to make this house feel like a home.
October is going to bring a few fun surprises so stay tuned. I can't wait to share them with you!
In case you missed all the exciting posts from September, this is what I was up to: